Searching for the best non-stick induction cookware for your new induction cooktop? You've come to the right place!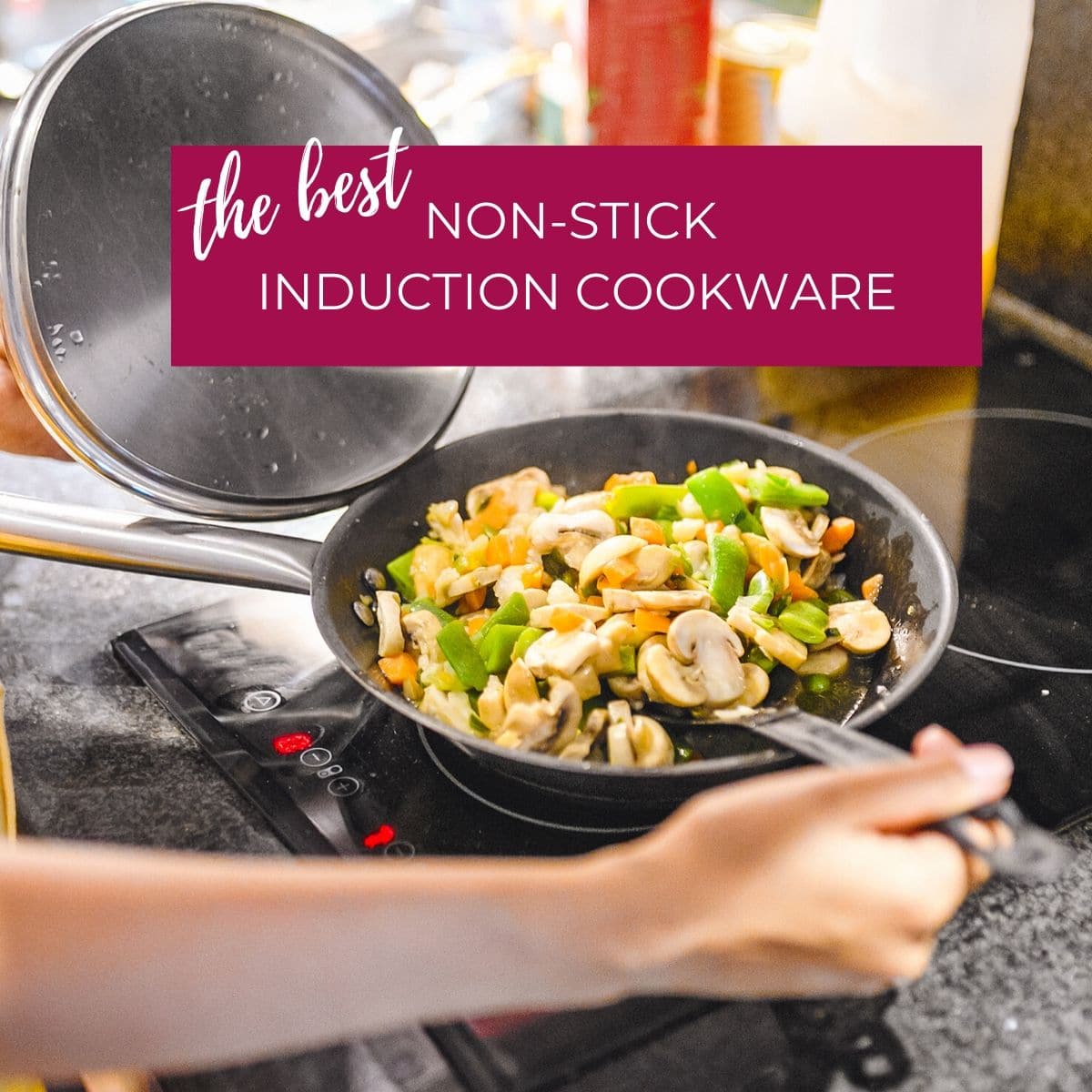 We recently went through a full kitchen renovation, which included refinishing our cabinets, updating appliances, taking down some unsightly columns, and more.
And one of the best upgrades we made was the addition of an induction cooktop in place of our old electric one.
Of course induction cooktops require the use of compatible pans - so that means new cookware for me!
My stainless steel and cast iron cookware was all fine - those work perfectly well with induction cooking. But all of my non-stick cookware pieces had to go.
I spent an unreasonable amount of time combing through all of the options, so thought I would go ahead and share my research here and save someone else a little bit of time.
Happy cooking!
---
Best Non-Stick Induction Cookware
Here are my top three picks for the best induction cookware on the market. Keep reading below for full reviews of each product.
All-Clad HA1
Le Creuset Toughened Pro
Circulon Premier Professional
Professional quality pots and pans made with hard anondized aluminum.

Oven safe to 500F degrees.

Dishwasher safe.
Top end cookware with an aluminum core and induction-ready stainless steel base.

Oven safe to 500 degrees.

Dishwasher safe.
Excellent value from a reliable cookware brand, in a beautiful bronze color.

Oven safe to 400 degrees.

Dishwasher safe.
$$$
$$$
$$
Check Price
Check Price
Check Price
---
1. All-Clad HA1 13-piece Cookware Set
It's pretty tough to beat All-Clad as a cookware brand. They are so well known for a reason - they make top quality products.
This non-stick set is made with hard anondized aluminum. The stainless steel bottoms are optimized for cooking on an induction stove.
The 13-piece set includes: 8", 10", and 12" frying pans, 2.5qt and 3.5qt saucepans, a 4 qt deep saute pan, a 4qt soup pot, an 8 qt stock pot, and coordinating lids.
There are additional sets available with more or less pieces, and indivudal pots and pans can be purchased as well. Check out all the options available here.
They have stainless steel handles, which help keep them oven-safe up to 500 degrees!
The pots and pans are all PFOA-free for healthier cooking. And they even claim to be dishwasher safe - which I love!
---
2. Le Creuset Toughened Pro 10-Piece Cookware Set
The Le Creuset brand is another crowd favorite, probably most well known for their beautiful dutch ovens.
However, they make good quality pots and pans as well, including this induction-compatible nonstick cookware set.
The 10-piece set includes: 8" and 11" frying pans, 2qt and 3qt saucepans, a 3 ½ qt deep saute pan, a 6 ⅓ qt stock pot, plus coorindating lids.
As with the All-Clad set above, there are sets available in a variety of sizes and indivudual pots and pans as well. Check out all the options here.
The pans are triple reinforced, PFOA-free, and have a textured interior that is perfect for browning and searing food.
These pans are also oven safe to 500 degrees, and dishwasher safe too!
---
3. Bialetti Sapphire 10-Piece Cookware Set
Bialetti is a wonderful cookware brand that was originally created in Italy. They are the brand behind these famous stovetop espresso makers, which are one of my all-time favorite kitchen gadgets.
I particularly love the dark blue color of this Sapphire line of cookware, which is induction compatible.
It's a more afforable set than the All-Clad or Le Creuset options above, but still very nice quality.
The 10-piece set comes with an 8" and 10" saute pan, 2 qt and 3 qt saucepans, 6 qt dutch oven, and a 3 qt deep saute pan. Plus lids, of course.
The set is dishwasher safe, but is only oven safe to 400 degrees, so not ideal for roasting or broiling.
---
4. Circulon Symmetry 10-Piece Cookware Set
Circulon is another reliable brand that's been in the cookware business for many years.
This induction compatible non-stick cookware set is made from hard anondized aluminum with a 3-layer coating.
The 10-piece set comes with: a 2 qt and 3 qt saucepan, 8 qt stock pot, 8.5" and 10" fry pan, a 3 qt deep saute pan, and lids.
I love that these pots and pans come in three beautiful colors - chocolate merlot, and classic black. Perfect for Instagram-worthy food pictures!
It features silicone wrapped handles that feel great in your hands, but that also makes them oven safe only to 400 degrees.
---
5. Circulon Premier Professional 13-Piece Cookware Set
If you're considering Circulon, you need to take a look at this induction-friendly cookware as well. It's priced similarly to the Symmetry cookware above, but includes a few more pieces, so it delivers excellent value!
This 13-piece set comes with a 1qt, 2qt, and 3qt saucepans, an 8qt stock pot, 5qt deep saute pan, and 8.5", 10", and 12" skillets, plus lids.
I really love the bronze color of these heavy duty hard anondized aluminum pans. They're PFOA-free for healthy cooking, too.
This set is also dishwasher safe. But like the Symmetry set, it's only oven safe to 400 degrees.
---
Ultimately, I went with the All-Clad set. As a professional food blogger and chef, I need cookware that can really hold up to a lot of heavy use!
But there are so many great choices here, and I look forward to picking up some indicvidual pots and pans from all the sets above.
I hope you found the perfect cookware for your induction cooktop - happy cooking!