Have you been trying to find the best ceramic induction cookware for your new induction cooktop? Well, you've come to the right place!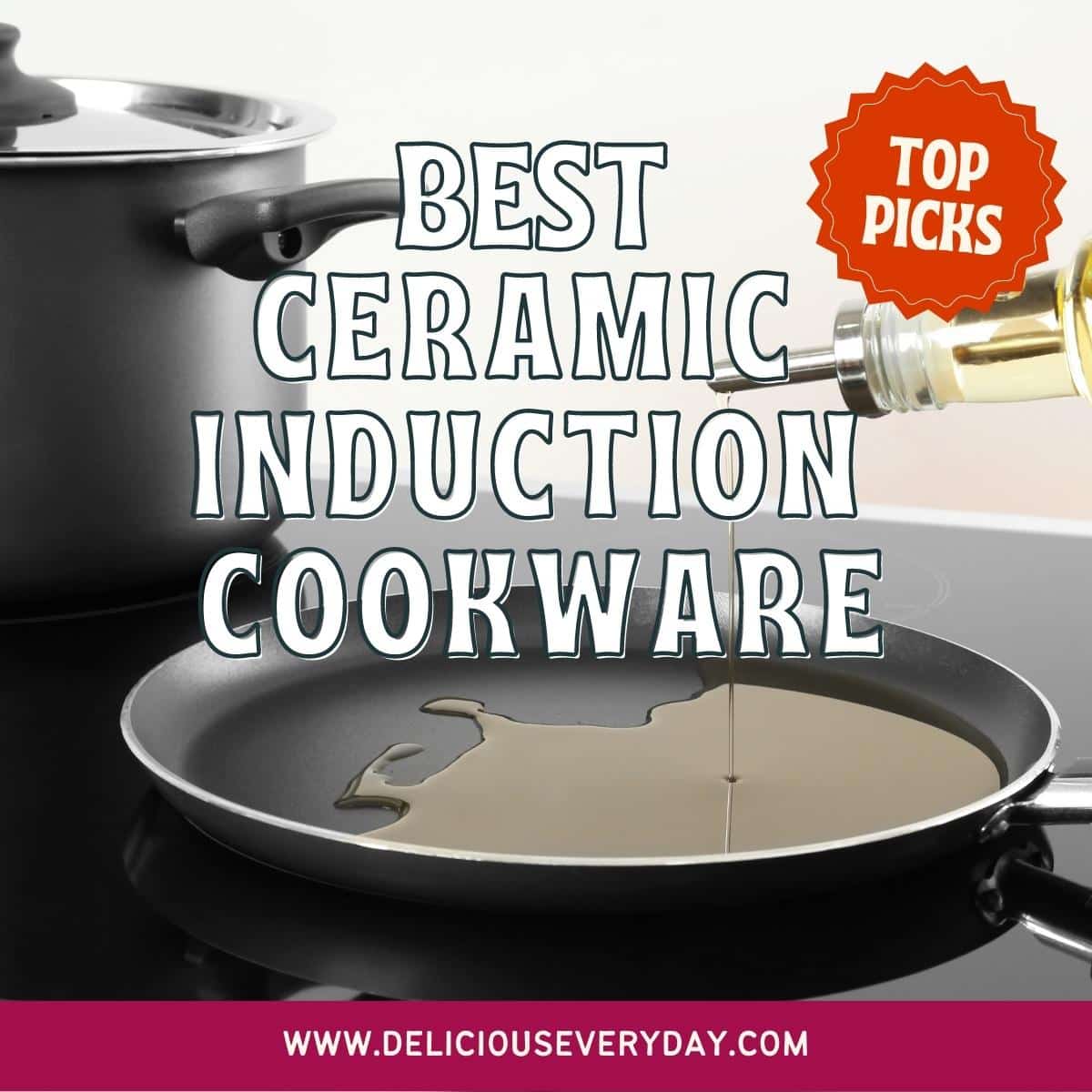 Ceramic induction cookware is awesome and really worth the investment! It is toxic-free and just as good as non-stick cookware. Ceramic cookware is also gorgeous and almost always Instagram-worthy with all your food pics!
Replacing our electric stovetop with an induction cooktop was one of our best renovations to date! There are many benefits to cooking with induction, not to mention that it's healthier and safer.
Of course, replacing our stovetop with an induction cooktop meant that we also had to replace all our cookware. HELLO shopping!!
I spent a ridiculous amount of time combing through all the options for ceramic induction cookware, and I've narrowed it down. I figured I'd share my research here in case anyone else is looking for induction cookware too.
Happy shopping, AND cooking!!
Best Ceramic Induction Cookware
Here are my top two picks for the best ceramic induction cookware. Keep reading to find the full details about each set—and a few more!
Kenmore Arlington
12 piece set
GreenPan Valencia
Beautiful metallic blue color

Dishwasher safe

Oven safe up to 600°F

Tempered glass lids

Long-lasting durability

$$$
$$$
Check Price
Check Price
---
Kenmore Arlington Non-Stick Ceramic Coated 12-piece Cookware Set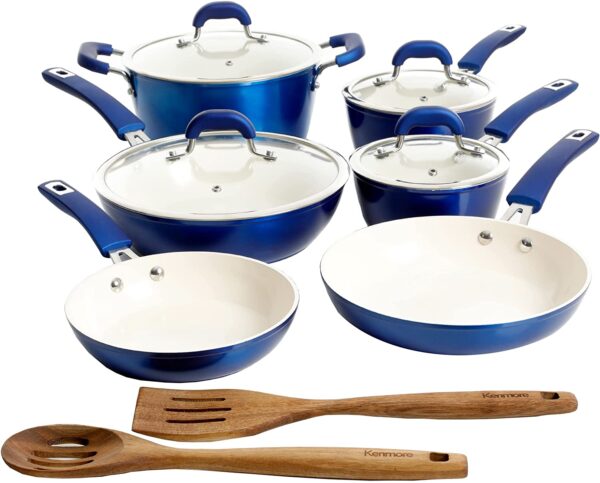 Kenmore has been a trusted kitchen brand for over one hundred years, and there's a reason for it! They are well known for their high quality, professional level—but affordable—kitchenware. This Kenmore 12-piece cookware set checks all the boxes. It is a very high-quality set at a price that the average home chef can afford!
This Kenmore set includes tempered glass lids for easy viewing inside, and they're oven safe up to 350°F.
This set includes: 1.2-quart saucepan with lid, 1.7-quart saucepan with lid, 4.5 quart Dutch Oven with lid, 3.5 quarts saute pan with lid and eight and 9.5-inch frying pans. Along with this, the set includes two wooden slotted utensils. It's everything a kitchen needs!
You can add some additional pieces to your collection, such as their non-stick induction frying pans, their roaster rack, and their 16-quart stockpot. Each of Kenmore's products is made with superior craftsmanship and is aesthetically pleasing.
This Kenmore ceramic induction cookware set features stay-cool, soft, comfortable handles and knobs that are heat resistant. They are PFOA and PTFE free and support excellent thermal conductivity.
These pots are perfect for novice or professional home chefs and will help to make beautiful, healthy meals. Not to mention they're a gorgeous metallic blue color! These pots are beautiful, durable, and simple to clean. This set is also dishwasher safe and shaped so that the pots can easily stack inside one another.
---
GreenPan Valencia Pro Hard-Anodized Ceramic Cookware - 11 piece set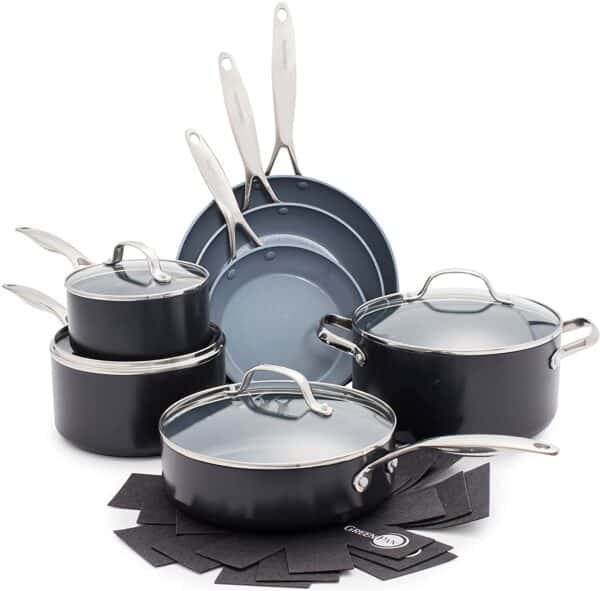 GreenPan is a trusted kitchenware brand that has been well-established since 2007. It was even recently featured on "Oprah's favorite things"! Best known for their collection that Oprah loves—The Reserve Collection, GreenPan makes a variety of gorgeous cookware that is functional and beautiful.
This 11-piece set includes: 8", 9.5", and 11" fry pans; 2- and 3-quart saucepans with lids; a 3-quart skillet with a lid; and a 5-quart casserole dish with a lid.
As with the other GreenPan cookware sets, you can purchase other fry pans and saucepans to complement your collection further. In addition, GreenPan offers a variety of beautiful ceramic cookware. A few other popular items are their ceramic griddle and their 10" grill pan.
GreenPan is a brand that is all about healthy living and healthy cooking. This cookware set is scratch-resistant, and because of its trademarked special coating, it's easy to clean and allows for balanced heating. This cookware set is dishwasher safe and heat-safe up to 600°F.
---
Blue Diamond Cookware 7 pieces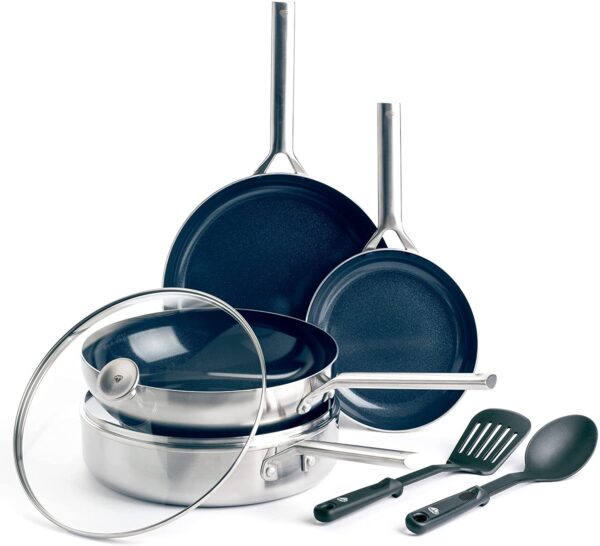 Blue Diamond is a kitchenware brand that is trusted for its outstanding high quality and competitive pricing. In addition, it's the brand that incorporates diamond into its ceramic coating for optimal strength, durability, and performance.
I particularly adore the contrast between the silver and blue with this cookware set. This cookware is beautiful and is exactly what you need to level up your cooking game—or to take beautiful food photos. Whatever floats your boat!
This set is more affordable than the GreenPan Valencia set listed above and includes the necessities.
This set includes: 8" and 11" fry pan, 3.75-quart sauté pan with coordinating lid, 11" chefs pan, and two nylon utensils.
This Blue Diamond cookware set is safe up to 600°F and allows for even heating, free of toxins.
---
Ceramic induction cookware is a great investment. The beautiful ceramic aesthetic is timeless. It always looks in style and trendy.
These are some excellent ceramic induction cookware sets. I'm excited to add some of these ceramic pieces to my collection!