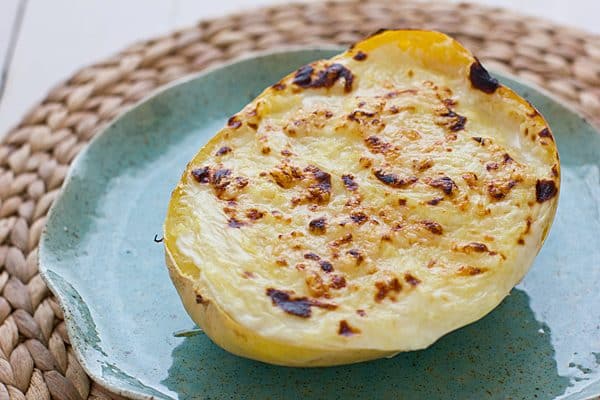 At only 42 calories per cup as well as low-carb, and low-fat, the colorful and versatile spaghetti squash is mildly flavored and superb for all types of meals. While high in vitamins C and B-6, this oval-shaped fruit contains small amounts of
every essential mineral
and almost every essential vitamin. Baked and pulled from its shell, spaghetti squash resembles actual spaghetti pasta, which gives it an appropriate name as well as several handy uses. Easy to find in most grocery stores, vegetarians can enjoy the textural and nutritional value of tasty spaghetti squash in a variety of ways year-round. Let's check out some of the best recipes we could find for baked spaghetti squash:
You'll only need ten ingredients for this delicious vegan dinner! With over ten grams of protein and only 325 calories per serving, you'll surely find this dish to be a suitably tasty and healthy replacement for traditional lasagna. Serve it up with homemade garlic bread and a fresh salad tonight!
Preparing these will have your house smelling divine for hours. Bake, cool, pull and press out the spaghetti squash strands, mix the batter and fry up your fritters!  This recipe walks you through each simple step with pictures.
Mexican anyone? These are super easy, served in the shell and the instructions make enough for 4 hearty helpings. Enjoy with a little of your favorite hot sauce, jalapenos or vegan sour cream on top!
Mixed with potatoes and seasoning to taste, these little nuggets make a welcome addition to any meal as a side dish or appetizer. A cool cilantro chutney and yogurt dip recipe is included - or experiment with your own!
This one replaces traditional macaroni with spaghetti squash and you won't miss a thing - it keeps all of the butter, cream and plenty of gooey cheese. Try experimenting with
vegan replacements
if you like.
Topped with fried zucchini, homemade sauce and plenty of melted cheese, this mouth-watering dish deserves to be served from your prettiest pie pan.
Do you like twice baked potatoes? Then chances are you'll LOVE twice baked spaghetti squash! It's the same exact premise, filled with a spiced blend and topped with melted cheese. Try it with marinara if you like it Italian-style!
This recipe pairs baked spaghetti squash with a savory zucchini, mushroom and tempeh ragout blended and placed right back into the squash shells for serving. Outstanding! (If you like the serving in the shells presentation, but need something slightly fancier and/or sweeter, try this
Roasted Spaghetti Squash with Plums
)
This serves up just like spaghetti pasta with a fresh-tasting homemade vegan pesto sauce. This recipe prepares enough for four helpings and can be enjoyed hot, room temperature or cold.