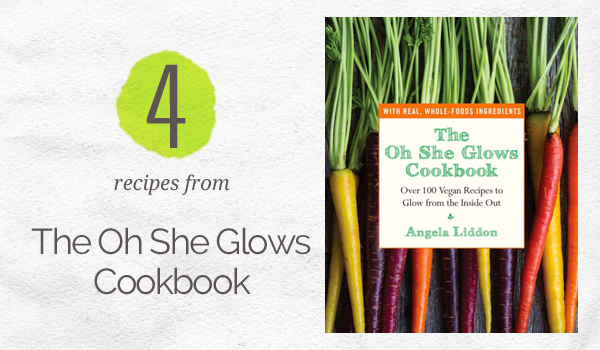 Instead of doing typical book reviews, we're sharing 4 recipes we've made from vegetarian (and vegetarian-friendly) cookbooks. Because anyone can review a cookbook, but the real test is — do the recipes work out? And do they taste good? We'll let you know!
The Book
I did a review of Angela Liddon's The Oh She Glows Cookbook: Over 100 Vegan Recipes to Glow from the Inside Out
on Oh My Veggies, but there were so many recipes in it that I wanted to make, I decided to do another post about it. And really, I could probably do about 5 posts about it, because I love it that much. As you'd expect from an Oh She Glows cookbook, the photos are gorgeous and the recipes are made with healthy, whole food ingredients rather than processed meat substitutes.
The Recipes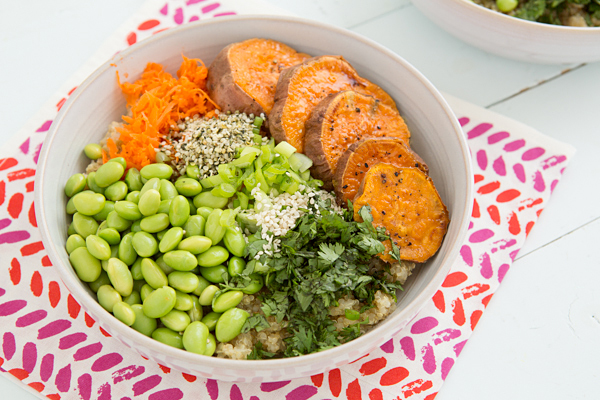 Enlightened Miso Power Bowl // You can't go wrong with a big healthy bowl! A quinoa base is topped with roasted sweet potatoes, edamame, carrots, cilantro, sesame and hemp seeds, then drizzled with an Orange-Maple Miso Dressing. This is the kind of meal that makes you feel really good after eating it because it's delicious, filling, and healthy too. It's also the kind of thing that's perfect to assemble in a bento box and bring to work for lunch.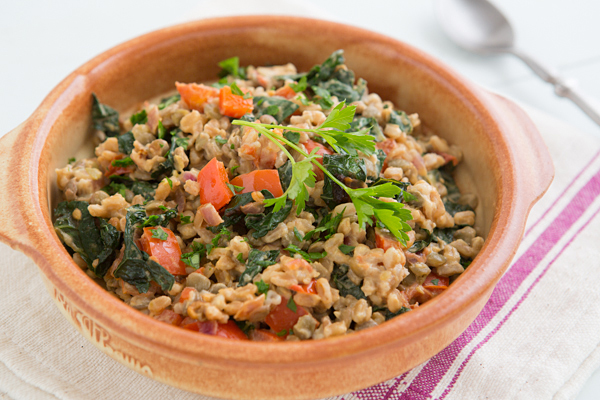 Protein Power Goddess Bowl // Lentils, cooked spelt or wheat berries, and kale are tossed with a Lemon-Tahini Dressing in the second bowl recipe I made from the book. Chris and I both loved this, although if I made it again, I'd use a little less nutritional yeast, or omit it altogether, because Chris isn't a fan of cheesy things and the ¼ cup in this recipe makes the dressing have a pretty pronounced cheesy flavor.
Lentil-Walnut Loaf // Yay, loaves! I love vegetarian loaves! The best part about this one is that it has a balsamic-apple glaze on top that reminds me of how my mom used to make meatloaf with a layer of ketchup on top. Meatloaf! Just like mom used to make! But with lentils and walnuts instead of ground beef! If you find yourself seeking out comfort food recipes that remind you of the foods you grew up with, you will love this one. It's one of the best vegetarian meatloaf recipes I've made.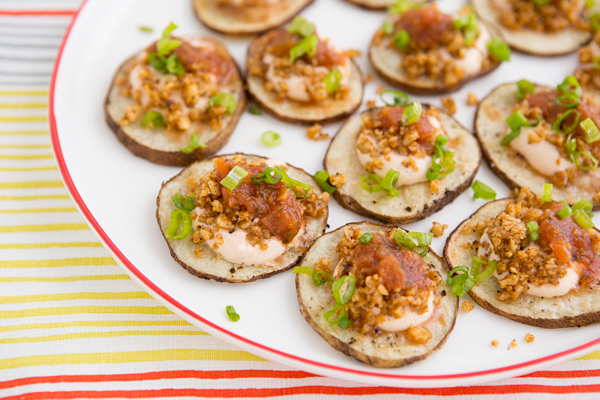 Taco Fiesta Potato Crisps // These are from the Appetizer chapter, but we totally ate these as a meal. Thinly sliced potatoes are baked in the oven until crispy, then topped with cashew sour cream (I added a touch of smoked paprika to mine), walnut taco "meat," salsa, and sliced green onions. Yes! Don't you just want to reach into this picture, grab one, and devour it immediately? I'll be making these again for sure.
Buy It On Amazon