Salad has always seemed like a great idea to me. And then somewhere between getting the greens washed and rifling through the crisper drawer, it would become apparent that pizza might be a better idea. Maybe just half a box of crackers. Anything (anything!) to get me out of all that chopping and tossing.
Once you start thinking of salads as more creative project than obligatory vehicle for veggie intake, they become really fun. They don't always have to have lettuce. They can include tofu and beans, or nuts and seeds. Kimchi, leftover grilled veggies, whatever you like. Call me crazy, but after I became a salad believer, I found that making my own vinaigrettes was one of my favorite things to do in the kitchen! We've rounded up some great tools for transforming your salads from required eating to something you can actually get excited about.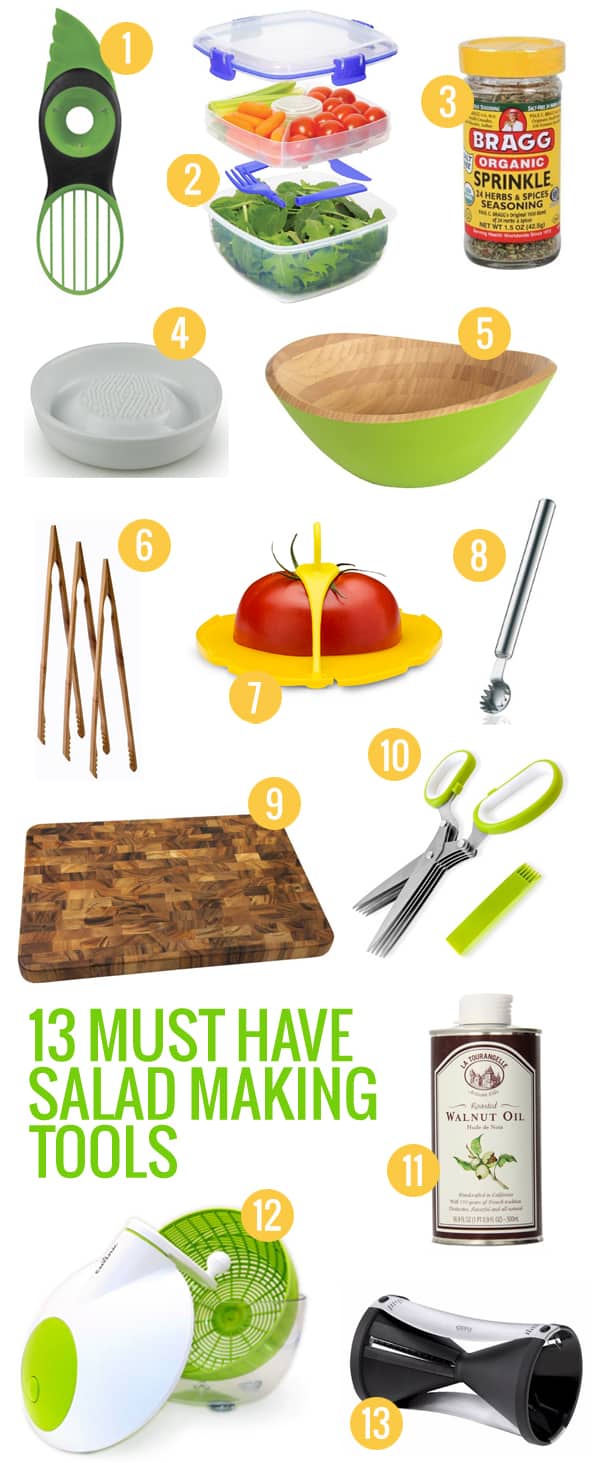 1. OXO 3-in-1 Avocado Slicer
// Nothing sadder than a haphazardly scooped green pile perched atop a beautiful salad. This tool splits, pits, slices and gives your avocado the respect it deserves.
2. Sistema Salad to Go Container
// While we're definitely still fans of the salad-in-a-jar method, this BPA-free container is mighty convenient, letting you separate the greens and dressing from everything else. There's even a collapsible fork and knife, which kind of makes me feel like a spy.
3. Bragg Organic Sprinkle Seasoning
// Okay, so these aren't "sprinkles" in the traditional sense, but this mixture of 24 spices and herbs seriously goes on everything—especially salads.
4. Kyocera Ceramic Grater
// Zest, garlic and ginger are the keys to great vinaigrettes. This sturdy ceramic guy is easier to clean than a metal one—and is less likely to shave off a piece of your finger in the process.
5. Island Bamboo Serving Bowl
// Remember those wooden salad bowl sets from the '70s and '80s? Yeah, this is way better. It's pretty, sustainable, perfectly shaped, anti-microbial, and can hold hot or cold foods.
6. Culina Bamboo Tongs
// Toss your salad with these tiny tongs (made from sustainable bamboo) so the last person to get the salad bowl doesn't end up with just a pile of lettuce.
7. Dreamfarm Savel // Imagine a life where you don't have to wrestle the cellophane roll (or wrangle a stack of jars or containers) after making a salad! This tool covers the sliced surface of salad staples like avocados, citrus, tomatoes, onions or apples, meaning you can just throw 'em right back in the fridge.
8. Kuchenprofi Stainless Steel Tomato Corer
// Get that ugly core out of there and then go to town on your tomatoes.
9. Ironwood Gourmet Prep Station
// Avoid clearing off your cutting board every time you start on a new salad ingredient. This sturdy prep station, made with acacia wood, is big enough for everyone to hang out.
10. Jenaluca Herb Scissors
// Yes, you read that right. Herb scissors. Five blades means fresh herbs can be snipped right into your salad—no chopping required.
11. La Tourangelle Oils // The roasted flavor of these nut, avocado, pumpkin seed and other artisan oils adds incredible depth to dressings. Plus, the containers are so fancy!
12. Culina Space Saving Salad Spinner
// Put the colander and paper towels down—this is the future of washing salad greens.
13. Gefu Spirelli Spiral Slicer // Zucchini—or sweet potato, squash or cucumber—noodles aren't just for sauce. Spiralize those babies right into your salad bowl with this compact, handheld spiral slicer.