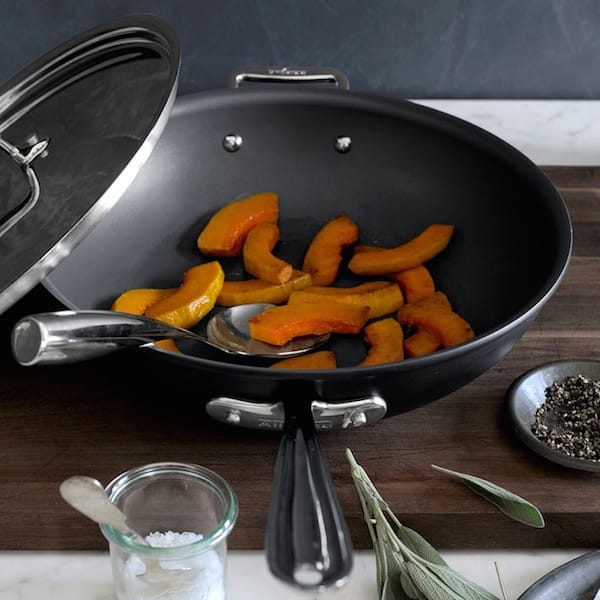 The past few years, I've been shying away from nonstick pans of any kind. I've adopted an attitude that, as an experienced home cook, I don't "need" nonstick pans. Well, the countless enamel and stainless steel pans with burned-on crud in my kitchen would probably beg to differ. (As would the cast-iron pan that sits unused on my stove because I'm too lazy to properly care for it.)
So I was excited to try the PFOA-free All-Clad Metalcrafters NS1 Nonstick Induction Collection Chef Pan. It's about time I got a nice nonstick pan back in my kitchen, and this one is nice and heavy, making for really even heat distribution. It stood up to sautéing, frying, and (my downfall when it comes to cooking) eggs. The pan is large enough that you could make an entire meal in it, and the high sides and wide cooking surface are perfect for stir-frying—you run a pretty low risk of ever crowding the pan.
Best of all, the chef pan comes with a lid, which makes one-pot meals so much easier. I've been using mine to cook up sweet potatoes, then cook eggs and lightly steam some greens all right in the same pan. If you make one-pot noodle or rice dishes a lot, this pan would be right up your alley. It was pretty much impossible to cake on any burned crud, but if you do, it's also dishwasher safe.
Where to buy it
The pan is available exclusively at Williams-Sonoma. (ARV $99.95)
We're giving away an All-Clad NS1 Collection 12" Chef Pan (with lid) during our Oh My Favorites giveaway, December 1 through 31, 2015.