We've tried a lot of vegan dairy substitutes here, and some are better than others--and that's being generous. But we live in a glorious time when store-bought vegan foods aren't limited to plasticky neon orange cheese slices and anemic carob soy ice cream. No, we can do better now! And these 7 products aren't just as good as the original version, we like them more.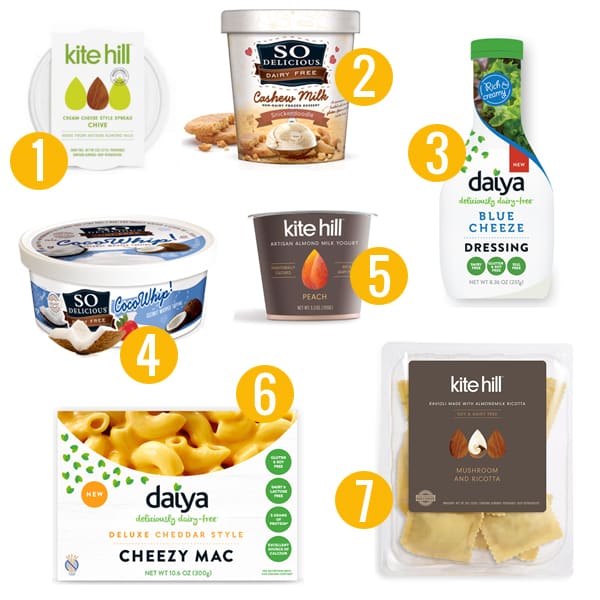 Hello bagels! You'd never guess this creamy spread is completely dairy-free. The chive flavor is perfect for veggie sandwiches.
So Delicious Snickerdoodle frozen dessert paired with warm baked apples is our current favorite dessert. We're loving all the new flavors So Delicious has been coming out with—why settle for vanilla, chocolate and strawberry when you can have Snickerdoodle and Salted Caramel Cluster?!
Creamy salad dressings need not be a thing of the past! Daiya Dairy-Free Dressings are available in Homestyle Ranch, Blue Cheeze and Creamy Caesar, so they've covered all of the essential creamy salad dressing bases, and each as is rich and flavorful as any of it's dairy-based counterparts.
Would it be wrong to put this on everything we eat? Because we kind of want to. Stock up on this for pumpkin pie season!
Some vegan yogurts we've tried have been disappointing, to say the least. But Kite Hill yogurt is anything but disappointing—it's creamy, rich, and perfectly tangy. Our favorite flavor is Peach, which tastes like summer in a cup.
If you've got a hankering for something seriously cheesy (and who doesn't), these boxed vegan Mac and Cheese mixes can't be beat. Each cooks up in about ten minutes and tastes cheesy enough that you'd never know it was dairy-free if it didn't say so on the box.
With flavors like Mushroom Ricotta and Spinach Ricotta, Kite Hill ravioli is everything you love about cheesy ravioli—without the cheese. We love these topped with oven-roasted cherry tomatoes and a drizzle of olive oil.
Our editors received samples of these products to review.