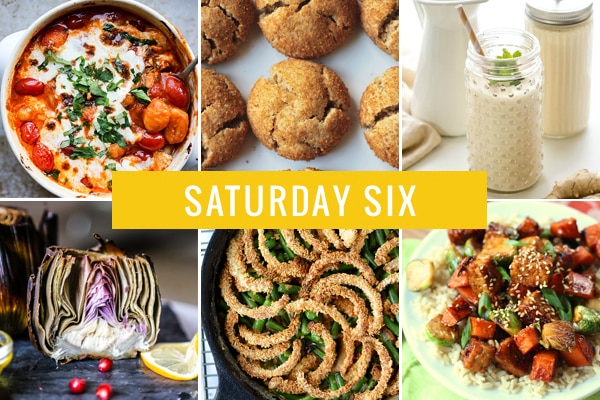 Every Saturday, we highlight some of our favorite submissions from Potluck. Here are this week's picks:
Easy Baked Gnocchi with Mozzarella and Tomatoes // Transform store-bought gnocchi into your new favorite winter comfort food. Get the recipe from Floating Kitchen →
Healthy Gluten-Free Vegan Snickerdoodles // Your GF and vegan guests will probably weep tears of joy over getting to eat these classic holiday cookies again. Get the recipe from Fooduzzi →
Lemon Roasted Artichokes Stuffed with Garlic and Sage // Artichokes don't need to be swimming in a cheesy dip to be delicious, and this fresh and easy recipe proves it. Get the recipe from Eating Works →
Creamy Green Bean Casserole // You know it, you love it. But this lightened-up version won't make you feel like a slug after you eat it. Get the recipe from Another Root →
Stomach Healer Smoothie // Give your digestive system a much-needed break with this rich and creamy (but probiotic-laden and hydrating) kefir-based peach-ginger smoothie. Get the recipe from Yuri Elkaim →
Brussels Sprout Tempeh Stir-Fry // Hearty sweet potatoes and tempeh make this stir-fry way better than takeout. Get the recipe from Connoisseurus Veg →
Want to share your recipes with the Oh My Veggies community? Join Potluck and submit your recipes!