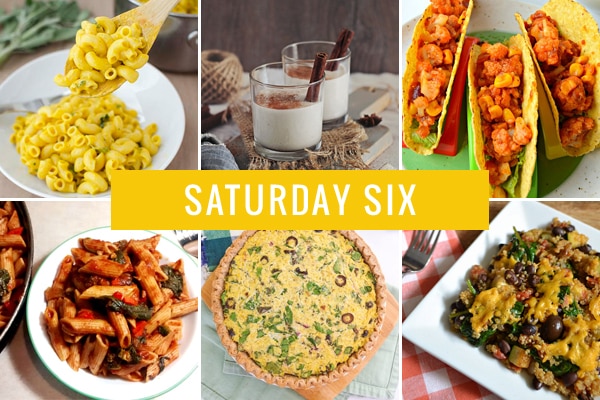 Every Saturday, we highlight some of our favorite submissions from Potluck. Here are this week's picks:
Sweet Potato Sage Mac and Cheese // This mac and cheese has no cheese. No cheese? No cheese. The creamy sauce is made with sweet potatoes instead! Get the recipe from Delish Knowledge →
Banana Coconut Vegan Nog // Not only is this nog vegan, it's also healthy enough to have for breakfast. Get the recipe from Hello Natural →
Cauliflower and Corn Tacos // Only 15 minutes separate you from these delicious veggie-filled tacos. I mean really, everyone has 15 minutes to cook dinner! Get the recipe from Clean Eating Veggie Girl →
Vegan Veggie Penne Pasta // With onion, tomatoes, mushrooms, broccoli, spinach, bell pepper and carrots, this pasta dinner is like a week's worth of vegetables in one serving. Okay, I exaggerate, but still: so many veggies! Get the recipe from RAW High Life →
Spinach Artichoke Tofu Quiche // Think you can't make quiche without eggs? This tofu version will prove you wrong! Get the recipe from Yup, It's Vegan →
Mexican Quinoa Casserole // Cheesy, spicy and full of vegetables and protein — because the best kind of comfort food is healthy comfort food. Get the recipe from Hello Little Home →
Want to share your recipes with the Oh My Veggies community? Join Potluck and submit your recipes!