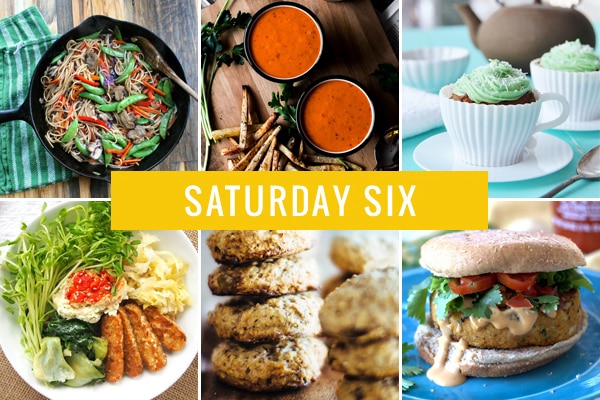 Every Saturday, we highlight some of our favorite submissions from Potluck. Here are this week's picks:
15-Minute Lo Mein // A beautiful, homemade lo mein in less time than it takes to order takeout—and with 100 percent more veggies than the local Chinese place uses? Sold. Get the recipe from Sweet Love & Ginger →
Harissa Tomato Soup with Za'atar Parnsip Fries // Harissa and za'atar are the George Clooney and Amal Alamuddin of the food-trend world. So it's only natural they would team up in a cozy, filling vegan meal. Get the recipe from Faring Well →
Vegan Matcha Green Tea Cupcakes // First of all, how pretty are these? Secondly, there needs to be more green tea in the baking world. This recipe combines the power of matcha with a creamy vegan frosting. Get the recipe from Veganosity →
Brown Rice Bowl with Five-Spice Tempeh and Garlicky Greens // This humble little meal bowl is ready in 5 minutes, and has protein to spare thanks to tempeh and edamame. Get the recipe from Avocado a Day →
Vanilla Roasted Fig Biscuits // Vanilla-roasted figs. That's really all you need to know here. Get the recipe from Gratitude & Greens →
Sweet Potato Falafel Burgers // Falafel in burger form doesn't disappoint, and the addition of roasted sweet potato elevates them to "we're going to eat these every week" status. Get the recipe from Connoisseurus Veg →
Want to share your recipes with the Oh My Veggies community? Join Potluck and submit your recipes!