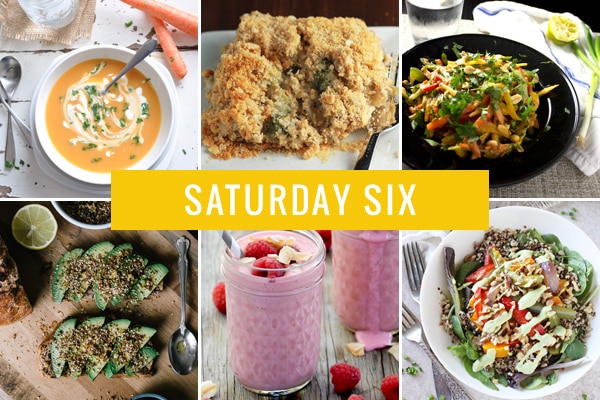 Every Saturday, we highlight some of our favorite submissions from Potluck. Here are this week's picks:
Roasted Carrot Ginger Soup // Fresh ginger root adds warmth to this carrot soup — and we all need a little bit of warmth right now, right? Get the recipe from My Purple Spoon →
Broccoli Quinoa Casserole // Broccoli, mushrooms and quinoa baked in a creamy sauce, then topped with crispy breadcrumbs. And it's made without dairy! Get the recipe from Eat Within Your Means →
Chopped Thai Salad with Peanut Dressing // Peanut sauce is truly one of my favorite things, especially when it's used as a salad dressing. Get the recipe from Well-Worn Fork →
Dukkah & Avocado Toast // Find out how to make dukkah, a Egyptian blend of nuts, seeds and spices. Get the recipe from Faring Well →
Raspberry-Vanilla Smoothie // For those of us who prefer our smoothies to taste like desserts. Get the recipe from Floating Kitchen →
Roasted Rainbow Veggie Salad with Quinoa // A creamy avocado ranch dressing tops off this veggie-packed salad. Get the recipe from Cookie Monster Cooking →
Want to share your recipes with the Oh My Veggies community? Join Potluck and submit your recipes!