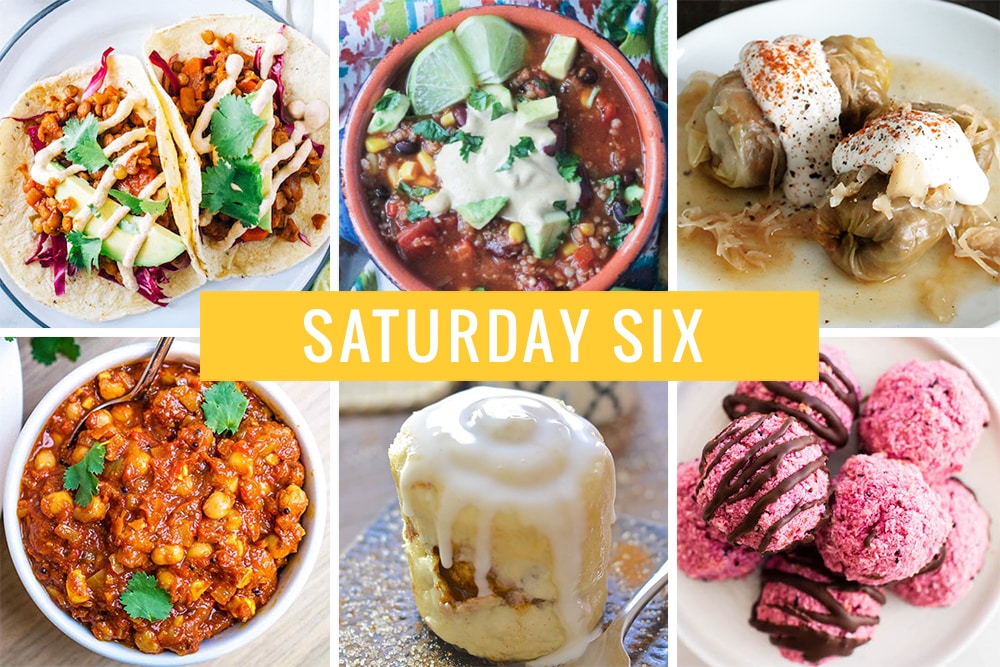 Every Saturday, we highlight some of our favorite submissions from Potluck. Here are this week's picks:
Meatless Taco Chili // Torn between making it a taco night and making it a chili night? How about making it a taco chili night? Get the recipe from Veggie Inspired →
Hungarian Stuffed Cabbage with Mushrooms and Tempeh // A savory mixture of mushrooms and tempeh take the place of meat in this healthy vegan version of a classic Hungarian comfort food dish. Get the recipe from Green Evi →
Carrot Lentil Tacos with Chipotle Sunflower Cream // These hearty vegan tacos are drizzled in a smoky dairy-free and nut-free cream made from sunflower seeds. Get the recipe from Making Thyme for Health →
One Minute Cinnamon Roll in a Mug // A cinnamon roll that's ready in a minute? Oh…this could be dangerous! Get the recipe from A Virtual Vegan →
Pitaya Pink Coconut Macaroons // These colorful cookies get their rosy hue from dragon fruit! Get the recipe from Feasting on Fruit →
Adaptable One Pot Vegan Curry // You can customize this spicy curry to include your favorite ingredients, or those you have on hand. Get the recipe from Discover Delicious →
Want to share your recipes with the Oh My Veggies community? Join Potluck and submit your recipes!