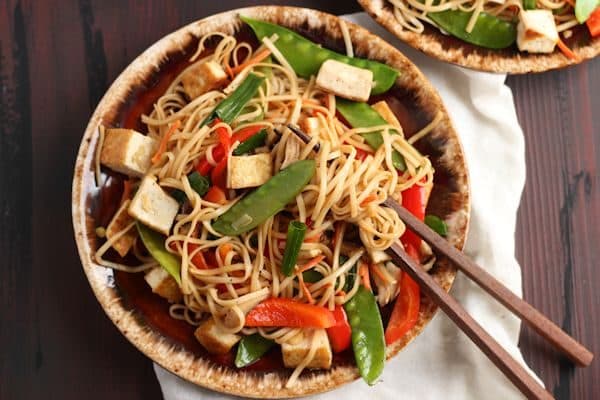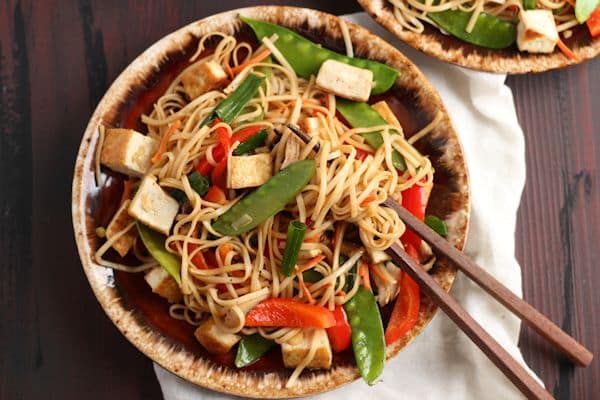 If you've ever ordered Chinese take-out, chances are you've tried lo mein: 撈麵. Typical American versions of the popular Chinese dish include cooked lo mein noodles with sauce, veggies and your favorite protein. Some American restaurants differentiate between lo mein, made with "soft noodles," and chow mein, made with "fried noodles" (sometimes fried until crispy), while others do not. In any case, it's delicious - and we've searched through all the possibilities to find the best and most unique recipes for vegetarian lo mein available. Enjoy!
If you've got the veggies, noodles and broth on hand, this recipe makes a quick and easy lunch or dinner for one - simply double it up if you're cooking for two (and so on). (Also similar in time and ingredients, this simple version includes a brilliant color range of yellow peppers, green and red onions and carrots for a lovely presentation.)
This light version uses zucchini noodles, perfect for the low-carb crew or just anyone who enjoys zucchini (some think it tastes strikingly like regular pasta anyway - see if your guests notice the difference!) You'll likely need a spiral slicer or some similar type of prepping tool. Once you've got that sorted, you can easily create this nutritious meal in less than twenty minutes.
Here's another vegan version made with soba noodles (soba is the Japanese word for 'buckwheat' - as indeed these noodles are traditionally made with buckwheat flour.) Tasty and colorful, this one's perfect for a summer lunch at the picnic table.
Three different types of mushrooms, a variety of textures and a heavenly vegetarian oyster sauce (you can purchase some here or make your own homemade) make this version a win!
Yep - get your spiralizer out again! This gorgeous version has the bright orange of the sweet potato, brilliant red peppers, green snap peas and more. Serve it up in a pretty glass dish to show off the colors. (Save any extra sweet potato spirals you may have leftover - you can also make this garlicky sweet potato noodles with swiss chard burrata in thirty minutes or less!)
Spaghetti squash doesn't need to be spiralized - just shred it up by hand and you're done! This tasty version combines garlic, ginger, lime, cilantro and peanuts for a unique flavor and texture combo.
This citrus-y treat involves freshly squeezed tangerine (or orange) juice as well as a store-bought variety of tangerine teriyaki marinade/finishing sauce (Joy's Gourmet is recommended by the chef) - superb!
With crispy pan-fried tofu and veggies smothered in mouth-watering agave/maple, hoisin and soy sauce, this sweet and tangy variety is superb for lunch or dinner. Serves up to four diners.
Wider lo mein noodles work best for this version. If you like Thai food, you'll love this - plenty of bok choy, mushrooms and a savory sauce make it worth the effort. 
Soba noodles or linguine are preferred by this chef, as well as thinly sliced cabbage and onion. Fresh corn cut straight off the cob is ideal, but you can use frozen as well.