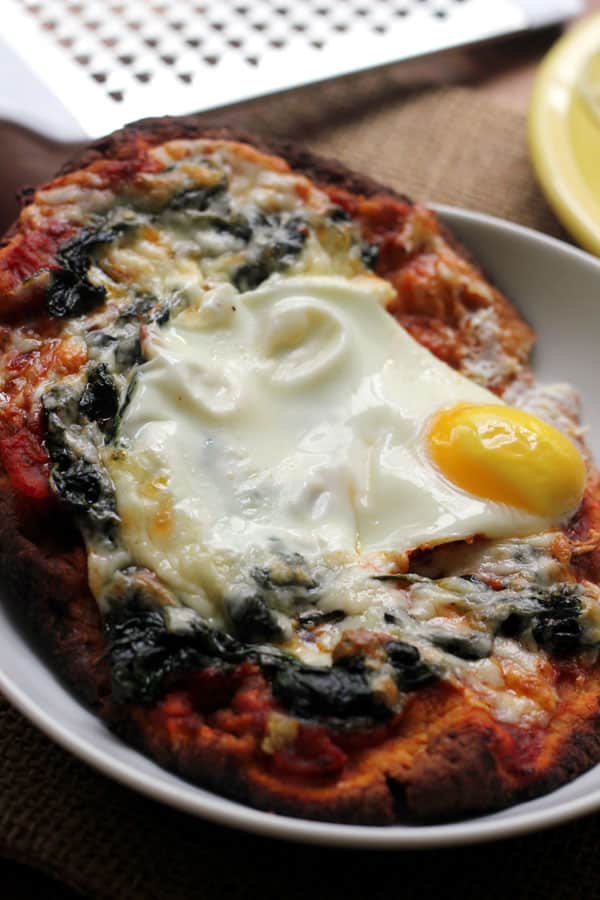 Whoever the first brave pioneers were who decided that food everywhere would be made better if we would all just put an egg on it – I APPLAUD YOU. Eggs a great healthy source of protein and I have a firm belief that runny egg yolks are the cure for all things, especially when it comes to meals that could use a little bit of sprucing up. For example, last night's sauteed veggies, that veggie burger you've had in the back of your freezer since last fall, those slices of leftover pizza….okay, pizza doesn't exactly need "sprucing up", but throw an egg on it and all of a sudden it becomes legitimate breakfast material! I am down for that. Sometimes when I'm feeling really crazy, I even make breakfast pizza from scratch. Intentionally!
I don't know about you guys, but I am lazy in the morning and am not about to start whipping up homemade pizza dough at 6AM. Instead, I usually just make lazy girl's (or boy's!) pizza using storebought naan or flatbread. It comes in perfectly portioned sizes so that you only need to make as much pizza as you can eat at one sitting, and it's just easy.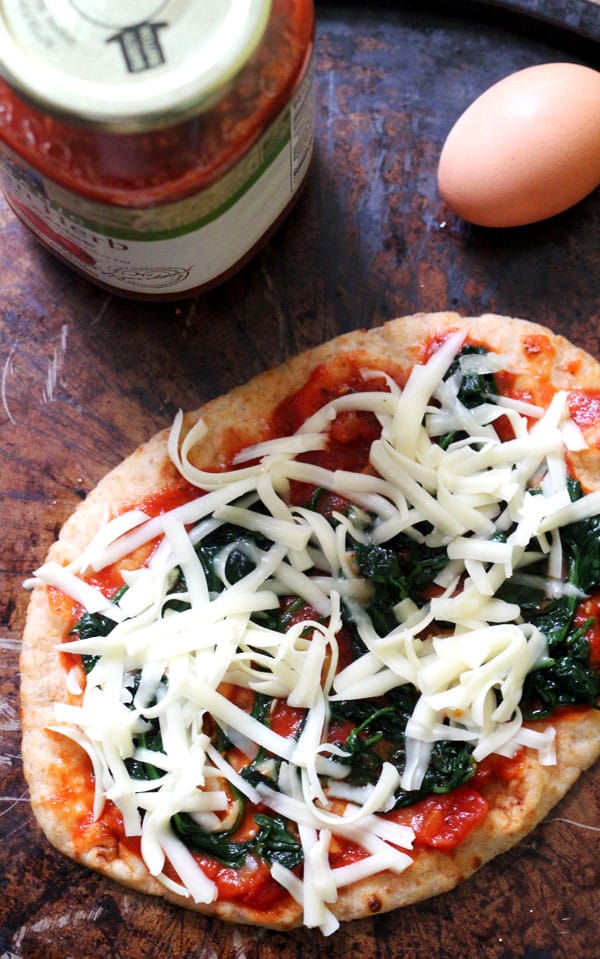 I'm always up for eating veggies in the morning, so I topped my pizza with my favorite jarred tomato sauce and some baby spinach that had been sauteed with garlic. Any leftover vegetables that you have in the fridge would also do well here, so don't be afraid to use what you've got! A drizzle of grated cheese, a cracked egg, and a short stint in the oven later and you have breakfast pizza. If you like your egg yolks a bit runny, then I would cook the pizza for 10 minutes at the most (just keep an eye on it), but for more well-done eggs it should stay in the oven for a bit longer.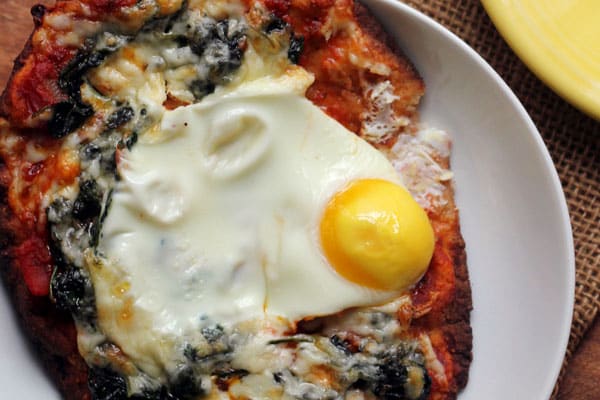 Servings:
4
breakfast pizzas
Ingredients
2

tablespoons

olive oil

4

cloves

garlic

minced

5

ounces

baby spinach

Salt and black pepper

to taste

4

whole wheat naan or flatbreads

1-2

cups

tomato sauce

4

ounces

Monterey Jack cheese

grated

4

large eggs
Instructions
Preheat oven to 400ºF.

In a medium saucepan, heat the olive oil over medium heat. Add the garlic to the pan and sauté for 30 seconds, or until fragrant. Add the spinach into the pan a handful at a time, stirring occasionally, until wilted, about 3-4 minutes. Season to taste with salt and black pepper.

Arrange the naan or flatbreads on a baking pan in a single layer. Spread about 1/4-1/3 cup of the tomato sauce over each naan. Divide the spinach evenly among the naans and then top with the cheese. Crack an egg into the center of each naan pizza.

Bake for 10-15 minutes, or until naan is starting to crisp up and eggs are cooked to desired degree of doneness.
Notes
In order to save time in the morning, I made these pizzas on naan, but they can also be made on French bread, flatbreads, or even regular pizza dough!