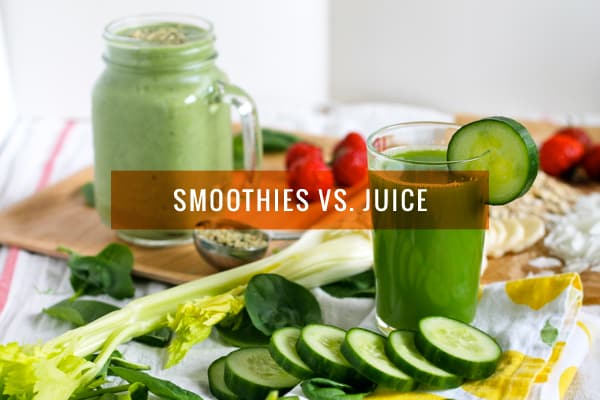 Smoothies and juicing are both in vogue right now, but is one a superior choice over the other? It can be a pain to sift through conflicting information, and the fact is, there are pros and cons for each. Whether or not one is better for you depends on you! So we thought we'd share the facts in the smoothies vs. juice showdown. Let the bountiful beverage battle begin!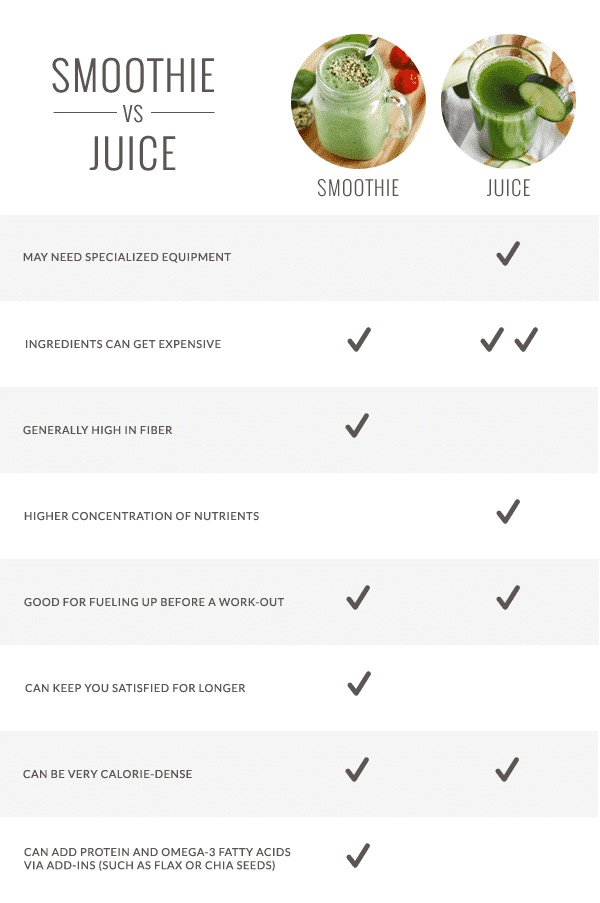 Equipment
You don't need any fancy equipment to make a smoothie. Just a basic blender will do! The great thing about these appliances is that they do double duty –- we use our blenders for all kinds of things. So the blender you use for your smoothies can be an excellent kitchen investment overall. Blender-less? You can also make smoothies using a food processor or an immersion blender (or "stick" blender).
A juicer, on the other hand, is more of a one-trick pony. Juicers are a specialized appliance made to efficiently extract juice from your produce either by cold-pressing, centrifuge, or masticating. Some people also use their juicers to make nut milks, but that is more or less the extent of what they can be used for, aside from juicing. A juicer is definitely a good investment if you plan on juicing a lot. Want to give juicing a go without the up-front investment? Try making a few batches by whirring your fruit and veggies up in a blender, and then straining out the fiber with a nut milk bag or cheesecloth.
Cost
Both smoothies and juice require a fair amount of produce. Smoothies have the advantage of tasting great with frozen fruit blended in, whereas juice relies more or less on fresh produce. In both cases, a lot becomes a little, particularly with juice -- this is because the bulky, fibrous portion of the fruit or vegetable is removed during the process. When you consider how many carrots it would take to produce a cup of carrot juice, you can see how the cost of juicing can start to add up.
Fiber
Fiber slows down the body's intake of naturally occurring sugars in fruits and also helps to stabilize blood sugar levels. It is essential for digestive health, especially in the lower portion of our digestive tracts. For the general population, fiber is healthful, essential, and something we don't consume nearly enough of.
Blending fruits and vegetables together in a green smoothie provides additional fiber, which remains intact -– we can more or less think of smoothies as a whole food. Add-ins such as nuts, seeds, and oats will provide extra fiber as well.
Juicing, on the other hand, separates the fiber from the liquid, leaving only the liquid behind. In some cases this is beneficial, for example, if there is a need for a lot of nutrients and energy without high amounts of fiber.
If you are juicing, you can hang onto the fiber for other uses. It can be blended into a smoothie, stirred into soups, used to make veggie burger patties, or could be composted and used to feed your garden.
Satiety
Did you know that liquids clear your stomach four times faster than solid food? If you were to sit down and eat a couple of large handfuls of spinach, a banana, a few dates, a tablespoon of almond butter, and a glass of almond milk, you'd likely be stuffed! But when this is blended together it becomes an easily gulpable meal. So whether you're whizzing up a smoothie or cold-pressing a juice, you're going to be hungrier sooner than after a solid meal.
This can be a good thing if, for example, you're trying to fuel a workout but don't care for exercising on a full stomach. On the other hand it can be a problem to become hungry again too soon after taking in a high calorie liquid meal.
When comparing smoothies and juice, a smoothie will definitely keep you satisfied for longer because fiber, which has been removed from juice, passes through our digestive systems at a moderate pace. Add-ins like nut butters, seeds, yogurt, and oats add protein, fiber, and healthy fats and help turn a smoothie into a meal that really hits the spot.
Energy
Once blended or juiced, your glass may look half-full, but remember -- there is still a lot of energy in there! Juice can be very calorie dense if it contains a lot of fruit. Again, this can be a good thing in cases when people have low appetites but high energy and nutrient requirements, such as when fighting an illness, but it also makes it easy for many of us to take in more energy than we intend to, are aware of, or need.
Be mindful of extra ingredients you're adding to your smoothies, like nuts, seeds, yogurt, coconut milk, and fruit juice. Those add-ins can really add up!
Nutrients
Both smoothies and juice have the potential to provide a mega-dose of vitamins, minerals, antioxidants, phyto-nutrients, and anti-inflammatory compounds. In terms of nutrients per volume, juice probably has the edge here - by removing the bulky fibrous portion, a concentrated source of nutrition is left behind.
Don't discount smoothies, though! By blending in ingredients such as flax or chia seeds, we're able to add essential nutrients like omega-3 fatty acids and healthy fats -- things we won't find in juice.
Both juice and smoothies are an excellent vehicle for getting a lot of nutrients into your body quickly. Because the produce has already been broken down, digestion is easy and absorption is rapid -– faster with juice than with a smoothie, but the nutrients in a smoothie are still absorbed rapidly compared to solid food.
The bottom line
The bottom line is that both smoothies and juice have many benefits and a few drawbacks. Each can play a valuable role as a part of a balanced diet.
Recipes to try
Looking for inspiration? Here are a few of our favorite recipes:
Stripped Green Juice
Nutrition Stripped brings us this verdant sipper made with over a dozen servings of fruits and veggies!
Watermelon Coconut Agua Fresca
Just three ingredients - watermelon, fresh lime juice, and coconut water - make up this refreshing drink from Kitchen Treaty.
Carrot Apple Ginger Juice
We love this zippy, intensely orange beverage from The Roasted Root and The Corner Kitchen.
Apple, Beet, Carrot, & Ginger Juice
This ruby red juice gets its gorgeous hue from beets. Apples, carrots, and ginger complete the picture in this scarlet wonder brought to you by Dishing Up the Dirt.
Date Almond Smoothie
Dates, almond butter, bananas, soy milk, and spinach make this smoothie from The Muffin Myth a hearty and healthy option.
Strawberry Oatmeal Chia Smoothie
Chia seeds, oatmeal, and strawberries make up this creamy concoction that reminds Cookie Monster Cooking's Ashley of the strawberries-and-cream instant oatmeal packets of her youth. Just, you know, a lot healthier!
Pineapple Coconut Vitamin C Smoothie
A taste of the tropics! This vitamin-rich smoothie adds oomph to your immune system - and tastes mighty fine too.
Mango Tango Smoothie
This satisfying smoothie from Beard & Bonnet is kid-friendly and adult-approved! Mango, coconut, pineapple, and kale definitely do make us want to dance.