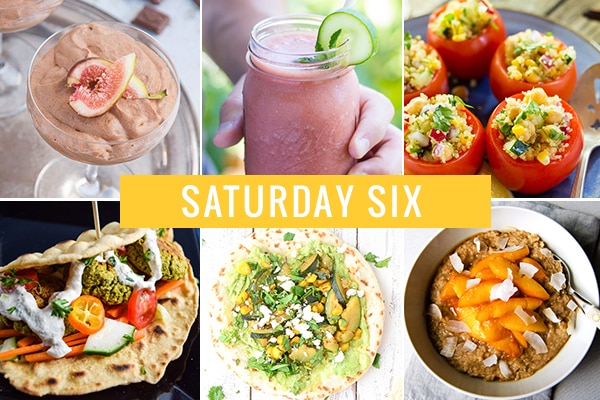 Every Saturday, we highlight some of our favorite submissions from Potluck. Here are this week's picks:
Zucchini and Corn Tacos // Just about everyone's CSA boxes are overflowing with corn and zucchini this time of year. Put them to good use, in these deliciously summery tacos. Get the recipe from Delish Knowledge →
Spinach Artichoke Falafel // Is there anything more delicious than falafel? Maybe just falafel with a twist. This one is made with baby spinach and artichoke hearts! Get the recipe from Yup It's Vegan →
Vegan Chocolate Mousse // This vegan chocolate mousse gets it's light and fluffy texture from a secret ingredient you have to try to believe. Get the recipe from Delicious Everyday →
Skin Refreshing Watermelon Smoothie // We love this refreshing summer smoothie! It's packed with anti-inflammatory ingredients that encourage healthy, glowing summer skin. Get the recipe from Making Thyme for Health →
Quinoa and Chickpea Stuffed Tomatoes // Hot days call for fresh, produce-packed meals that require minimal cooking. These quinoa and chickpea stuffed tomatoes are perfect, and work as a light main course or a substantial side. Get the recipe from She Likes Food →
Peach & Coconut Chai Oatmeal // Transform plain old oatmeal from boring to awesome with chai tea, coconut and sautéed juicy peaches. Get the recipe from Noming Thru Life →
Want to share your recipes with the Oh My Veggies community? Join Potluck and submit your recipes!