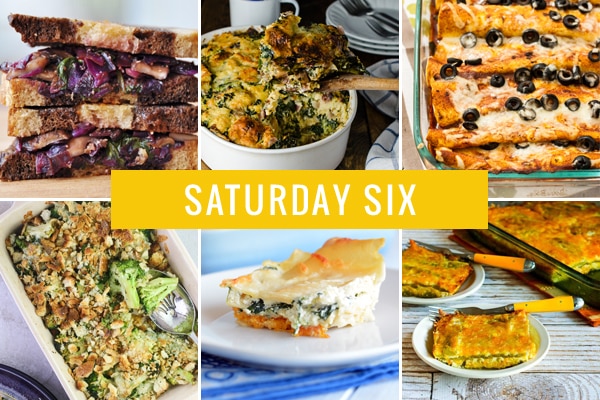 Every Saturday, we highlight some of our favorite submissions from Potluck. Here are this week's picks:
Vegan Vegetable Reuben // Break out the rye bread, it's reuben time! Cabbage, portabellas and spinach replace the meat in this vegan makeover. Get the recipe from Veganosity →
Gruyere, White Cheddar & Kale Strata // Your Christmas brunch just got a whole lot cheesier. And you can make it ahead of time! Get the recipe from The Endless Meal →
Potato & Pasilla Enchiladas // Potatoes make a perfect vegetarian filling for Mexican dishes, and these enchiladas are topped with a tasty, super-simple homemade sauce! Get the recipe from My California Roots →
Broccoli Cheddar Gratin // With sharp cheddar and sourdough breadcrumbs, this broccoli casserole is definitely a crowd-pleasing holiday side dish! Get the recipe from Orchard Street Kitchen →
Butternut Squash Lasagna // Rich, creamy lasagna made with butternut squash and spinach. Get the recipe from Nourished Simply →
Chile Rellenos Bake // "Rellenos" is really fun to say, not so fun to make. But preparing them casserole style makes things so much easier! Get the recipe from Kalyn's Kitchen →
Want to share your recipes with the Oh My Veggies community? Join Potluck and submit your recipes!