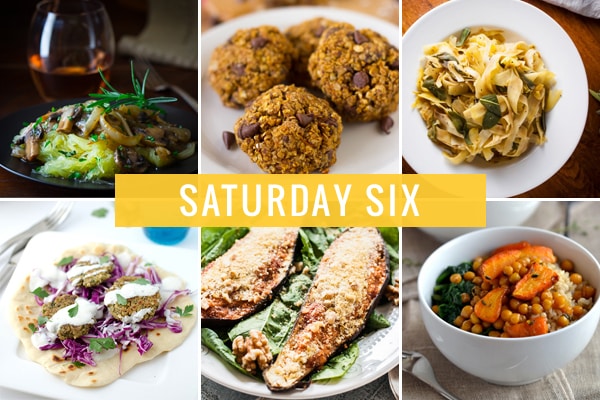 Every Saturday, we highlight some of our favorite submissions from Potluck. Here are this week's picks:
Spaghetti Squash with Mushroom Rosemary Sauce // Some people aren't fans of spaghetti squash because of its bland flavor, but adding caramelized onions, roasted garlic, and rosemary makes this a dish everyone will love. Get the recipe from Healthy Seasonal Recipes →
Pumpkin Chocolate Chip Oatmeal Breakfast Cookies // These hearty little cookies are a perfect breakfast on-the-go for those of us who can't get enough pumpkin this time of year. Get the recipe from Jessica in the Kitchen →
Sweet Potato Ribbons with Sage Brown Butter // Forgot the pasta, use ribbons of sweet potatoes instead! This 4-ingredient dinner (not counting the salt and pepper!) is both easy and delicious. Get the recipe from Home Sweet Jones →
Lentil Flatbreads with Lemon-Yogurt Sauce // Crispy lentil fritters nestled in flatbread, served with a creamy yogurt sauce—kind of like falafel, but: lentils! Get the recipe from Delish Knowledge →
Marinara-Stuffed Roasted Eggplant // Pizza in an eggplant! This changes everything. Get the recipe from My California Roots →
Maple-Orange Roasted Chickpeas & Carrots // This mac 'n cheese is made with creamy cauliflower sauce instead of a traditional béchamel-based sauce. Get the recipe from Coconut and Berries →
Want to share your recipes with the Oh My Veggies community? Join Potluck and submit your recipes!