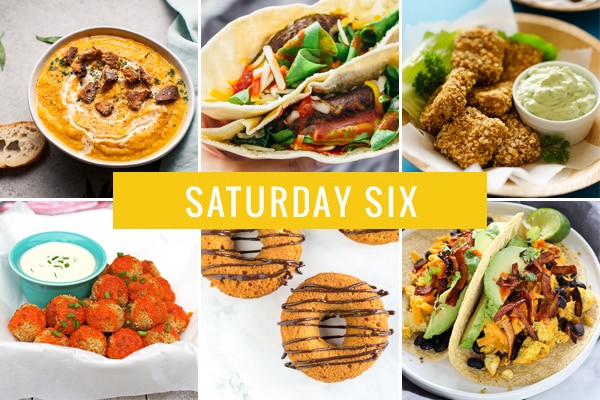 Every Saturday, we highlight some of our favorite submissions from Potluck. Here are this week's picks:
Pumpkin & Cauliflower Soup with Ginger // Now that fall's begun: soup! Start with this velvety, very fall inspired pumpkin cauliflower soup. Get the recipe from Salt & Lavendar →
Blackened Portobello Mushroom Pita Pockets // As if juicy portobello mushrooms weren't delicious enough on their own, here they are, smothered in spicy blackening seasoning and stuffed into pita pockets. Get the recipe from Savory Tooth →
Almond Crusted Baked Tofu Nuggets // Dubious about tofu? Try to keep your hands off it when it's baked up in almond-crusted nugget form! Get the recipe from Live Eat Learn →
Buffalo Quinoa Balls // Fall means football, which also means Buffalo sauce season. Get your fix, in the form of these snackable quinoa balls! Get the recipe from VNutrition →
Gluten-Free Baked Pumpkin Donuts // These donuts have all the pumpkin deliciousness, but none of the dairy or gluten! Get the recipe from NOURISHED. the blog →
Tofu Breakfast Tacos // Tacos for breakfast? Yes! When they're stuffed with a mixture of scrambled tofu and coconut bacon. Get the recipe from Dietitian Debbie Dishes →
Want to share your recipes with the Oh My Veggies community? Join Potluck and submit your recipes!