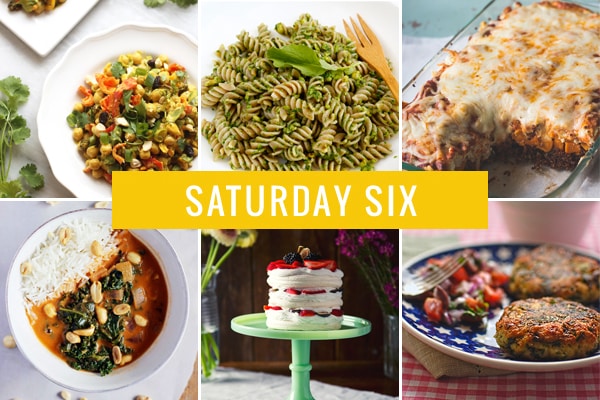 Every Saturday, we highlight some of our favorite submissions from Potluck. Here are this week's picks:
Curried Chickpea Salad // Stuff this salad into a pita or wrap it up in lettuce leaves and you've got the perfect lunch. Get the recipe from Hummusapien →
Radish Leaves Pesto Pasta // Got some radishes with the leaves still attached from the farmers market or your CSA box? Don't throw them out! Make pesto instead. Get the recipe from Food Moods →
Sweet Potato Quinoa Lasagna // Instead of noodles, this lasagna layers quinoa, cauliflower, sweet potatoes and cheese. Get the recipe from The Adventures of MJ and Hungryman →
African Peanut Stew // There are only 8 ingredients in this recipe, but they pack in a whole lot of deliciousness. Get the recipe from Sweet Little Kitchen →
Chickpea Brine Vegan Pavlova // Did you know that chickpea brine can be used in place of egg whites to make pavlova and meringues? Pickles & Honey shows you how! Get the recipe from Pickles & Honey →
Herb and Mozzarella Fritters // You can never go wrong with fritters for dinner, can you? Get the recipe from The Circus Gardener's Kitchen →
Want to share your recipes with the Oh My Veggies community? Join Potluck and submit your recipes!