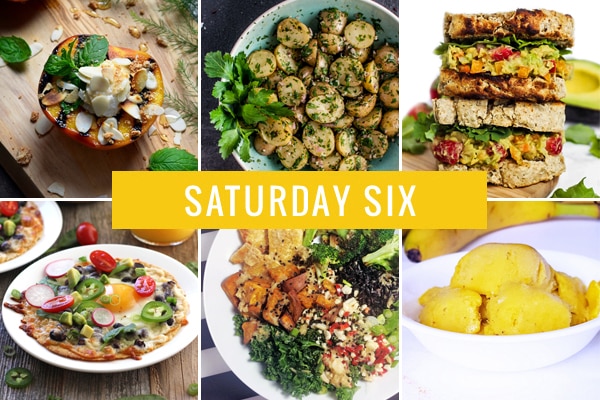 Every Saturday, we highlight some of our favorite submissions from Potluck. Here are this week's picks:
Almond Ricotta Grilled Peaches // These juicy stuffed peaches make an awesome summery dessert…that you cook up on the grill! Get the recipe from She Loves Biscotti →
Chimichurri Potato Salad // Chimichurri sauce makes a fresh and flavorful dressing for this totally mayo-free potato salad. Get the recipe from Salt & Lavendar →
Strawberry Avocado Chickpea Salad Sandwich // Want to win a lunch next week? Pack one of these sweet and savoy sandwiches! Get the recipe from Emilie Eats →
Baked Egg Tostadas // Crispy tortillas are baked up with eggs and served up with Mexican-inspired toppings to create this easy and savory breakfast! Get the recipe from Toaster Oven Love →
Black Rice Bowl with Crispy Tofu // These healthy black rice bowls are packed with tofu, healthy veggies and topped with a miso-lime dressing. Get the recipe from 586 →
Golden Milk Banana Ice Cream // Sneak some healthy turmeric into your diet, in the form of this creamy and totally dairy-free frozen treat! Get the recipe from Courtney's Cookbook →
Want to share your recipes with the Oh My Veggies community? Join Potluck and submit your recipes!