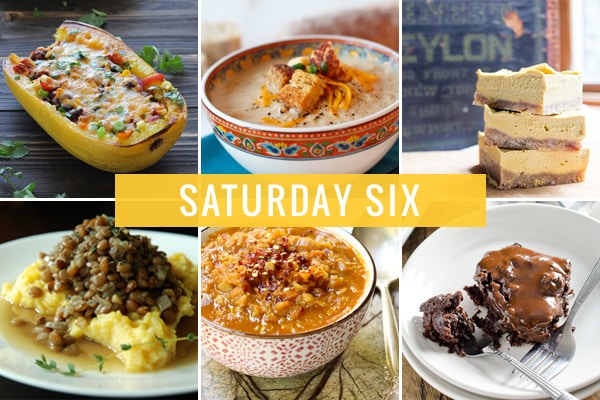 Every Saturday, we highlight some of our favorite submissions from Potluck. Here are this week's picks:
Spaghetti Squash Burrito Bowls // Burrito bowls with rice are good, but: YAWN. Try making your next burrito bowl with spaghetti squash instead. Get the recipe from Making Thyme for Health →
Creamy Cauliflower and Cheddar Soup // The creaminess in this soup is from pureed cauliflower — no heavy cream needed! Get the recipe from Simple Healthy Kitchen →
Vegan Pumpkin Cheesecake Squares // Not only are these festive little squares vegan, you can also easily make them raw too. Get the recipe from SoulBeet →
Thyme Lentils Over Polenta // A big bowl of polenta (with lentils!) is one of those warm, filling meals that's made for fall. Get the recipe from The Taste Space →
Spicy Red Lentil Soup with Veggies // Bonus: this hearty red lentil soup is also packed full of vegetables! Get the recipe from Maria Ushakova →
Healthy Fudgy Chocolate Zucchini Brownies // Let's be real, even if these weren't healthy, I'd still want to eat a dozen because they look goooood. Get the recipe from The Endless Meal →
Want to share your recipes with the Oh My Veggies community? Join Potluck and submit your recipes!