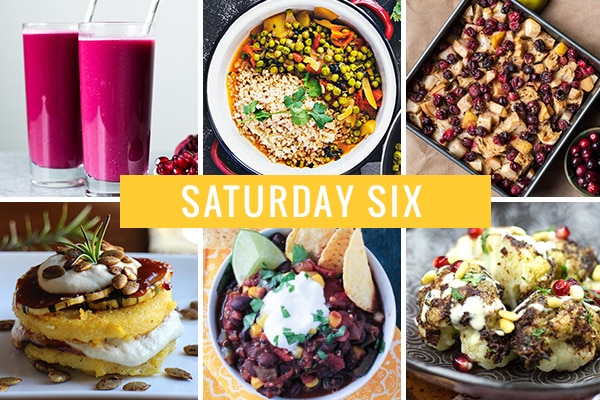 Every Saturday, we highlight some of our favorite submissions from Potluck. Here are this week's picks:
Cranberry & Pear Vegan French Toast Casserole // Holiday brunch plans? This French toast casserole promises to be a hit, and it's totally vegan. Get the recipe from Heart of a Baker →
Black Bean & Quinoa Chili with Cocoa // The secret ingredient to this richly flavorful bowl of chili…chocolate! Get the recipe from Veggie Inspired →
Portuguese Pea Stew // This cozy stew will make a veggie lover out of anyone! Get the recipe from Cocoon Cooks →
Cauliflower Shawarma with Tahini, Pomegranate & Pine Nuts // With toasty spices, pomegranate arils, and a drizzle of tahini, this cauliflower shawarma is a holiday-worthy main dish that everyone will love. Get the recipe from Sugar Love Spices →
How to Make Pomegranate Juice // Pomegranate juice is a bit pricey, unless you make it yourself! Get the recipe from Healthy Nibbles & Bits →
Polenta Stacks with BBQ Squash & Cashew Cream // Layers and layers of deliciousness go into these cute little polenta stacks. Get the recipe from Cadry's Kitchen →
Want to share your recipes with the Oh My Veggies community? Join Potluck and submit your recipes!