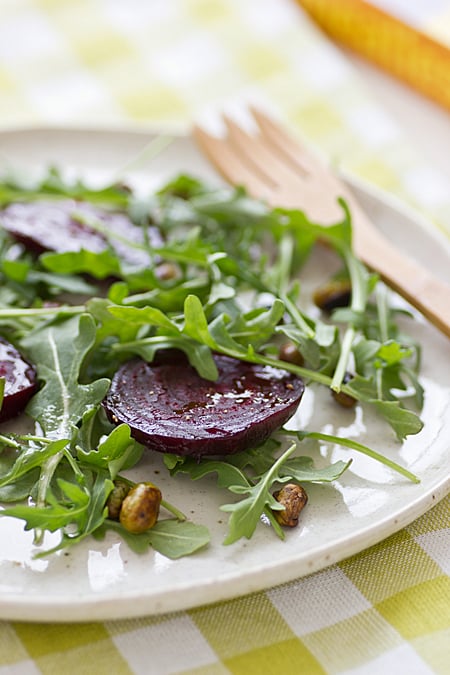 I finally did it.
I finally tried beets.
For a food blogger, I think I'm a pretty picky eater. I tend to stick to foods that I know I like and until I started blogging, I rarely felt the need to branch out beyond that. At 32 years old, I'm pretty set in my ways. But now that I blog, I feel like I should try new things because I don't want to bore you all with the same ingredients over and over again.
Enter: beets.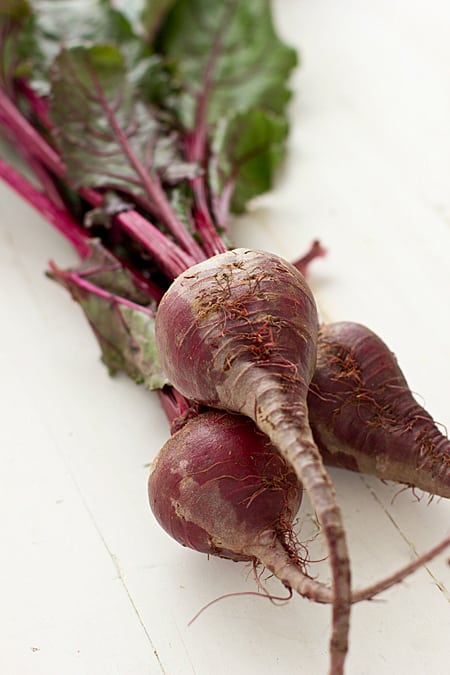 The past few times I've gone grocery shopping, I've found myself eying the bunches of beets in the produce section, wondering if maybe I should try them and then quickly talking myself out of it. "I have too much to cook this week! I can't fit anything else in!" But after receiving a review copy of Martha Stewart Living's new cookbook, Meatless: More Than 200 of the Very Best Vegetarian Recipes
, I decided to make the Roasted Beets with Edamame & Arugula recipe that caught my eye. So I picked up my beets, took some pretty pictures of them, wrapped them up, and popped them in the oven. And then this happened: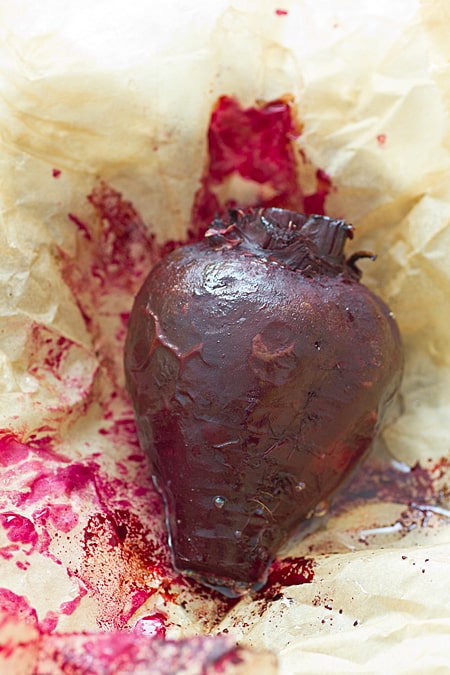 OH HECK NO! People eat this?! People really eat this?! It looked like a prop from a particularly grisly episode of CSI. This photo is going to haunt me in my dreams. So at this point, I decided no, there's no way I'm eating a beet. No! Way!
But then I peeled it and sliced it and it didn't look so bad after all. And when I tried it with the roasted edamame and arugula, I found that it tasted pretty good--pleasantly sweet and a little bit earthy. Are beets my favorite vegetable? No! But now I know that I like them and will eat them. Especially in a light salad like this.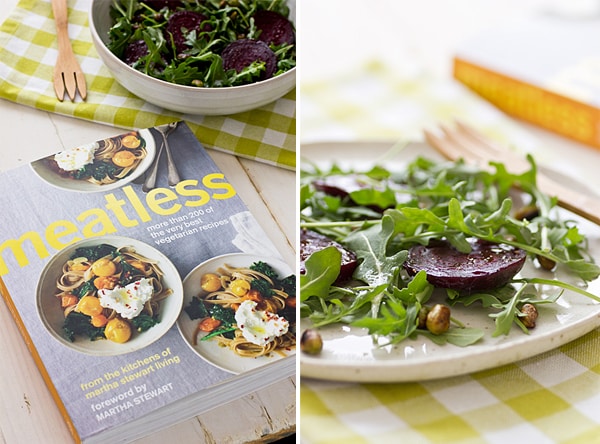 I'm a bit of a Martha Stewart fangirl, so I had high expectations when I found out about Meatless
and it did not disappoint. I subscribe to Martha Stewart Living, Whole Living, and Everyday Food, so many of the recipes in this book were familiar to me, but it's still nice to have them all in once place. What I love about Whole Living and Everyday Food in particular is that the recipes are always fairly unfussy and they're made with the types of ingredients I like to cook with--this is true of Meatless as well. No "buy a package of frozen veggie burgers and crumble them up to make tacos" or recipes with hard-to-find ingredients; these are inspired recipes that are absolutely doable for the home cook. If you're new to vegetarianism, this book has an appendix full of sample menu plans and other useful information to help make meatless cooking a little bit easier.
(And if you're new to beets? Well, you'll be happy to know there are plenty of beet recipes in this book! I might just try all of them…)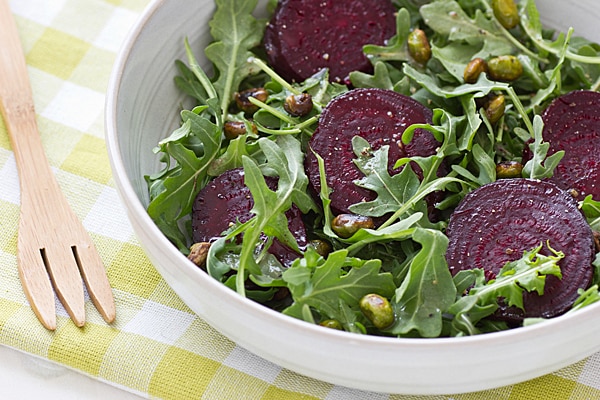 Ingredients
3

medium beets

2

tablespoons

+ 1 teaspoon olive oil

+ more for drizzling

1

c.

frozen shelled edamame

thawed

salt + pepper to taste

1

tbsp.

red wine vinegar

3

c.

baby arugula

½

c.

fresh basil leaves
Instructions
Preheat oven to 425 degrees.

Drizzle beets with olive oil; wrap in parchment paper, then in foil. Roast on a rimmed baking sheet until tender, about 1 hour. When cool enough to handle, rub off skins, then thinly slice.

Meanwhile on a second rimmed baking sheet, toss edamame with 1 teaspoon of oil; season with salt and pepper. Roast, tossing halfway through, until golden, 20-25 minutes. Let cool slightly.

In a small bowl, whisk together vinegar and remaining 2 tablespoons olive oil. In a medium bowl, combine arugula, basil, beets and edamame. Toss with dressing, season with salt and pepper, and serve.