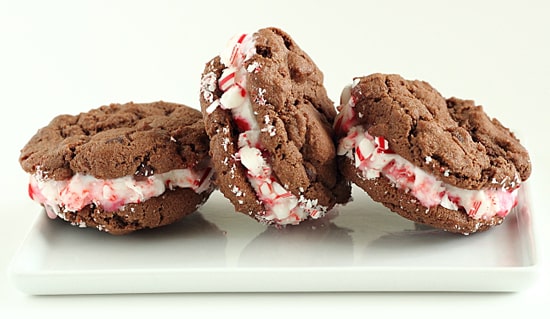 I love ice cream. Maybe I love ice cream a little too much. In the Type A Housewife household, we have a little something called the ice cream card. Whenever I have a particularly rough work day, I say to my husband, "I'm using my ice cream card tonight!" And then we get ice cream. Because really, doesn't ice cream make everything better? Doesn't it? It does.
Unfortunately, now that I'm trying to eat better, the ice cream card had to be retired. If I want ice cream, it's gonna be a reasonable portion. Enter: Chocolate Peppermint Cookie Ice Cream Sandwiches. Oh yes, they sound terribly decadent, but the chewy chocolate chocolate chip cookies weigh in at a mere 80 calories each. And the ice cream is the low-fat, low-calorie kind. The crushed candy canes? Well, that's just a little dusting of peppermint-y goodness! Just a little bit! So compared to a brownie sundae or ginormous waffle cone, these ice cream sandwiches are pretty guilt-free. You don't even need to use your ice cream card on them.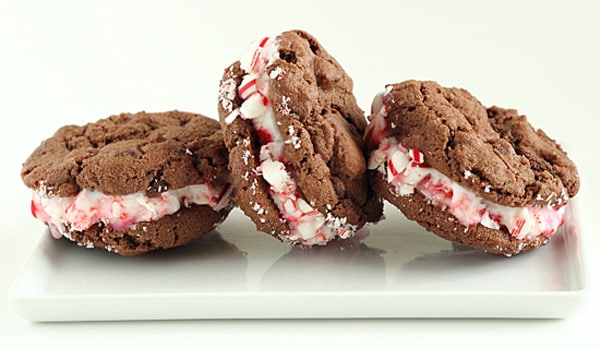 Ingredients
1

c.

all-purpose flour

⅓

c.

unsweetened cocoa

½

tsp.

baking powder

¼

tsp.

baking soda

¼

tsp.

salt

1

c.

sugar

⅓

c.

butter

softened

1

tsp.

vanilla extract

1

large egg

¼

c.

mini chocolate chips

cooking spray

2

c.

slow-churned peppermint or vanilla ice cream

½

c.

broken candy cane pieces

about 6 candy canes
Instructions
Preheat oven to 350 degrees.

Combine flour, cocoa, baking powder, baking soda, and salt in a small bowl and whisk until combined and any lumps are broken up. In a large bowl, beat butter and sugar together using a mixer on high speed. Add vanilla and egg and beat until combined. Set mixer to low speed and slowly add flour mixture. Beat until just combined and fold in chocolate chips.

Drop tablespoons of batter two inches apart onto a baking sheet coated with cooking spray. Bake for 12 minutes or until set. (Don't overbake or the cookies won't be chewy!) Cook on baking sheets for 5 minutes, then finish cooling on wire racks.

Put broken candy cane pieces on plate or in shallow dish. Spoon approximately 2 tablespoons of ice cream onto one cookie and press another cookie onto the top. Roll edges of sandwich in candy cane pieces. Freeze immediately.
Nutrition