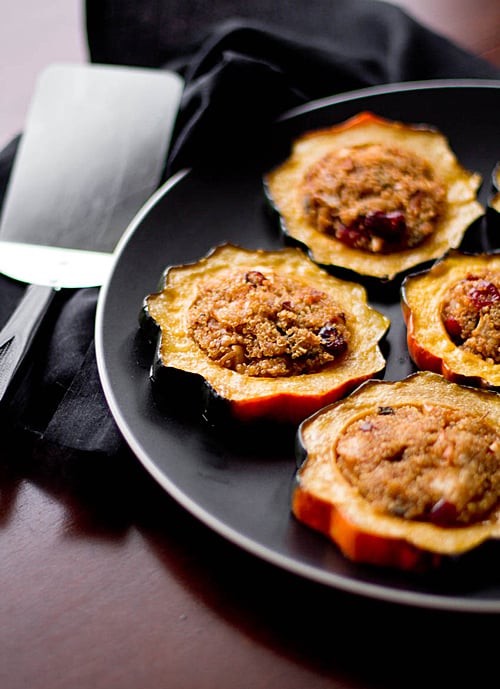 This Quinoa-Stuffed Acorn Squash Rings recipe makes a great vegetarian main dish for Thanksgiving. The rings are stuffed with apples, cheddar, and quinoa
Thanksgiving might be next week, but here on Oh My Veggies, it starts today! I'm collaborating again with Rikki Snyder, whom you may remember from my Butternut Squash Flatbread post. Rikki is a professional photographer and her work never fails to amaze me. So like the last collaboration we did, I developed the recipes and Rikki did the photos.
(Sidenote: when I told my husband this was like the food blog equivalent of Transformers, where the different parts go together and create something bigger and better, he corrected me with a sigh: "No, that's Voltron. Voltron. Not Transformers." And then he shook his head in disappointment.)
Squash at Thanksgiving
Stuffed squash often makes an appearance at vegetarian Thanksgiving meals, but usually it's in the form of squash halves, stuffed with delicious things like quinoa or rice or other grains and veggies. I decided to do rings instead. Why rings?
Well, first of all, there is so much food available on Thanksgiving. And a whole squash half (whole half! That's like jumbo shrimp, right?!) is a lot of food on top of all the sides and other yummy things you definitely don't want to miss out on. It's also a bit unwieldy to eat. Rings are a little more manageable, don't you think? Easier to eat and they don't take up nearly as much room on your plate.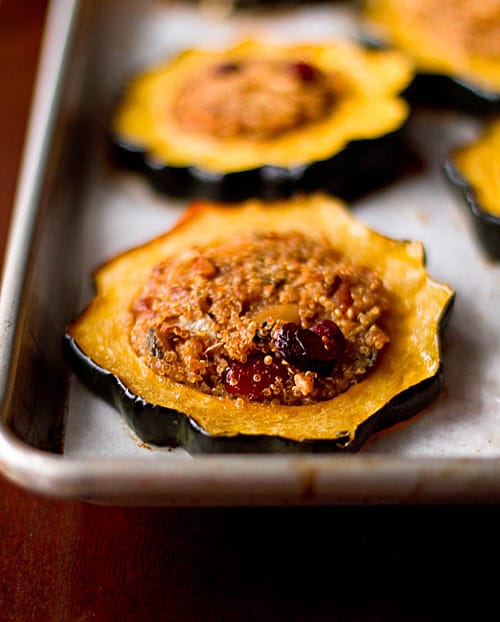 And second, while these squash rings make a wonderful main dish for vegetarians, they also make a great side dish for the meat eaters. No one is going to add a ginormous squash half to his or her plate on top of turkey and all the sides, but a squash ring is a different story. Everyone has room for a squash ring!
About This Recipe
So yeah, I'm pretty jazzed about these stuffed acorn squash rings. They're stuffed with quinoa, apples, dried cranberries, walnuts, onions, and sage, which is a lot, but it works, I promise. Because there's no bottom to the rings, I added a little egg and cheddar to the quinoa mixture to help bind the filling so it doesn't fall out when transferring from the baking sheet to serving platter.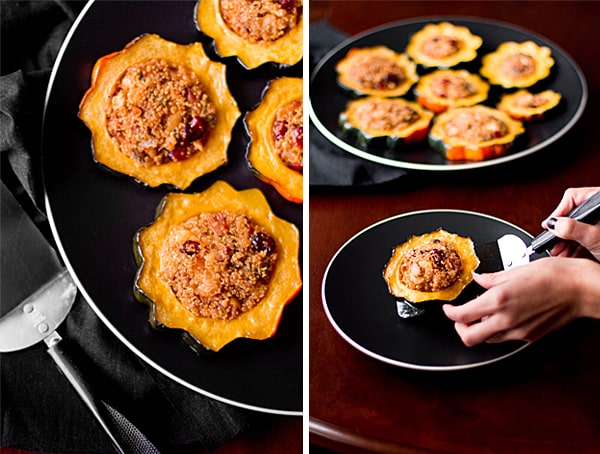 I originally developed this recipe for delicata squash; if you're able to find large ones, 2 or 3 of those could be used in place of acorn squash. (Because I couldn't consistently find large delicata squash, I decided to use acorn squash instead.) And any relative of acorn squash would work as well, like the sweet dumpling or yellow acorn.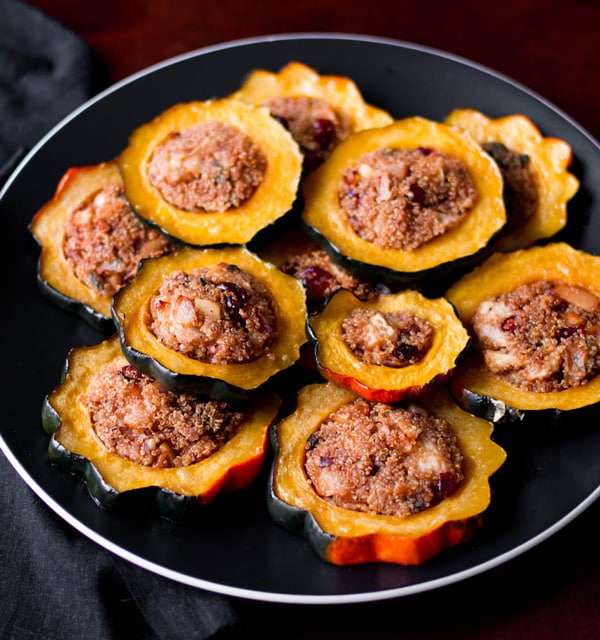 Ingredients
olive oil mister or cooking spray

½

cup

quinoa

rinsed thoroughly

1

cup

vegetable broth

1

tbsp

olive oil

1

medium onion

diced

1

apple

cored and diced

½

cup

sharp

aged, or smoked cheddar cheese, shredded

¼

cup

dried cranberries

2

tbsp

chopped sage

2

tbsp

chopped walnuts

salt + pepper

to taste

1

egg

whisked

3

small acorn or sweet dumpling squash

cut into ½-inch slices (remove seeds & guts)

1

tbsp

butter

melted

1

tbsp

maple syrup
Instructions
Preheat oven to 375°F. Spray two rimmed baking sheets with cooking spray or oil and place squash rings on sheets.

Cook quinoa in broth according to package directions. Cool slightly.

Heat olive oil in a medium skillet over medium heat. Add onion. Cook about 10 minutes, or until onion is just beginning to brown. Add apple and cook about 5 minutes more, until apple is softened. Allow to cool slightly.

Combine quinoa, apple, and onion mixture with cheese, cranberries, sage, and walnuts in a large bowl. Add salt and pepper to taste. Stir in egg.

In a small bowl, combine butter and maple syrup. Brush tops and insides of squash rings with butter mixture; season with salt and pepper.

Stuff quinoa filling into the center of each squash ring, pressing down to fit as much stuffing as possible without overflowing. Spray centers of squash rings with oil or cooking spray. Bake 30–40 minutes, or until tops are golden brown and squash is tender.
Nutrition
Calories:
283
kcal
Carbohydrates:
45
g
Protein:
8
g
Fat:
10
g
Saturated Fat:
3
g
Polyunsaturated Fat:
3
g
Monounsaturated Fat:
3
g
Trans Fat:
1
g
Cholesterol:
37
mg
Sodium:
237
mg
Potassium:
942
mg
Fiber:
6
g
Sugar:
10
g
Vitamin A:
1032
IU
Vitamin C:
27
mg
Calcium:
179
mg
Iron:
3
mg