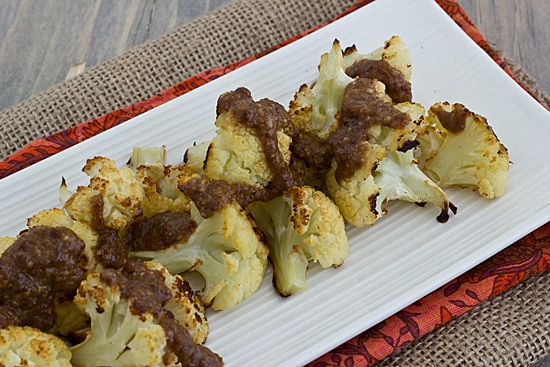 One of my secrets to vegetarian meal planning is to use side dishes as main dishes. This isn't really a revolutionary idea--I mean, how many holiday meals or dinner parties do we vegetarians end up doing just that? Most recipes for sides serve 4-6, so when I make them, usually I divide them in half instead. And then I'll make a convenience protein, like marinated tempeh or baked tofu, as the side. So basically it's the inverse of the typical American meal, with the big slab of protein and the small side serving of vegetables. Sometimes if I'm really short on time, I'll omit the protein altogether (especially if the side dish I'm making already contains protein).
As you know, I'm on a mission to use up pantry items before moving. When I saw a recipe for Oven Roasted Cauliflower with Raisin Vinaigrette in Vegetarian Times, it stood out to me because it uses raisins and balsamic vinegar, both of which I have on hand. In fact, the only thing I needed to buy for this recipe was cauliflower. Usually, side dishes come in at under 200 calories per serving, so increasing the serving size isn't a problem when making them as a meal. This recipe was 263 calories per serving though, so I adjusted the recipe by making less vinaigrette and using a much smaller amount of olive oil.
I'm usually not a big fan of vinaigrette, but I liked this raisin vinaigrette a lot because it wasn't too acidic. Next time, I think I'll double the recipe and reserve the leftovers for spinach or kale salads.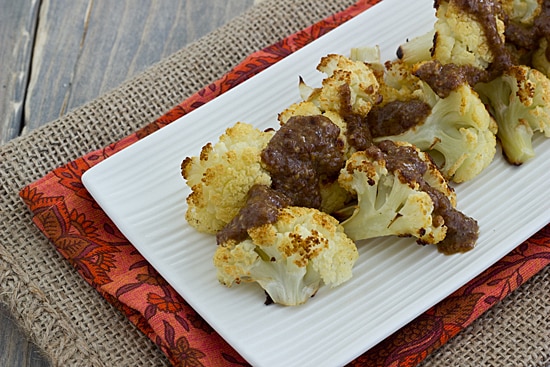 Ingredients
Olive oil mister or cooking spray

1

large cauliflower

cut into florets

salt and pepper to taste

¼

cup

raisins

1

tbsp.

cashews

chopped

½

tbsp.

olive oil

1

tbsp.

balsamic vinegar
Instructions
Preheat oven to 400 degrees.

Spray a rimmed baking sheet with olive oil. Place cauliflower on baking sheet; spray with additional olive oil and season with salt and pepper to taste. Roast for 40 minutes, stirring halfway through.

While cauliflower is roasting, place raisins in a bowl with ½ cup of boiling water. Let stand for 15 minutes or until raisins have swelled.

Drain raisins, reserving 2 tablespoons of soaking liquid. Combine liquid, raisins, cashews, olive oil, and balsamic vinegar in blender; blend until smooth. Drizzle vinaigrette over cauliflower before serving.