One-Pot Sweet Potato Lentil Stew is packed to the brim with healthy ingredients. This colorful one pot meal is ready to enjoy in just one hour and makes for an easy clean-up! And it's vegan, too.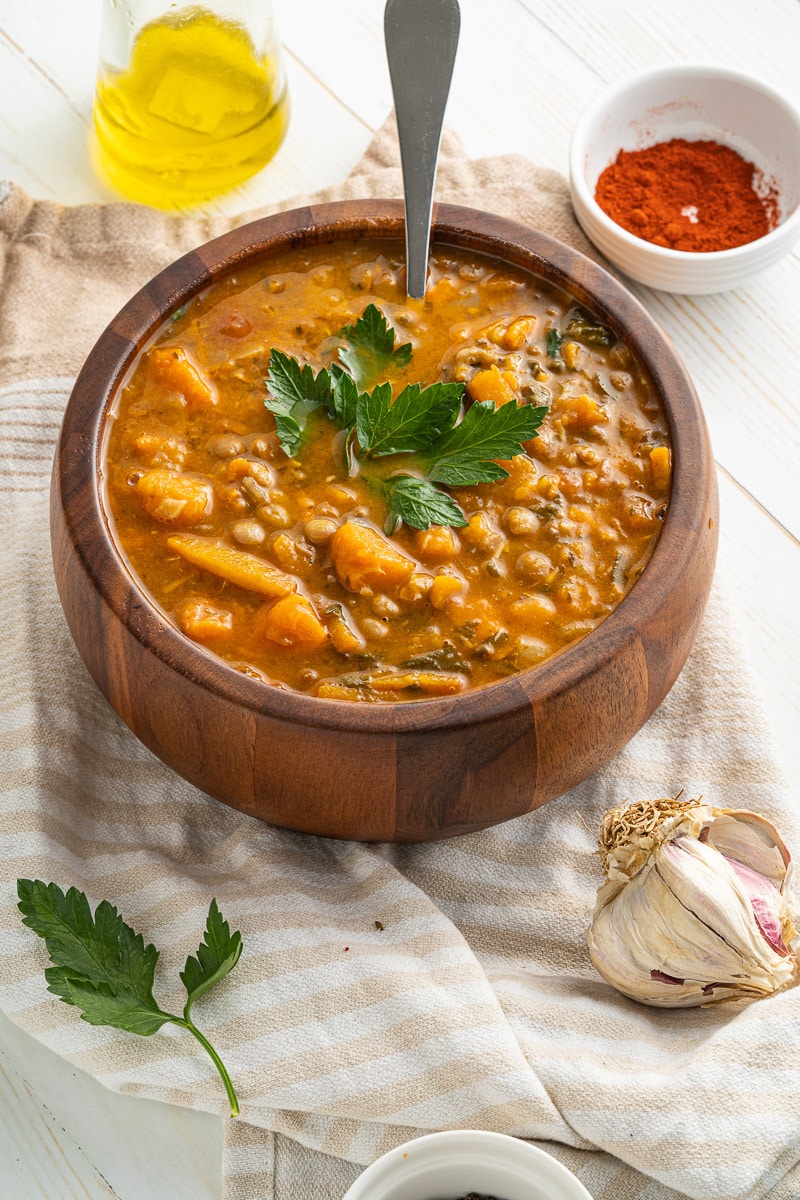 Jump to:
This One-Pot Sweet Potato Lentil Stew is a bright, bold dish both in flavor and appearance. It has a great savory flavor, and it's as easy to make as tossing all the ingredients in a pot to cook.
This flavor-packed vegan stew calls for simple ingredients. It is a delightful combination of lentils, yellow onion, sweet potato, and carrot. Bite after bite, it's packed with bold flavors.
This gourmet vegan stew makes a hearty and healthy meal with a fast clean-up. In addition, this one-pot stew is a delicious way to enjoy and share fresh vegetables. Serve it alongside some fresh homemade soda bread or a tasty, crunchy salad.
This One-Pot Sweet Potato Lentil Stew recipe is:
Vegan
Vegetarian friendly
Easy to make
Ready to eat in just one hour
Easy to clean up
Delicious!
We love one-pot meals. They make things easy to prepare to clean up, and they're a great way to hide vegetables from your littles!
In fact, I've written an entire cookbook full of one pot vegan recipes. Check it out here!
How to Make One-Pot Sweet Potato Lentil Stew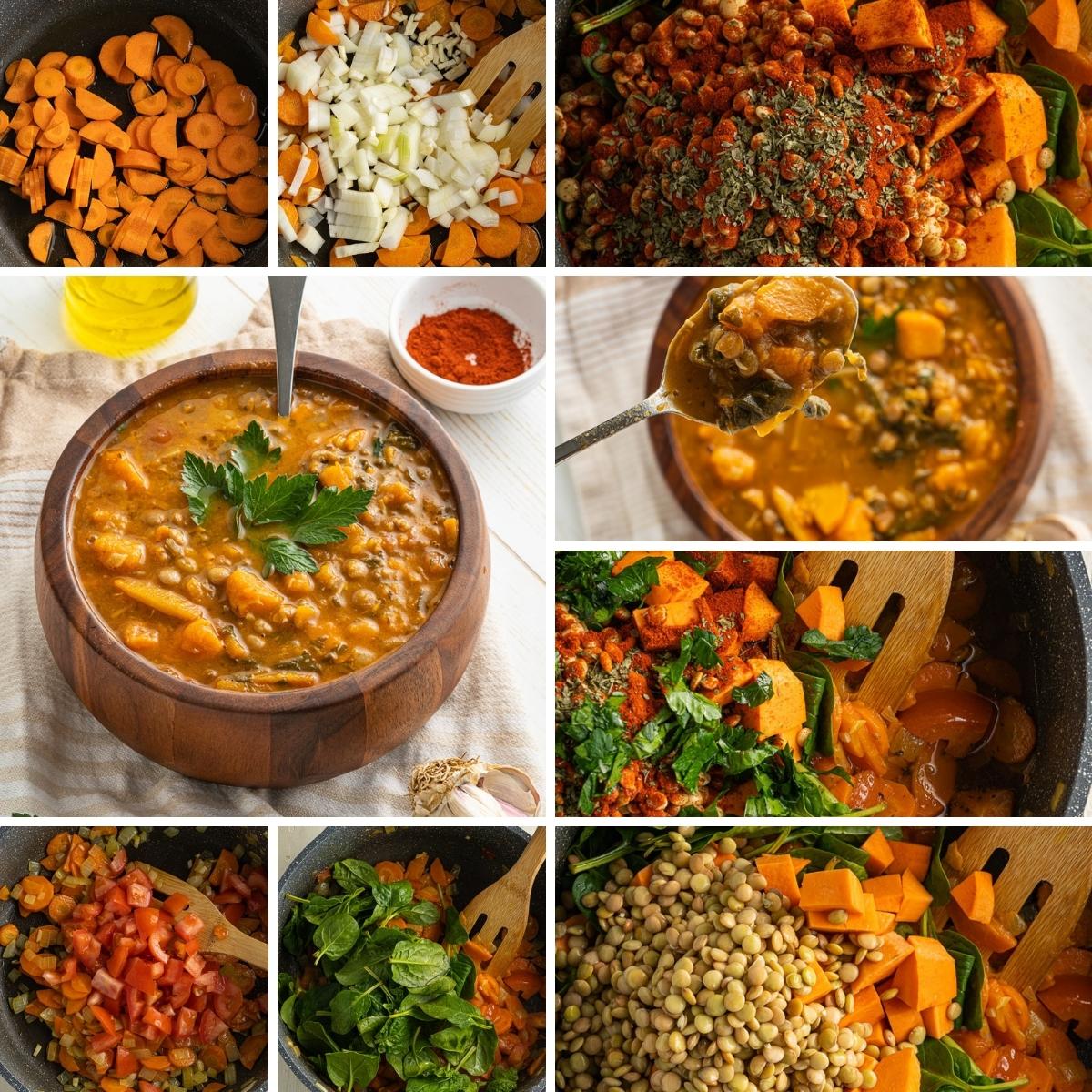 Sauté carrots with heated oil in a large pot.
Once carrots are golden, add garlic and onion and continue sautéing.
Add tomato and bay leaves and continue simmering until the tomato has softened.
Toss in remaining ingredients and simmer.
Use broth to make the vegan stew the consistency you like.
Cook until the sweet potatoes are tender.
Serve and enjoy!
Full directions for how to make One-Pot Sweet Potato Lentil Stew are in the printable recipe card at the bottom of the post.
Tips, Tricks, & Variations for One-Pot Sweet Potato Lentil Stew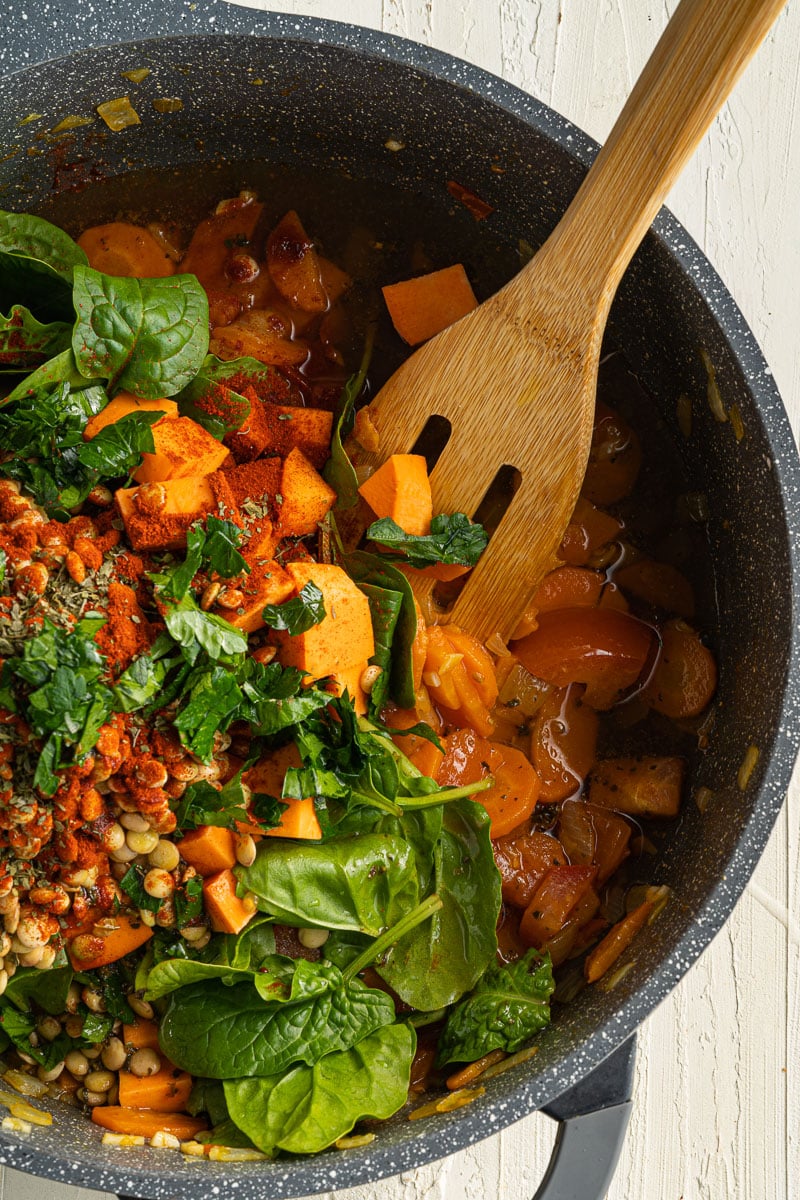 Clean and soak your lentils.
We recommend soaking your lentils whenever possible, but if that's not possible, you can check out the below tip.
Regardless of how you prepare your lentils, run them through a colander before adding them to this vegan stew. This will ensure no pebbles or other unwanted items sneak in. In addition, doing this helps to ensure the legume is as healthy as possible.
Short on time?
If you forget to soak the lentils or you just don't have the time, you can prepare this dish with dry lentils instead. Soaking your lentils is better because it reduces the antinutrients, but if time is a factor then simply rinse the dry lentils and increase the cooking time as needed.
Don't overdo the bay leaves.
The bay leaves in this vegan soup cook and release their aroma and flavor slowly. Please don't overdo it on this ingredient, thinking the leaves you've added aren't doing anything. The bay leaves will add a ton of flavor to the dish, but you have to let them simmer slowly to release their delicious flavors!
Clean as you go!
One-pot cooking is fantastic. It's easy to prepare and quick to clean up afterward. Stay on top of your dinner mess by taking care of your preparation items while you cook. Then, tidy up around you while the delicious pot simmers. This will help to ensure you don't have a messy kitchen afterwards!
Experiment with vegetables.
Though this vegan stew is already packed with vegetables, there isn't anything that says you can't add more! Try adding diced sweet bell pepper - or a spicy jalapeno pepper - for a more heated flavor.
You can also add broccoli, cauliflower, or Brussel sprouts. All of these vegetables pair exceptionally well with sweet potatoes! Chop them finely and toss them in, and cook until tender.
Try other lentil recipes!
Lentils are fantastic and packed with healthy nutrients! They're great to add into meals or center your meals around. If you're interested in experimenting with some other lentil recipes, here are a few to try:
One-Pot Sweet Potato Lentil Stew FAQs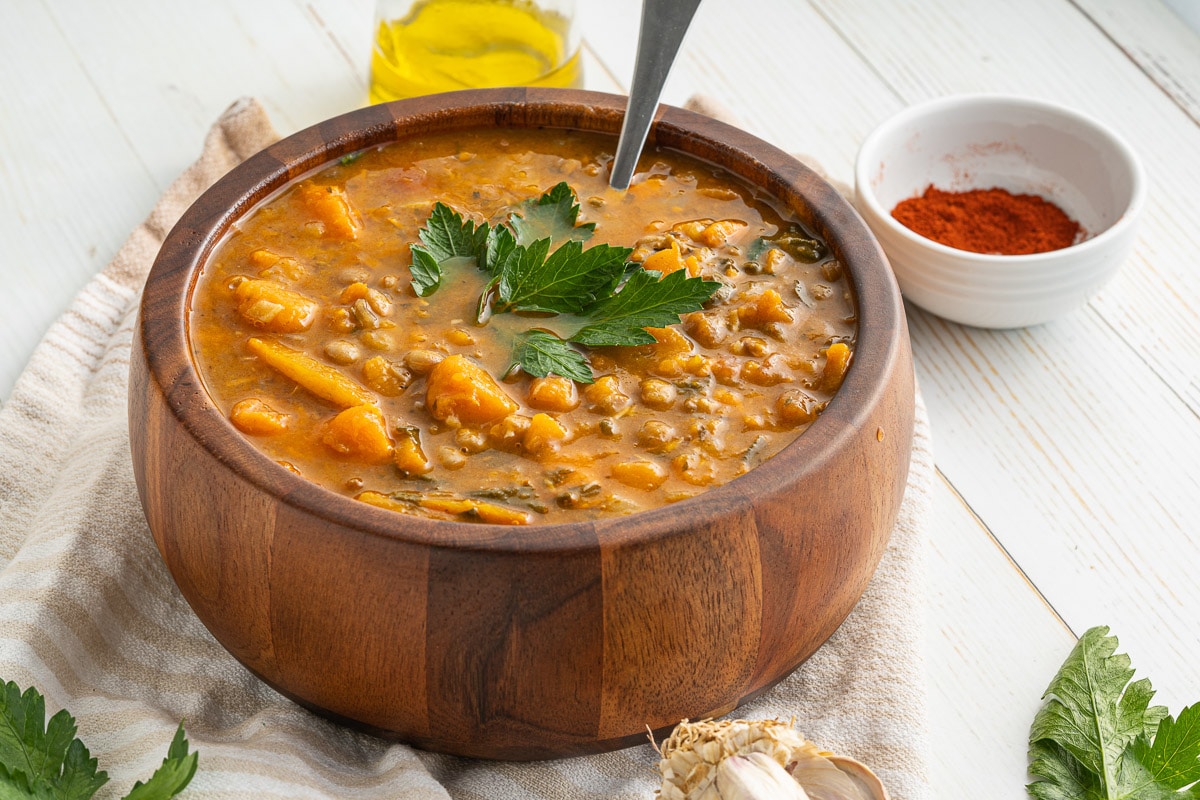 Why is it recommended to soak the lentils first?
Soaking lentils prior to cooking with them helps to reduce their cooking time by nearly half and makes sure they're clean. It isn't 100% necessary but definitely recommended!
Is sweet potato lentil stew healthy?
Sweet potato lentil stew is absolutely healthy! Lentils are somewhat of a superfood and this vegan stew is packed with them. Lentils are rich in protein and high in fiber.
The rest of this vegan stew is made of various nutritious vegetables as well. This one-pot sweet potato lentil stew is both healthy and hearty!
Can I put vegan stew leftovers in the fridge for tomorrow?
You can definitely store your leftover stew in the fridge for tomorrow. And, it will taste fantastic! The flavors and spices will have more time to sit, and I'd argue that this stew tastes even better the next day.
More Tasty Recipes
If you love one-pot meals then check out some of our other favorites:
(We weren't kidding when we mentioned we love one-pot meals!)
While you're here, be sure to grab our FREE 5-Day Meatless Meal Plan. It's packed with tasty recipes to make vegetarian cooking easy and delicious!
Recipe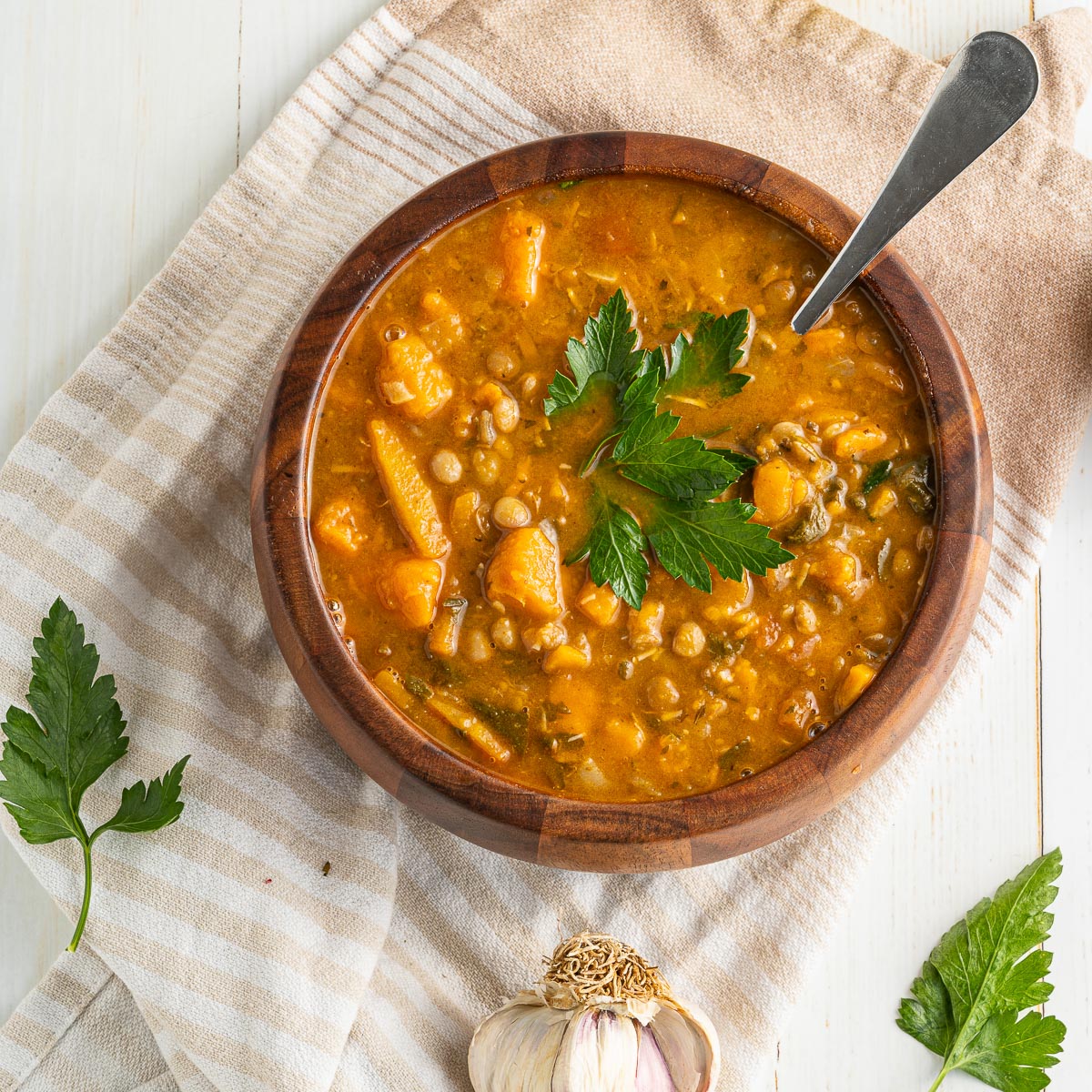 Ingredients
1

cup

dry lentils

soaked for 8 hours if desired

1

yellow onion

finely chopped

1

sweet potato

large, peeled and chopped into bite sized pieces

2

carrots

peeled and sliced into bite sized pieces

4

cups

vegetable broth

may need up to 6 cups

2

tbsp

olive oil

3

cloves

garlic

peeled and minced

1

cup

fresh spinach

packed

2

tomatoes

chopped

½

tsp

smoked paprika

1

tsp

salt

½

tsp

ground black pepper

1

tsp

dried oregano

¼

cup

fresh parsley
Instructions
Heat olive oil in a large pot over medium heat.

Add the sliced carrots and saute until slightly golden.

Add the onion and garlic and sauté with the carrot until tender.

Add the chopped tomatoes and bay leaves and saute until the tomato is softened and the bay leaf is fragrant.

Add the sweet potato and spinach leaves.

Next, add the soaked lentils.

Add seasoning and spices—smoked paprika, dried oregano, fresh parsley

Add 4 cups of vegetable broth. (You can add up to 2 additional cups of broth if the stew becomes too thick for your liking.)

Cook the stew for 30–40 minutes, until the sweet potatoes are tender.
Notes
You could use the dry lentils without soaking them if you're in a rush—but it is always a good practice to soak them as it reduces the antinutrients from the legumes.
If you don't have enough time to soak your lentils, wash them carefully before use. You may also need to increase the cook time slightly.
Nutrition
Calories:
336
kcal
Carbohydrates:
53
g
Protein:
15
g
Fat:
8
g
Saturated Fat:
1
g
Polyunsaturated Fat:
1
g
Monounsaturated Fat:
5
g
Sodium:
1589
mg
Potassium:
1020
mg
Fiber:
19
g
Sugar:
10
g
Vitamin A:
15302
IU
Vitamin C:
24
mg
Calcium:
94
mg
Iron:
5
mg
Craving more veg-friendly recipes?
Shop our collection of vegetarian and vegan cookbooks, including our new Vegan Thanksgiving and Vegan Christmas cookbooks!