A year and a half ago, we were knocking down walls and rearranging spaces to put a brand new kitchen in our house. A few months (and a baby) later, we were moving out-of-state and I had to say good-bye to the kitchen I painstakingly designed piece-by-piece. Sigh.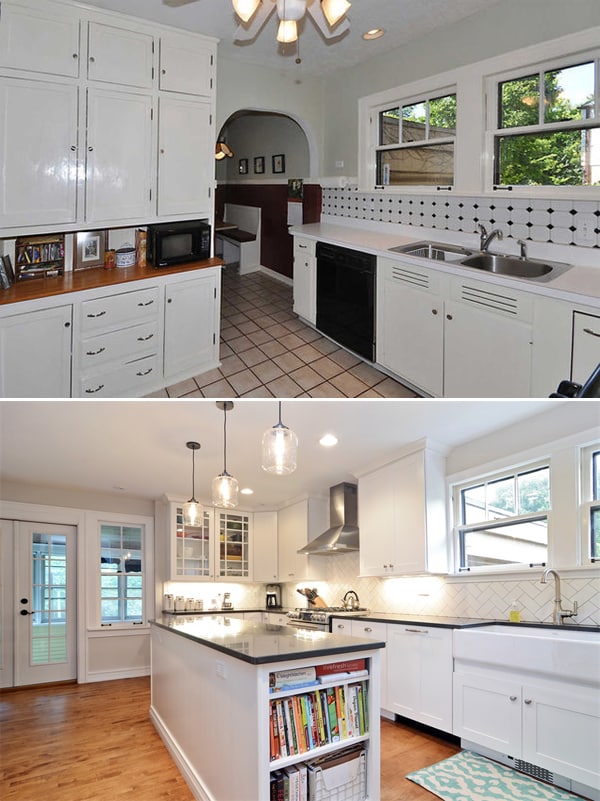 We had trouble finding a house with a perfect kitchen, but we found one that had recently been renovated and had a functional layout—and white cabinets, which were a must for me. After going through a renovation not too long ago, we didn't want to tackle another one, so our goal was to find a kitchen that just needed some tweaking. We also wanted to live with it for a while so we'd have a better idea of what changes we wanted to make.
We did make some changes right away. We painted the walls a light, warm gray (Wish by Benjamin Moore) and painted the trim around the door and window white. (Painting the 80s-style orangey wood trim throughout our house is an ongoing project!) Laminate flooring was switched out with wide-plank bamboo from Eco-Friendly Flooring, which instantly elevated the look of the room. And then the biggie: we replaced the stainless steel appliances with new white appliances from KitchenAid.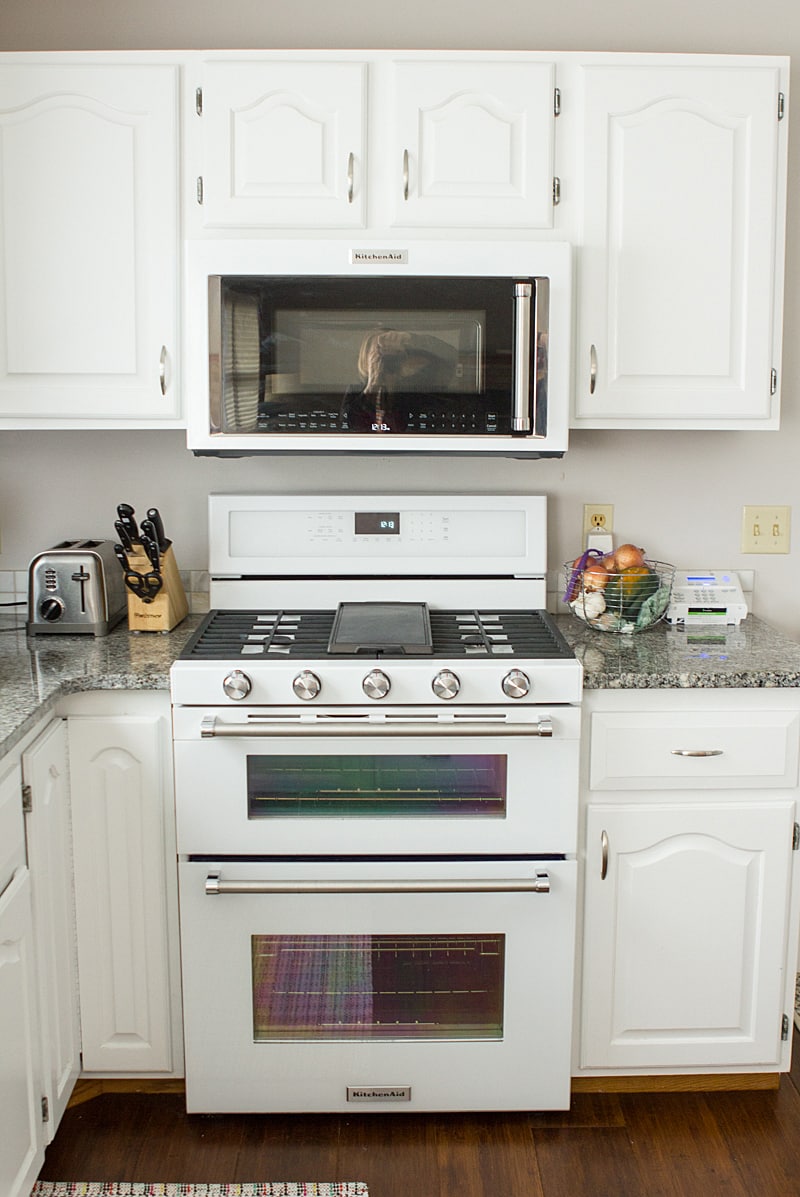 The existing appliances were mismatched and the fridge was a small, apartment-sized model, which wasn't going to work for us. I also knew that I needed a double oven, both for work and for the batch cooking I do on the weekends—being able to have two ovens going at once is essential for getting things done quickly!
And then there was the whole stainless steel thing—after having stainless steel in two kitchens, I was officially over it. I wanted something different, but even more than that, I wanted something that was easy to clean. With a toddler in the kitchen, I knew that there would be constant handprints and smears on stainless appliances and white just seemed like a better option. After having these for nearly 5 months, I can say that I am so glad we went with white. They really are easier to clean and they're my favorite thing about the kitchen.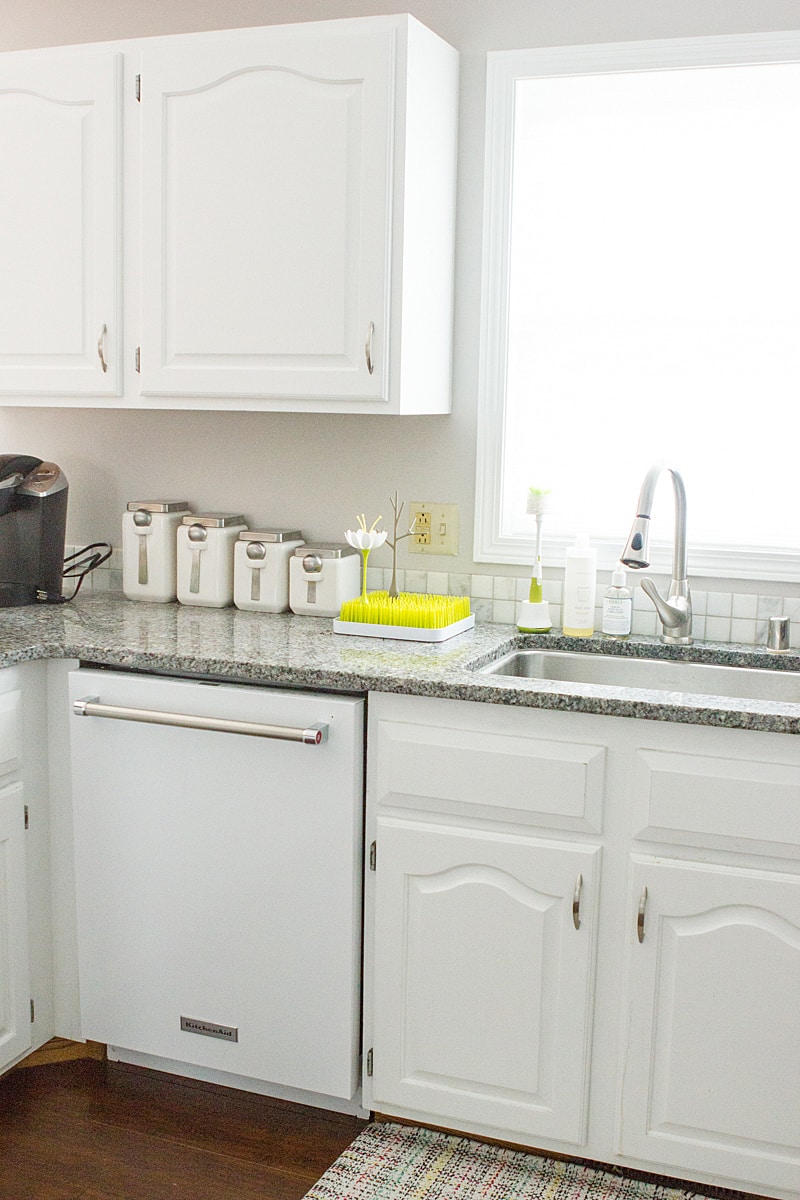 So that's what we've changed so far. What will we do next?
While I like that the cabinets are white, they're not exactly my style—plus, it seems they were painted white without being sanded or primed first, as the paint is constantly flaking off. We thought we'd replace the fronts with Shaker style doors, but that might not be possible, so IKEA cabinets may be in our future. I'd also like to put in a full backsplash (I've already gotten spatters on the walls from cooking!) and new light fixtures.
Even though I love to cook, I don't need a huge kitchen, just enough space to move about comfortably and storage for my cookware and tools (which I had already pared down to the essentials). The only quibble I have about the size of this kitchen is the lack of a pantry—oh, I miss my old pantry! Instead, we have two tall cabinets that serve as pantry space, but unfortunately the shelves aren't adjustable and there's not enough space to stand up a bottle of olive oil or vinegar. These cabinets are also super deep, which makes it a pain to retrieve anything in back and things get disorganized fast. I put things like herbs and spices in boxes to make finding things easier, but this is another argument for replacing the cabinets vs. just switching out the doors—since we don't have a pantry, roll-out shelves for the cabinets we use to store food in would be helpful.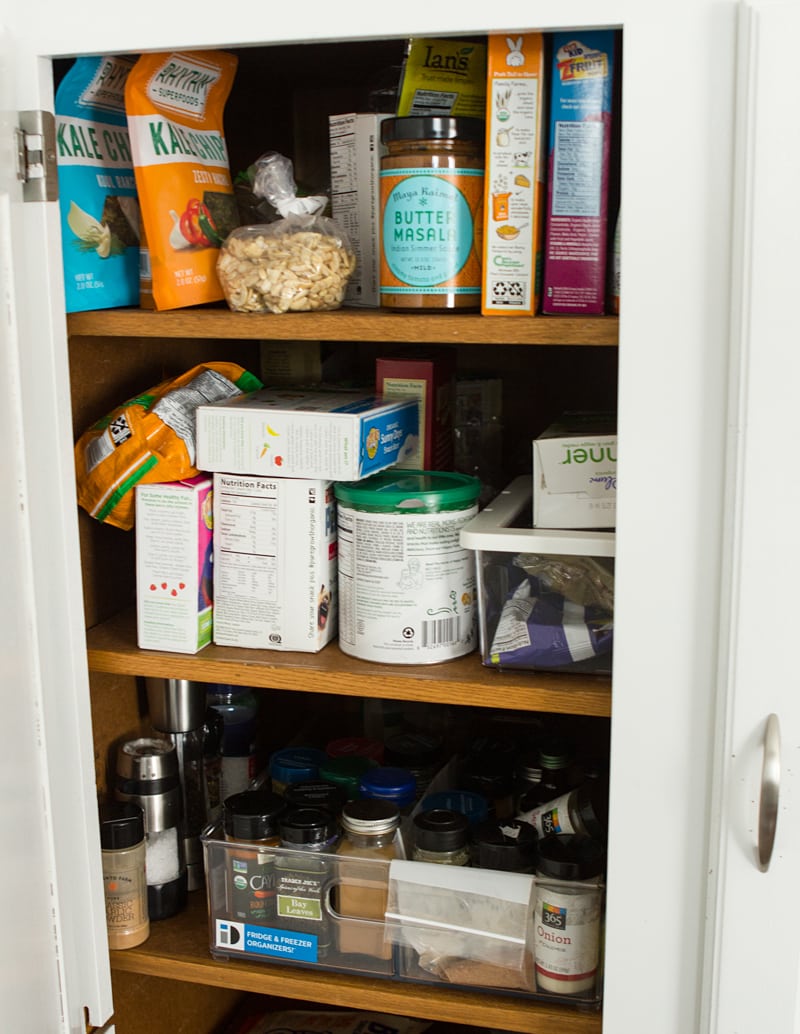 Tackling the renovation slowly rather than doing it all at once like in our last house can be frustrating at times, but I've learned that I can live with things being imperfect; the things that bother me most are all things having to do with functionality, not aesthetics. Little by little, it will get done!
KitchenAid provided the appliances for our renovation-in-progress, but all opinions in this post are my own.