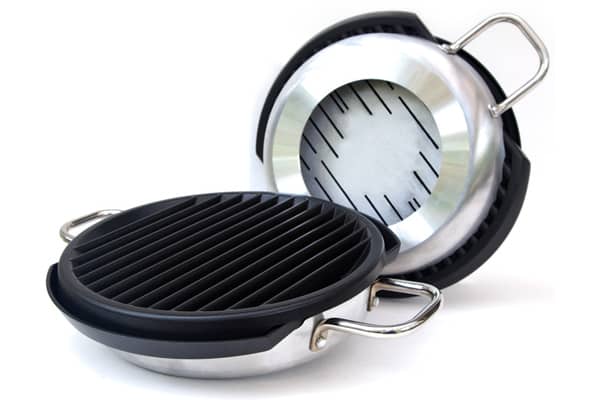 Apart from a little picnic-sized charcoal grill that we occasionally use during summer months, we've never had a real grill before and almost all of our grilling is done indoors. With indoor grilling, you usually end up compromising on flavor, but the upshot is that it's a lot easier than charcoal grilling.
Our default method of indoor grilling is an electric countertop grill — we have a grill pan too, but I've never been too impressed with it. It's basically a skillet with ridges and for some reason, it ends up either under-cooking or burning food whenever I try to use it. When I had the chance to try Stephen's Stovetop BBQ, I was interested to see how it would compare to a traditional grill pan.
The grill is easy to set up, easy to use, and easy to clean. There are three parts (the base, the drip tray, and the grill top), but they're a cinch to put together, and you can store the grill so it's all assembled and ready to use. Grilling is a piece of cake — just pre-heat the grill for about 3-5 minutes on medium heat, and you're good to go. This grill is a great option for anyone living in an apartment or in a region with an all-too-short grilling season. True, you miss out on that unique smoky flavor from an outdoor grill, but it is pretty liberating to be grilling while there's snow, ice, and sub-zero temps outside! We've used the Stephen's Stovetop BBQ a number of times for veggies, veggie burgers, and other foods, and so far it still looks and works like new. All three components are dishwasher safe, but it's easy to clean them in the sink too.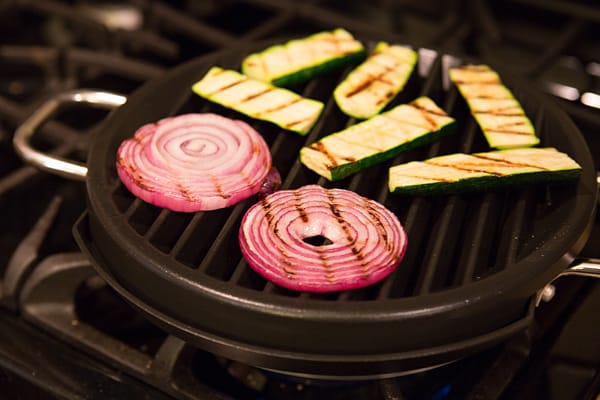 The biggest caveat to Stephen's Stovetop BBQ is that it's designed for gas stoves only — so if you have electric, you're out of luck. Unlike a grill pan and many electric countertop grills, the grates on the Stovetop BBQ allow for juices to drain off. Although this is a bigger concern when grilling meat, it's nice for vegetables with high water content, like mushrooms and zucchini. I've had issues grilling both of those vegetables indoors — because the liquid doesn't drain off as efficiently in a grill pan, the vegetables become soggy and end up steaming themselves.
We absolutely loved using Stephen's Stovetop BBQ for grilling vegetables, though, and I plan on using it exclusively whenever I've got some veggies to grill. They were nicely seared and tender without being soggy. We have a GE gas range and it took about 5 minutes on each side (so 10 minutes total) to cook a pan full of onions, zucchini, and portabellas, plus time pre-heating the grill. Although I haven't tried it, I think tofu and marinated tempeh would be fantastic on this grill as well.
Foods with less water content didn't do quite as well. We tried grilling frozen veggie burgers and it took quite a while for them to cook. That said, I think homemade burgers would do just fine. If you find yourself missing your outdoor grill in the winter months, or if you don't have an outdoor grill at all, Stephen's Stovetop BBQ is definitely more effective than a traditional grill pan.
Buy It!
Stephen's Stovetop BBQ retails for $119, and you can purchase it online at the Stephen's Stovetop BBQ website.
Disclaimer: We received the Stephen's Stovetop BBQ to test, but this had no influence on our opinion.