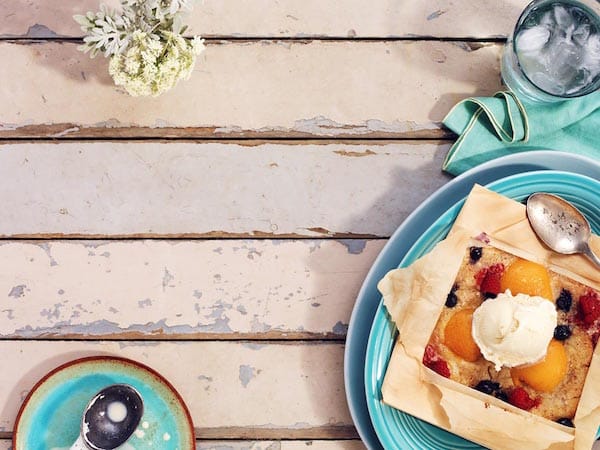 My oven and I have sort of a love-hate relationship when it comes to roasting and baking. Actually, it's more of a pan issue. I hate. Cleaning. Pans. I'll go out of my way not to use the oven if I'm feeling lazy enough—sad, right? Yes. Which is why I've started keeping my kitchen stocked with parchment products like PaperChef: since parchment is inherently non-stick, you never need to grease a pan, nor do you need to chisel away at caked-on roasted broccoli or let said pan soak for an eternity before you attempt to scrub.
The basic PaperChef culinary parchment works wonderfully for a variety of uses: roasting veggies, baking cookies and even non-oven tasks like rolling herbed butter. The Tulip baking cups were also excellent for muffins and cupcakes—way less stickiness and overflow than I usually encounter with regular baking cups. But I was really impressed with the cooking bags. The bags emulate the French technique of "en papillote" cooking (literally, "in parchment"), allowing your veggies to steam along with their seasonings in a contained environment right in the oven. (Heads up that you will want to place the bags on a baking sheet.) Steaming isn't usually my favorite way to cook, but since the bags allow you to add seasonings and the steam to build without water, everything turned out much more flavorful than you'd expect. I also tried them out to make a Cardamom Baked Apple dessert, and the apples got perfectly soft, without any mushiness.
There's also the very important cleanup factor. When your dinner's done, you can serve it right out of the bag with no pan-washing required. PaperChef says you can even place the cooking bags on the top rack of your grill (at temps under 425°F). And unlike aluminum foil, you won't need to worry about your food sticking!
Find out where to buy PaperChef products at paperchef.com.
Disclaimer: We received samples from PaperChef in order to try their products, but this had no influence on our opinion and this isn't a sponsored post.