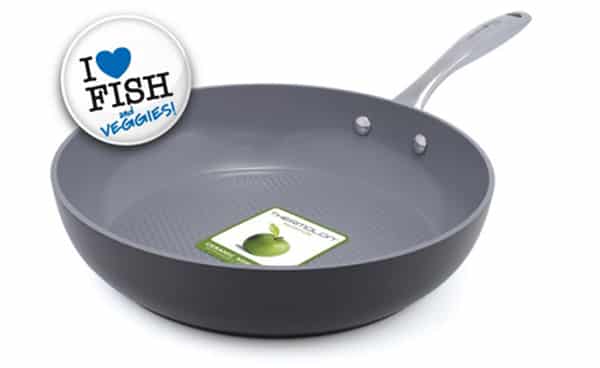 For years, non-stick pots and pans were a staple in our kitchen, until we learned of the dangers of the chemicals used in their production. Getting rid of our cookware was painful, but the choice was obvious–veggie stir fry with a side of polymer fume fever? No thanks! That's why we're so excited at the strides that have been made in creating quality non-stick cookware without the use of dangerous chemicals. GreenPan is leading the way with their Thermolon non-stick ceramic coating and their new "I Love Cooking" line of 3D cookware.
We received the 8″ I Love Eggs & Pancakes fry pan and the 11″ I Love Fish & Veggies skillet from GreenPan to test in our kitchen (the line also includes "I Love Meat & Poultry" pans). We loved how evenly food cooked in the pans, and how well they stacked up next to traditional non-stick cookware. Usually pan-frying tofu leaves our pans with a nasty burnt mess that's nearly impossible to remove, but not with the GreenPans! Cleanup was a breeze, using just a little soap and water. We also found that we could get away with using less oil than usual in our cooking. This doesn't work with everything (caramelized onions just aren't the same without a healthy glug of olive oil–they didn't seem to work out very well on the GreenPan), but it's great for quick sautés and stir fries.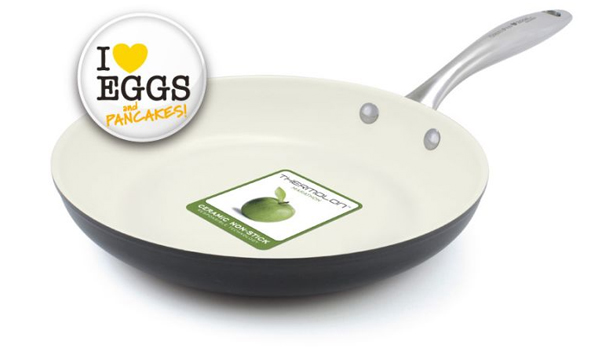 The "I Love Cooking" pans each have a different scratch-resistant 3D surface based on the type of food they're designed for: a flat surface for the Eggs & Pancakes pans, dimples for Fish & Veggies, and ribbed for Meat & Poultry. All of the pans are free of PFOA, cadmium, and lead. They're made of hard anodized upcycled aluminum, with Thermolon ceramic coating on the cooking surface. The "I Love Cooking" pans with stainless steel handles are also oven- and broiler-safe.
GreenPan "I Love Cooking" pans retail between $40-65, are each sold separately, and they're available at select Macy's and Dillard's stores, as well as www.macys.com and www.dillards.com.
Disclaimer: We received the "I Love Cooking" pans from GreenPan to test, but this had no influence on our opinion. We've purchased other GreenPan pans in the past and have had a great experience using them!