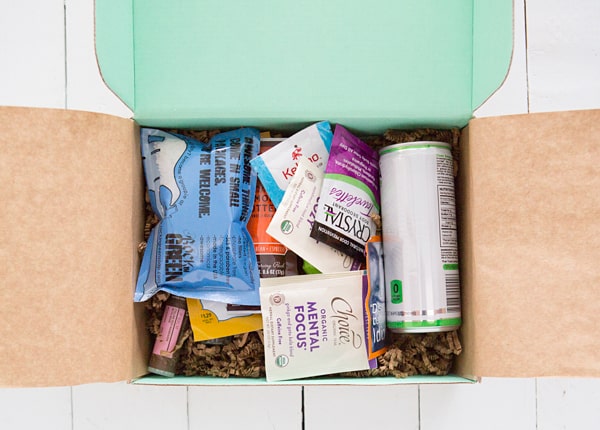 Oh subscription boxes, I just can't quit you. I guess there are worse things I could be addicted to — getting boxes of samples shipped to me in the mail is definitely preferable to street drugs, no? When I was a kid, I used to subscribe to catalogs just so I could get something in the mail. Did you know Cher used to have a mail order catalog for home furnishings? She did and I used to get it.
I've subscribed to Conscious Box in the past, but I cancelled all of my subscription boxes when we moved last summer until we had a permanent place to call home in Illinois — I figured it was too much of a pain to change my address twice and I didn't want anything to get lost. This has been a very sad time, not getting those boxes in the mail every month, so when Conscious Box offered me a one-time sample of their December box for review here, I was happy to oblige.
Conscious Box is for us crunchy types who try to eat clean and avoid chemicals in the home. Although there's always a few foods in the box, they do tend to lean more towards the household goods and beauty/bath types of items, so if you're looking for a box that's strictly food, this probably isn't the best option for you. The Taster box, which I reviewed here, is primarily samples, but you can spring for the Plus box, which also includes some full-size items. You can also choose whether you want Classic, Vegan or Gluten-Free boxes. The Classic Taster box is $9.95 a month if you pay monthly, with discounts for paying for 3-, 6- or 12-months in advance, while the Classic Plus box is $19.95 a month.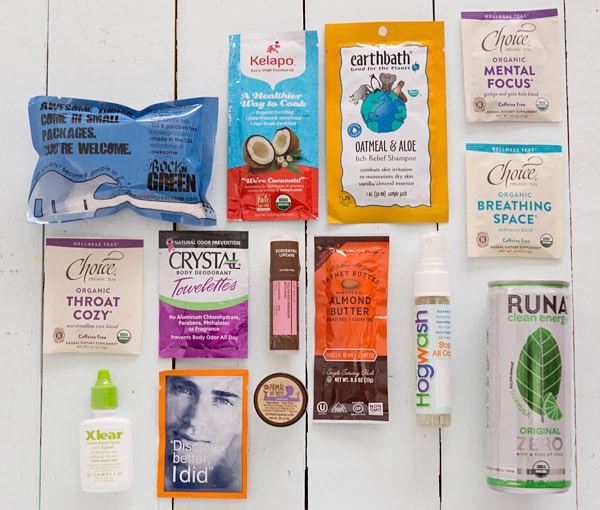 As you'd expect, everything in Conscious Box is natural — foods are healthy and GMO-free, beauty, bath and household items are toxin-free. Some of the highlights from my December box include:
Pangea Organics Italian Red Mandarin with Rose Lip Balm // This was my favorite thing in the box — and it was full-size! At $12, this product was worth more than the price of the box itself.
Rockin Green Dishwasher Detergent // I love Rockin Green, but I had no idea they made a dishwasher detergent. And that's why I love subscription boxes — you find so many new products that you didn't know about.
Barney Butter Vanilla Bean + Espresso Almond Butter // I always love getting food samples and this almond butter sounds pretty amazing.
Primal Pit Paste // I'm trying to avoid phthalates during my pregnancy, which means artificial fragrances, like those in conventional deodorants and antiperspirants, are a no-no. I'm excited to try this out, even though I will admit, the name of the product kind of grosses me out.
When I judge whether subscription boxes are worth the cost, I always look at the value of the products in the box and compare it with the price I'm paying for the box. There were some months last year when I felt that Conscious Box was a little low on the value side, but this box was well-worth the $9.95 price. And then there's the x-factor — are these products I like and that I'll use? Because you could get a $10 box of $100 worth of guitar picks in the mail, but if you don't play guitar, it's still not worth the $10 to you. Between my husband and I, we'll use every product in this box, so it's a good value on that front too.
To learn more about Conscious Box or to start a subscription, click here.
Get your first box free!
Conscious Box is offering the first box for free to new subscribers (you just need to pay for shipping). To redeem this offer, enter the coupon code FREETRIAL when you check out!
Disclosure: I received a complimentary box from Conscious Box in order to facilitate this review.