Happy National Chia Day! Did you know chia seeds are some of the most nutrient-dense foods on the planet? How do we get our daily fix of chia seeds you might ask? We drink Mamma Chia!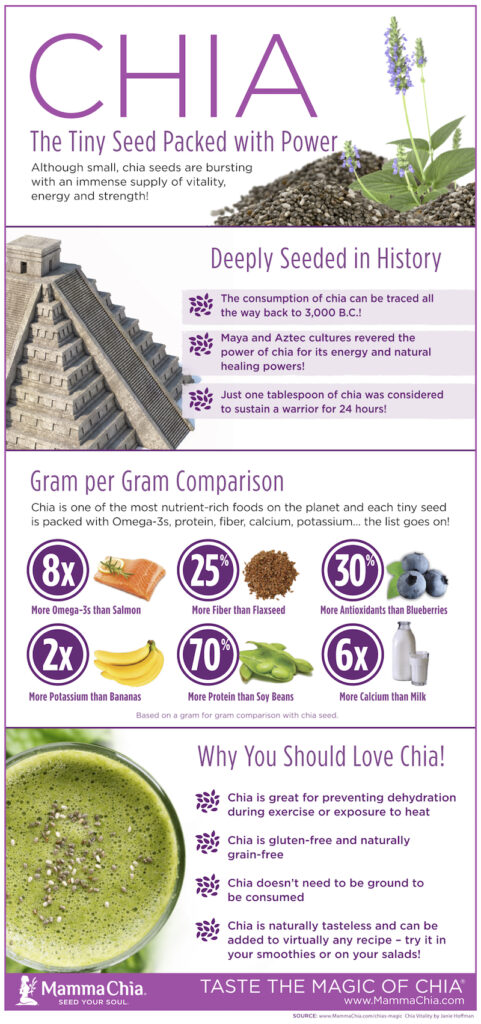 In addition to creating the first-to-market chia beverage in 2009, Mamma Chia established National Chia Day last year. Mamma Chia is honoring the day by donating to a cause that supports sustainability. Mamma Chia is partnering with The Ecology Center to support their efforts in empowering individuals and families towards sustainability and environmental stewardship.
If you'd like to get involved in the celebration of chia seeds and raise money for The Ecology Center, post on Instagram or Twitter until March 31 about your favorite ways to incorporate chia into your daily life, along with hashtag #ItsChiaDay. Mamma Chia will donate $1 to The Ecology Center for every Instagram post and tweet using the hashtag, up to $10,000. Join us in raising money for this great cause!
Mamma Chia will also be offering 23% off all orders today on ShopMammaChia.com.
Check out the top 5 benefits of chia seeds below!
The Top 5 Benefits of Chia
Rich Nutritional Value: Gram per gram, chia has 8x more Omega-3s than salmon, 25 percent more fiber than flaxseed, 30 percent more antioxidants than blueberries, 2x more potassium than bananas, 70 percent more protein than soy beans, and 2x more calcium than milk.
Satiety: Chia is a complete protein, which can help you feel more satisfied after a meal.
Digestion: Chia has both soluble and insoluble fiber, which can aid in digestion.
Plant Protein: Chia has more than 4g of vegetarian protein per ounce, and unlike flaxseed, chia does not have to be ground to reap its benefits.
Hydration: Chia swells up to 12x its normal size in water, meaning you'll reap the benefits of that additional water when you consume chia, which helps you stay hydrated longer.