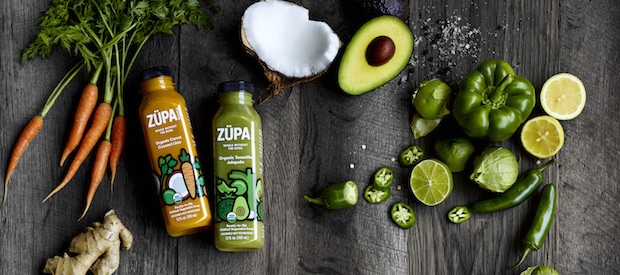 Could souping, as in drinkable soup, take over the wellness world like juicing has? We think so, especially after trying it for ourselves. Drinkable soups aren't meant for the purpose of going on a "soup cleanse," which makes us love them all the more—no giving up dry foods or carbs for a week...yes! Alternatively, drinkable soups simply make sure you're meeting your daily allowance of veggies a day. The convenient ready-to-drink bottles make getting your daily dose of veggies so much easier. We promise after just one sip of creamy goodness, you'll get over the fact that you're drinking your soup instead of using a spoon.
So don't feel guilty about quitting your juice cleanse and check out our favorite drinkable soups.
ZÜPA NOMA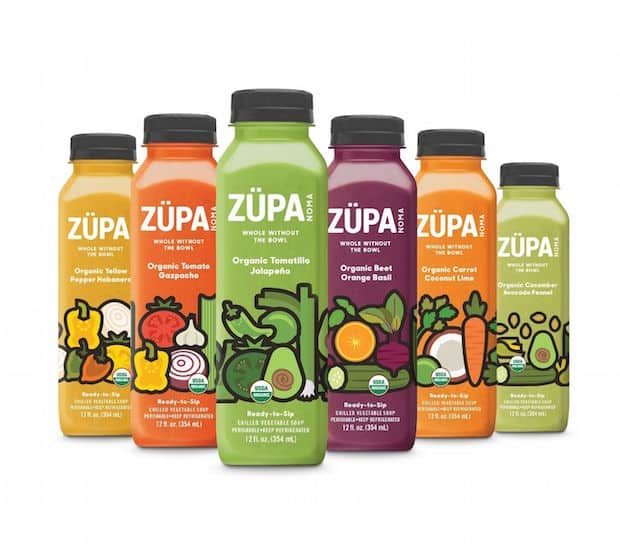 We love ZÜPA's drinkable soups because they're chilled. Which makes them taste like a cold juice, except much thicker, and they actually fill you up. ZÜPA's single-serve drinkable soup is made using Certified Organic vegetables harvested at the peak of ripeness then seasoned with fresh herbs and superfoods like olive oil, turmeric, ginger, and apple cider vinegar. Each soup has six servings of veggies, and the soups have less sugar than juices and less sodium than canned soups. ZÜPA's drinkable soups come in a variety of flavors, but our personal favorites are Organic Beet Orange Basil and Organic Cucumber Avocado Fennel.
Fawen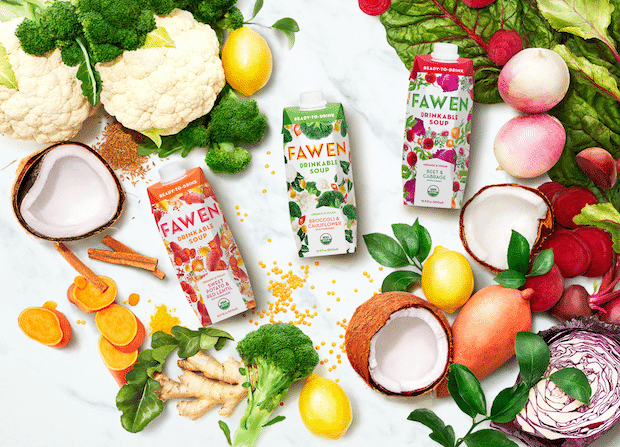 Fawen's drinkable soups are packed with pure plant energy and fiber from whole vegetables. Vegan superfoods like beets, purple cabbage, cauliflower, broccoli, and sweet potato, are bought straight from the farm, slowly cooked and bottled within 24 hours for maximum freshness. Fawen's soups contain 73% less sugar per serving than cold-pressed juices and fruit smoothies. You can try a Fawen drinkable soup in Beet & Purple Cabbage with Cumin, Broccoli & Cauliflower with Turmeric, or Sweet Potato & Red Lentil with Cinnamon.
Blount Organic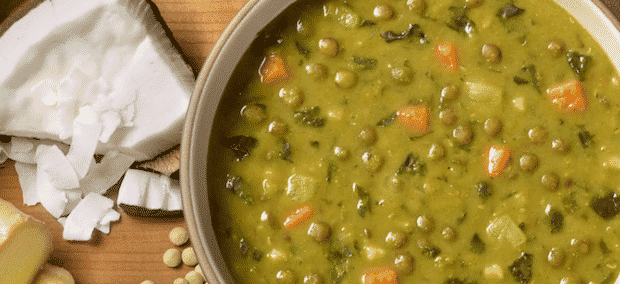 Not sure you're ready to drink your soup? No worries, stick with the traditional. Blount Organic makes some of our favorite quick and easy organic veggie soups. These high quality soups will help you eat clean, vegetarian, and gluten-free meals in no time. Blount Organic soups come in a variety of flavors, but we love the Organic Vegetarian Chili, Organic Tomato Bisque, and the Vegan Organic Ancient Grain Minestrone Soup.