Our friends over at Workman Publishing are giving away a sheet pan dinner kit in celebration of Raquel Pelzel's new cookbook, Sheet Pan Suppers Meatless. 
Sheet Pan Suppers Meatless is the follow-up book to Sheet Pan Suppers, and is completely vegetarian.
The magic of Sheet Pan Suppers is back, bringing its inspired one-pan approach to vegetarians, flexitarians, vegans, those following a gluten-free diet, and everyone who's interested in adding delicious, meatless meals to their repertoire.
Not only is cooking on a sheet pan incredibly easy and convenient, but it uses three techniques—roasting, baking, or broiling—that intensify flavors, resulting in vegetable-forward cooking that has never tasted so good.
And never has cooking on a sheet pan been so creative. Here's how to cook pasta in a sheet pan—like No-Boil Mac and Cheese or Orzo with Pan-Roasted Tomatoes, Lemon, and Mozzarella. How to cook soups, salads, and stews in a sheet pan—including Roasted Tomato Gazpacho with Toasty Croutons, Chickpea and Squash Stew with Crispy Tofu, and Sweet Potato, Arugula, and Pecan Salad. Plus here's how to make chips (Sesame-Miso Kale Chips), pizzas, pot pies, vegetable braises, risottos, polenta, granola. And desserts, of course, from a Pear Galette to Dulce de Leche Pumpkin Squares to an incredible vegan Sticky Toffee Pudding.
Amazingly convenient, amazingly versatile, amazingly tasty, Sheet Pan Suppers Meatless reinvents plant-based cooking, making it easy for everyone to put vegetables front and center at the family meal.
Check out our full review of Sheet Pan Suppers Meatless here.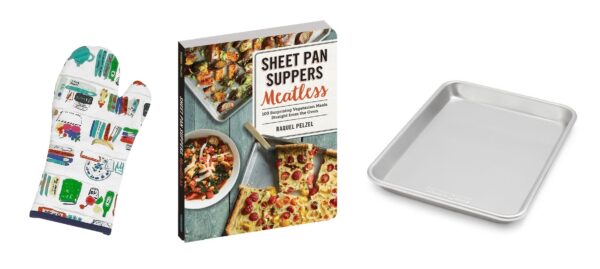 Sheet Pan Suppers Straight from the Oven!
One (1) winner receives:
a copy of Sheet Pan Suppers Meatless
plus a Sur La Table sheet pan and a KateSpade cookbook oven mitt.
How to Enter: Fill out the form below! It's that simple.
We're sorry, but this giveaway has ended.