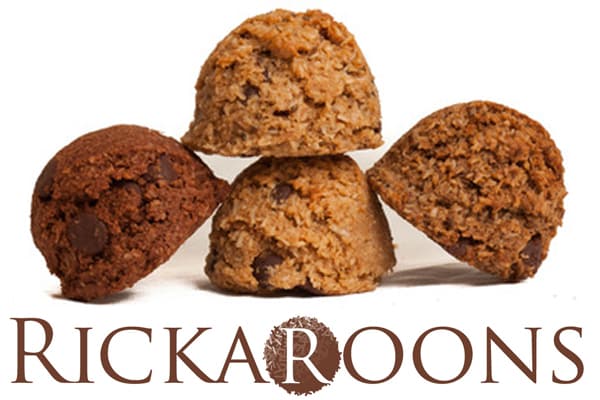 Rickaroons taste decadent, but they're also made with ingredients that are organic, natural, and full of healthy properties. We loved all four of the flavors we tried (Chocolate Blonde, Icy Brunette, Mocha, and Megaroon), but our favorite is probably the Icy Brunette – it has a wonderful minty flavor that's strong but not overpowering, and it gives a great cooling sensation when you bite into it. The Chocolate Blonde is the original Rickaroon, but it also gets high marks for the simple but perfect combination of coconut, chocolate and almond butter.
about rickaroons
Rickaroons were created by Rick LeBeau when he wanted a cookie that could function as both a tasty dessert and a nutritious source of energy for before, during, or after his workouts. Rickaroons are coconut and almond butter based energy desserts that are 100% organic, vegan, gluten-free, and soy-free. The coconut and almond butter not only taste great together, but yield a nice, slow-burning fuel for your body. You can eat Rickaroons any time of day and feel good about the dietary choice you've made.
Rickaroons are currently available in four varieties: Chocolate Blonde, Icy Brunette, Mocha, and Megaroon. All four flavors are based around 3 types of coconut (shredded coconut, coconut palm nectar, and a smidgen of coconut oil), almond butter, dark chocolate chips, and vanilla. The Chocolate Blonde is the "original" Rickaroon. The Megaroons also have chia seeds and cacao nibs, widely recognized as "super foods". The Icy Brunettes have cacao powder and peppermint. The Mocha have just enough organic ground espresso to get you that extra pick-me-up.
rickaroons 15% off discount code
Rickaroons is offering Oh My Veggies readers 15% off their online purchase. Follow this link and enter the code veggies when you check out.