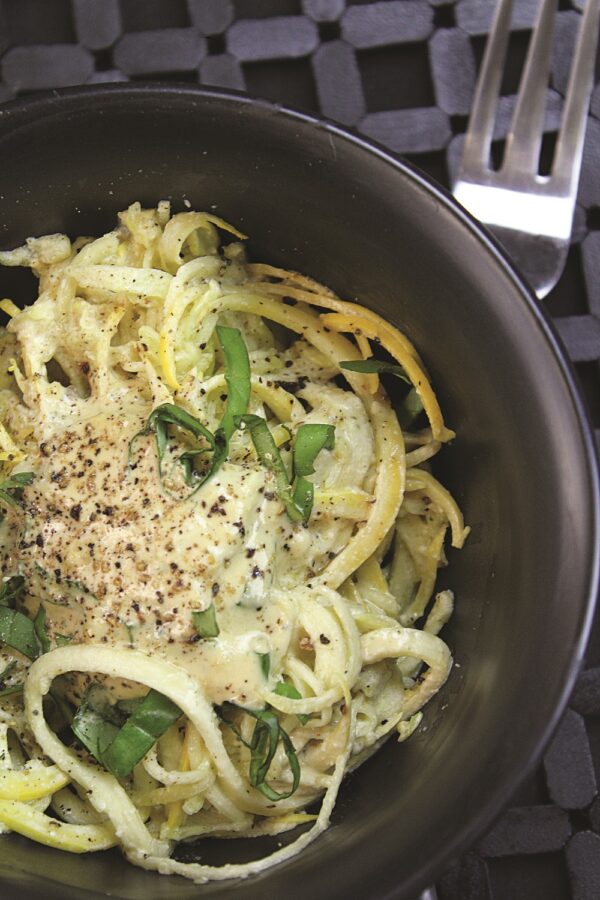 With the arrival of spring I've got one thing on my mind: food! Is that weird? Most people seem to think about food during the colder months. During the spring I'm all about lighter, healthy meals, and especially fresh fruits and veggies. I'm also less about cooking and more about eating raw. Even though I try to incorporate raw meals into my diet all year long, I enjoy them the most during the warmer months and when there's tons of fresh produce available.
This year I have a new resource for when it comes to preparing and enjoying raw meals. Raw-Vitalize: The Easy 21-Day Raw Food Recharge by Mimi Kirk and Mia Kirk White is packed with delicious, appealing, and accessible raw recipes. The book is laid out as a 21 day meal plan, so it has recipes for breakfast, lunch, and dinner. So far I've only had a chance to try a recipe here and there, including the cheezy noodles (the raw carrot-lemon-orange cake was another favorite), but I'm hoping to follow the plan over the summer whon (with luck!) my backyard garden supplies me with lots of ingredients to draw from.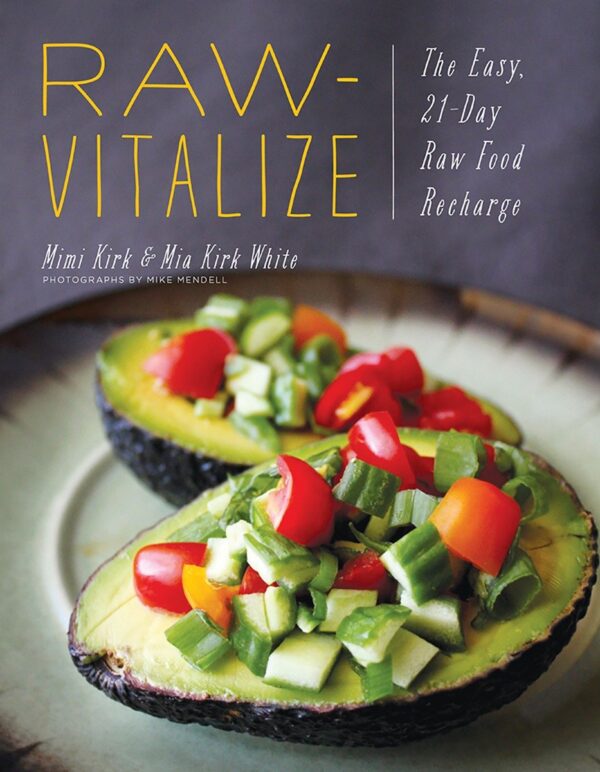 The cheezy zoodles are exactly the kind of raw recipe I like to enjoy early in the spring, while things are still warming up. Their served warm (not all raw food is cold–you just have to make sure it doesn't get too hot), and the cheesy cashew sauce is rich, creamy and comforting.
You can purchase Raw-Vitalize on Amazon.
Raw Cheezy Noodles from Raw-Vitalize
Zucchini noodles are tossed in a creamy cashew sauce to create this luscious raw vegan pasta dinner.

Notes
Zucchini releases water and it's best to salt and let drain 15+ minutes before using. Do not add the cheese sauce if the noodles are not going to be eaten immediately because the water, which releases from the noodles, will dilute the sauce. The noodles can be made the evening before and kept refrigerated. Alternatively, they can be made during the day, lightly salted and kept covered on the countertop until ready for dinner. Drain off any extra water.

Ingredients
For the noodles:
1 large or 2 smaller yellow zucchinis
For the cheezy sauce:
1 cup cashews, soaked for 2+ hours and rinsed
2/3 cup filtered water
2 tablespoons finely minced fresh rosemary, or 2–3 teaspoons dried
(fresh is recommended)
2 tablespoons extra-virgin olive oil
Sea salt and pepper, to taste
11/2 tablespoons lemon juice
3 teaspoons tamari
3 tablespoons nutritional yeast
Instructions
For the noodles:
Spiralize noodles to make 2 cups, or use a potato peeler to make fettuccini-type noodles.
For the cheezy sauce:
Place all ingredients into a blender and blend into a thick cream. Add more water if necessary, but keep it thick and pourable. Taste and adjust seasonings if necessary. For a saltier taste, add another splash of tamari. If too thick, add a teaspoon or two of water. If too thin, add a few more cashews.
To assemble:
Place noodles in a bowl and spoon on desired amount of cheezy sauce. Eat as is or warm slightly in a pan on the stove. Do not overheat—you want to keep it raw. Sauce may thicken if overheated. Any leftover sauce can be frozen. Place Cheezy Noodles into a serving bowl and eat with more fresh ground pepper.