Even if you don't have kids, back to school time usually means a return to routine and getting serious about packing healthy lunches (and, for some of us, an end to eating popsicles for every meal). If you do have school-aged little ones, the pressure is really on to make homemade lunches both nutritious and spectacular enough that they won't be traded away. Here are 11 products to make lunches tasty, eco-friendly and more fun for kids and grown-ups alike. Note that we received samples of products marked with an asterisk.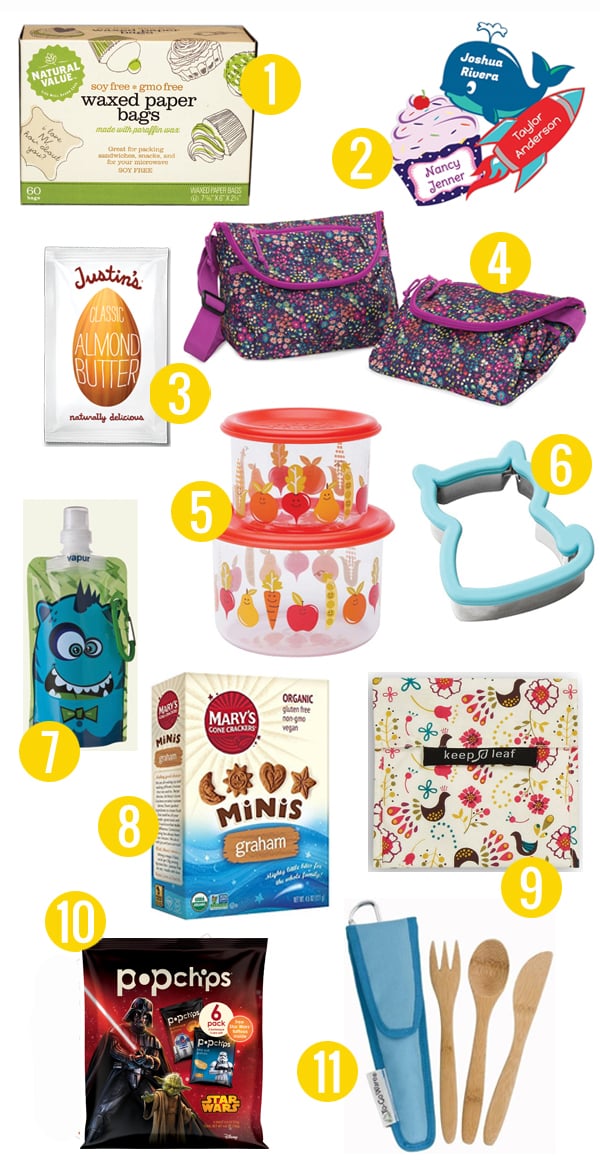 1. unbleached waxed paper bags
Reusable containers don't always make it home, and eco-friendly disposable products like these unbleached, compostable waxed paper bags from Natural Value are a good backup plan in those cases. They're the perfect size for sandwiches, pizza or frittata slices, cut veggies, chips or other snacks.
Learn more: naturalvalue.com
Buy it on amazon.com
2. Dishwasher-safe labels
Want to guarantee you'll get containers back from school without having to rifle through the lost-and-found? Invest in some personalized labels that stick to just about any lunch box or bag, water bottle or snack container, and won't come off in the dishwasher. If your child has food allergies, you can also stock up on alert stickers to adhere to his/her backpack or lunch pack. These ones are actually pretty cute!
Learn more + buy it: namebubbles.com
3. justin's nut butter squeeze packs
Whether you're squeezing it on an apple, a sandwich or celery—or just straight into your mouth (no judgement here), Justin's 1.15-oz. squeeze packs are a great no-fuss, no-mess way to get protein and healthy fats into your lunch.
Learn more: justins.com
Buy it: at the link above or at Target, Whole Foods and other supermarkets
4. packit uptown freezable lunch bag
Packing a lunch always sounds like a great idea, but putting those good intentions into practice isn't always so easy—especially if you're already hauling a laptop and purse to work. PackIt's Uptown messenger bag-style bags make bringing your lunch a no-brainer: The bag is insulated, stays cold (even out of the fridge) for up to 10 hours, and has enough room to fit your meal, a snack, a drink and a few personal items. The wide base means you don't have to worry about anything tipping over, either. And, best of all, it looks like a bag you'd actually use!
We're giving away a PackIt Freezable Uptown Lunch Bag—click here to enter! (Giveaway ends 10/8/15)
Learn more + buy it: packit.com
5. Stackable Kids' Snack Containers
We'll just go ahead and say the "kids'" part is debatable; who wouldn't want to pack their snacks, salads or leftovers in a hedgehog, veggie or robot-themed container? These colorful containers are BPA- and phthalate-free, and microwave/dishwasher safe. If you prefer to pack everything in one bigger container, a bento lunchbox like PlanetBox is ideal. (We've also got 60 bento-box lunch ideas to peruse!)
Learn more and buy it: reuseit.com
6. Sandwich Cutters
Kids won't touch a sandwich if it's not in the shape of a kitty cat? Done and done, with the help of these sturdy stainless sandwich cutters that come in heart, kitty, flower, train and football shapes.
Learn more + buy it: potterybarnkids.com
7. Foldable Kids' Water Bottle
No need to always be stocking up on (and remembering to recycle) individual water bottles. You can freeze this flexible, dishwasher-safe pouch to keep water cold all day—and when frozen, it doubles as an ice pack for the rest of your lunch! Once empty, it folds right up for easy transport.
Learn more + buy it: reuseit.com
8. Mary's Gone Crackers Minis*
These tiny, vegan (and gluten-free) graham crackers in handy snack-size bags are perfect for a sweet treat after lunch. They're available in vanilla, graham and chocolate, and come in adorable heart, star, sun and moon shapes.
Learn more: marysgonecrackers.com
Buy it on amazon.com
9. reusable sandwich wrap
Tuck your sandwich or snacks away in one of these soft, machine-washable bags and your lunch will get that much more exciting. (The liner is waterproof, too.)
Learn more + buy it: reuseit.com
10. popchips multipacks*
popchips are our favorite way to justify potato chips for lunch: They're popped, not fried or baked, so they're not greasy or bland. And now Frozen and Star Wars-themed single-serve bags—complete with temporary tattoos—mean you, or your kiddos, will have the coolest snacks in the cafeteria.
Learn more + buy it: popchips.com
11. To-Go Ware RepEAT Bamboo Flatware
The handy (and bright-colored) carrying case means the reusable bamboo flatware won't get lost in backpacks—or get thrown away. Adult and kid sizes are available.
Learn more: to-goware.com
Buy it on amazon.com