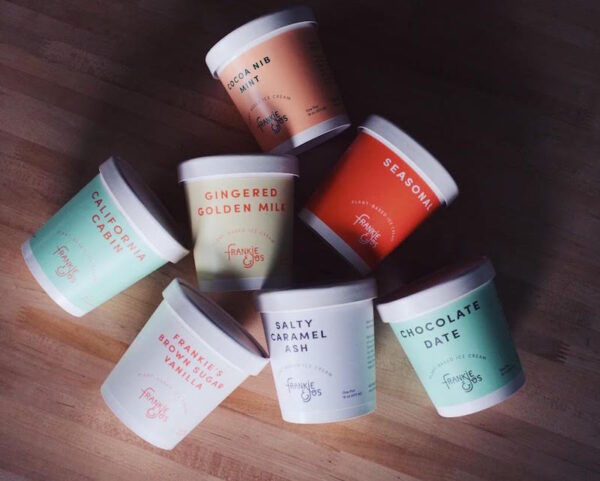 Photo Credit: Brooke Fitts
Okay, so here's the thing about vegan ice cream: there are eleventy-billion exotic flavors of milk-based ice cream, but if you're looking for something dairy-free, your options are much more limited. We're not going to say no to a bowl of chocolate ice cream, but sometimes you want something a little more exciting, you know? That's why we love, love, LOVE Frankie & Jo's, a new plant-based ice cream company that brings the gourmet experience to dairy-free ice cream. Spiced Red Kabocha Squash Butter? Salty Caramel Ash? Dirty Horchata? YES! Unlike some other vegan ice creams, Frankie & Jo's is minimally processed, made without gums or stabilizers, and it's made with raw, whole food ingredients.
We had the chance to try 4 flavors: Huckleberry Apple Shrub, Frankie's Brown Sugar Vanilla, Gingered Golden Milk and Cocoa Nib Mint. They're objectively delicious—not delicious for vegan ice cream, but just delicious, period. Most are made with a sprouted cashew milk and coconut milk, making them rich, creamy and just as decadent as their dairy-based counterparts.
Frankie & Jo's is opening a brick-and-mortar shop soon in Seattle, but their online shop is currently shipping pints anywhere in the continental US.