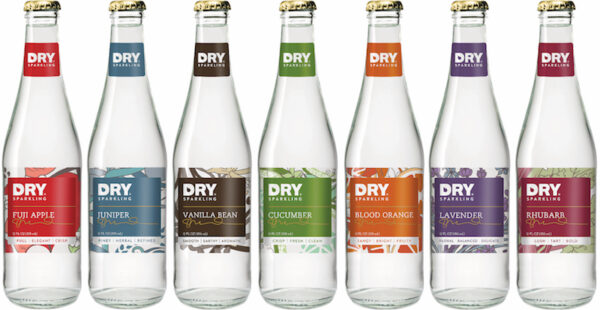 There's been talk of 2017 being the year of sobriety. But for those of us who want to cut back on the health consequences of drinking, but still enjoy a cocktail or two, there are better ways to drink and be healthier. Enter DRY Sparkling.
Instead of using soda to mix with your vodka, or syrup to mix with your bourbon, DRY Sparkling is a gluten-free mixer with four simple ingredients: purified carbonated water, pure cane sugar, natural flavor, and phosphoric acid. DRY Sparkling comes in flavors like Ginger, Rhubarb, Juniper Berry, Blood Orange, and more! You can buy DRY Sparkling in 12oz bottles or cans, or you can buy 750ml bottles. Find DRY Sparkling near you.
DRY Sparkling even has an easy way to make quick and delicious cocktail recipes. Here you can choose your flavor of DRY Sparkling, your type of alcohol, and flavor notes. Then DRY Sparkling will provide a recipe that fits your needs. I chose Ginger DRY Sparkling, crisp flavor note, and vodka, and made the refreshing Porch Sipper.
If you're trying to lessen the calories while you drink, or simply make your cocktails more sophisticated without much effort, then you'll love DRY Sparkling.