Once a month, we round-up some of our favorite vegetarian foods and kitchen tools and share them with you here on the Marketplace. Here are this month's picks! (Note that we received samples for review on products marked with an asterisk.)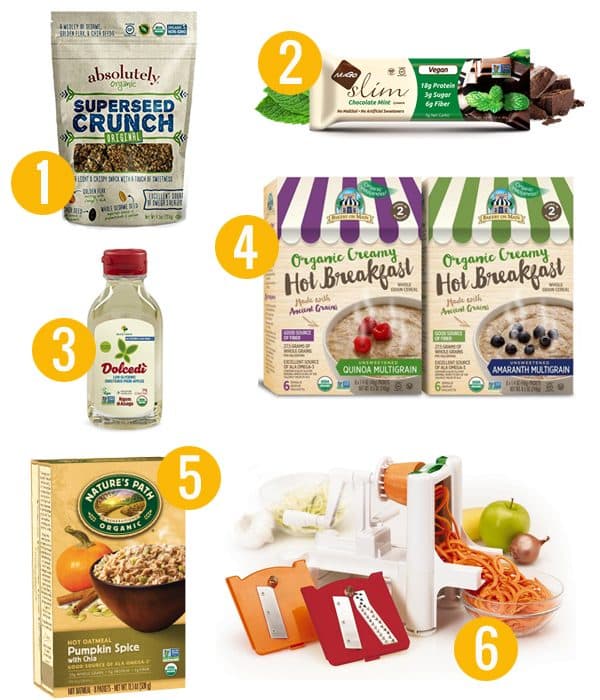 1. Absolutely Organic Superseed Crunch*
These sweet, crispy bites are our new favorite snack—they're gluten-free, vegan, and packed with omega-3 ALA, prebiotic fiber, antioxidants, and minerals. Because they're slightly sweet without being too sweet, they're the kind of snack that both kids and parents will love.
Learn more: amazon.com
2. NuGo Slim Chocolate Mint*
Do you have a weakness for Thin Mint cookies? (Who doesn't, right?!) These bars are reminiscent of Thin Mints, but with the added bonus of 18 grams of protein and 6 grams of fiber—and they're vegan too. They're the perfect snack to help you power through the afternoon.
Learn more: nugonutrition.com
3. Dolcedi*
This low glycemic liquid sweetener is made from organic apples, so unlike so many other sugar substitutes, it's all-natural. 1/2 teaspoon of Dolcedi replaces 1 teaspoon of table sugar—we've been using it to add a little sweetness to green smoothies, chia pudding, and overnight oats.
Learn more: rigonidiasiago-usa.com
4. Bakery on Main Organic Creamy Hot Breakfast*
These hot cereals come in two varieties: Quinoa Multigrain and Amaranth Multigrain. They're certified organic, and provide 27.5 grams of whole grains, fiber, and omega-3 in each serving. And what we really love is that they're unsweetened, so you can customize them to your liking. We've been topping ours with chunky homemade applesauce, cinnamon and a drizzle of maple syrup.
Learn more: bakeryonmain.com
5. Nature's Path Pumpkin Spice Chia Hot Oatmeal*
It's pumpkin spice season! We love all of Nature's Path pumpkin spice products, but we're especially excited about their new pumpkin spice oatmeal, which has the added bonus of chia seeds. There's nothing like starting a cold, gloomy fall day with a big bowl of warm oatmeal, right?
Learn more: naturespath.com
6. Farberware Spiraletti*
If you don't have a spiralizer yet, it's really time to give in and get one—you'll use it more than you think and as soon as you get tired of one way to use it, you'll find another! (Our current favorite is using it to make shoestring sweet potato fries.) The Spiraletti is BPA-free and it comes with three different blades to make thin spirals, thick spirals, and ribbons.
Learn more: amazon.com