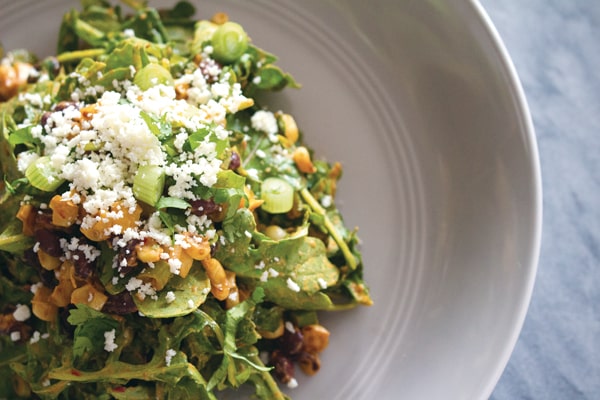 Why We Love This Recipe
Sweet summer corn, salty cheese, tangy lime juice—what's not to love about Mexican street corn? Well, there's the mess it makes when you eat it, for one. Making Mexican street corn into a salad eliminates the mess and adding Greek yogurt and black beans gives it a boost of protein that makes it meal-worthy.
About Great Meals with Greens and Grains
Great Meals with Greens and Grains is a vegetarian cookbook with over 80 recipes to help you work more greens and grains into your diet in a way that's doable for just about any cook—and budget. When you read a lot of cookbooks, as we do, you start to see the same recipes again and again, but we love that this book has unique ideas we haven't seen in a dozen other cookbooks. Bonus: the author is a Registered Dietician, so she knows what she's talking about.
Some of our favorite recipes include:
Sautéed Spinach, Feta and Za'atar Puff Pastry
Gemelli with Lemon Burrata and Escarole
Rustic Kale Pesto Soup with Zucchini and White Beans
Moo Shu Vegetables in Collard Green Wraps
Farro Salad with Roasted Sweet Potatoes, Brussels Sprouts and Hazelnuts
Eggplant Quinoa Meatballs
Smoky BBQ Tofu Salad Grain Bowl with Kaniwa
Creamy Polenta with Smoked Gouda and Red Wine-Braised Mushrooms
Purchase This Book
Great Meals with Greens and Grains: Over 80 Easy Recipes For Delicious and Healthy Vegetarian Dishes by Megan Wolf is available on Amazon.com.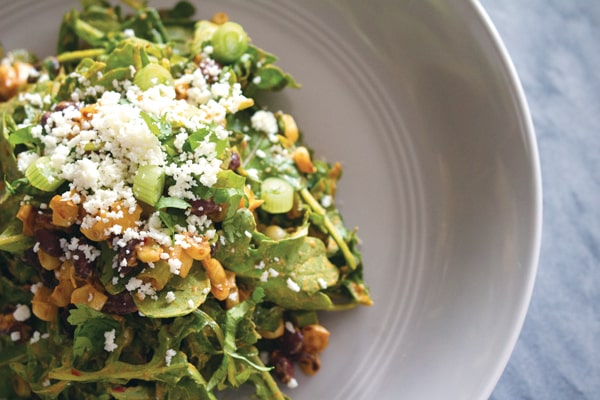 Ingredients
2

chipotle peppers in adobo sauce

¼

cup

60 ml adobo sauce (from canned chipotle)

¼

cup

60 g low-fat Greek yogurt

1

tbsp

15 ml olive oil

¼

cup

60 ml lime juice, plus more for serving

1

cup

141 g cooked corn kernels

2

tsp

10 ml olive oil

10

oz

288 g arugula

1

cup

240 g canned black beans, rinsed and drained

4

scallions

thinly sliced

2

tbsp

2 g chopped cilantro

¼

cup

30 g grated cotija cheese
Instructions
To make the dressing: Add the dressing ingredients to a blender or food processor and combine until well incorporated. Season to taste with salt and set aside.

To make the salad: In a cast-iron pan, toss the corn kernels in olive oil and char over high heat, about 4 minutes. Set aside.

In a large bowl, combine the arugula, black beans, scallions and cooled charred corn. Toss with the

chipotle dressing and season to taste with salt.

Garnish with the cilantro and cotija cheese, and serve immediately with extra lime juice on the side.
Notes
Tip: Fresh or frozen corn works great in this recipe. Canned corn is often unnecessarily salty, and lacks the freshness of the other two options.