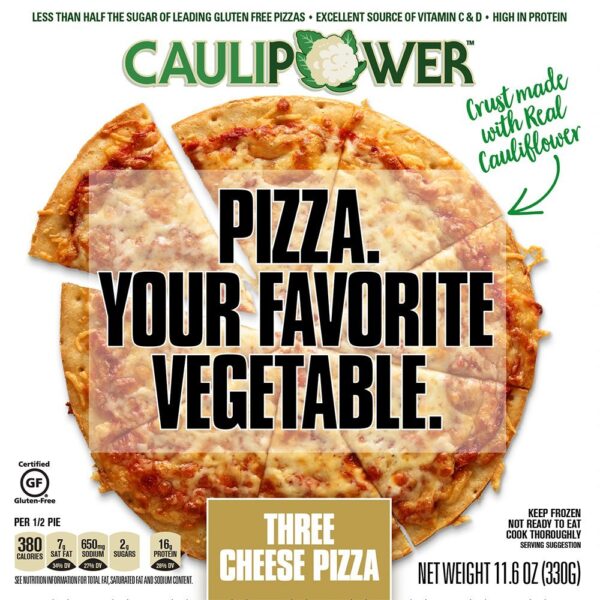 Looking for a gluten-free pizza crust that's not crunchy, soggy, or bland? CAULIPOWER's cauliflower pizza crusts are unbelievably savory, and they're the perfect texture. We took a vote, and we all agreed that CAULIPOWER is one of the best gluten-free options for pizza on the planet. What's even better is that CAULIPOWER's pizzas have less than half the sugar of leading gluten-free pizzas. So next you're craving pizza, just enjoy one of these CAULIPOWER pizzas for a low sugar, gluten-free pizza that tastes better than even the greasiest, cheesiest takeout pizza. So eat your veggies. And by that we mean, enjoy your CAULIPOWER pizza! #trustthecrust
CAULIPOWER offers plain crusts so you can DIY your own pizza, or you can buy three-cheese, margherita, or veggie. Each crust made with real cauliflower, offering nutrients that fight cancer, heart disease, arthritis, type 2 diabetes, Crohn's disease and ulcerative colitis. Cauliflower is full of antioxidants like vitamin c and manganese, and it has phytonutrients that lower the risk of oxidative stress. It also has vitamin K and omega-3, both important anti-inflammatory nutrients.
What's even cooler about CAULIPOWER is that it supports OneSun and the fight against childhood obesity by contributing to the development of vegetable gardens at underserved schools throughout the country. The gardens serve as an educational tool to help kids learn about the value of good, healthy eating habits, as well as learn the skills of gardening and enjoy being outdoors working with their hands under the sun.
To learn more about CAULIPOWER and where to buy the pizzas check out their website here.