We love kale chips around here, but with so many other veggie snacks out there, why limit yourself to kale alone?! Add some of these crispy snacks to your rotation and you can cover all your vegetable bases.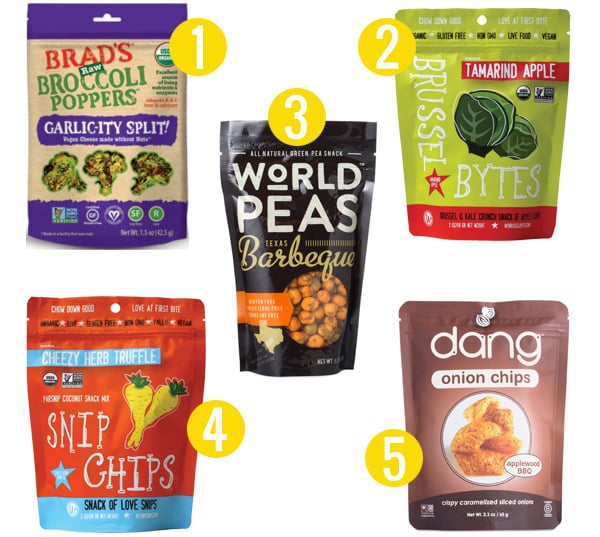 1. Brad's Raw Broccoli Poppers*
You probably know Brad's from their wide variety of kale chips, but did you know they make broccoli snacks too? They do and they are a little bit addictive. (Broccoli? Addictive? Who knew!) Available in 3 flavors, Garlic-ity Split is our favorite.
Learn more: bradsrawchips.com
2. Brussel Bytes
Remember when Brussels sprouts were universally reviled? Now everyone seems to love them and they're even available in crispy snack form now.
Learn more: mycocoroons.com
3. World Peas
Like Brussels sprouts, peas can be a tough sell, but even if you're not a fan, you'll be amazed at the transformation they make in these crunchy, nutty snacks.
Learn more: thrivemarket.com
4. Snip Chips
These come in Cheezy Herb Truffle, Chipotle Lime Cilantro, and Dill Pickle—we'll take all three!
5. Dang Onion Chips
These onion chips are made from real, caramelized onions—they're not onion-flavored, they're actual onions and they're delicious.
Learn more: thrivemarket.com
*We received samples of these products for editorial consideration.