Seaweed! You know it's good for you, but sometimes that slightly fishy taste can be a deal-breaker. Not so with these super-trendy, super-tasty seaweed snacks. Here are 4 of our favorite ways to get our seaweed fix. Note: We received samples of products marked with an asterisk.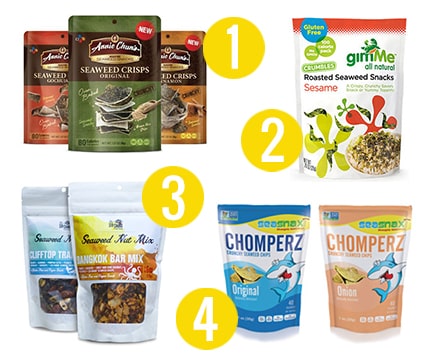 1. Annie Chun's Seaweed Crisps*
Annie Chun's was ahead of the seaweed trend with their Seaweed Snacks, and they just launched a new line of Seaweed Crisps with seaweed layered over a savory, crispy brown rice cracker. The new line includes 3 flavors: Cinnamon, sweet-spicy Gochujang (my favorite) and Original. They're vegan and gluten-free, too!
Through August 31, you can enter to win a sampler pack of Annie Chun's seaweed snacks as part of our Oh My Favorites summer giveaway event.
Learn more + buy it: anniechun.com
2. gimMe Seaweed
gimMe Seaweed is available in both sheets and crumbles. Their roasted seaweed snacks are a more traditional flat seaweed (similar to the seaweed used to wrap sushi) and come in light, crispy, easy to munch sheets. The Crumbles are tiny tasty clusters of seasoned seaweed, a fun new texture you can sprinkle on rice, soup, salads, popcorn (and just about anything!) or snack right out of the pouch.
Learn more + buy it: gimmehealth.com
3. Sea of Change Trading Co.*
We love Sea Change Trading Company's seaweed snacks because they're crispy and delicious without making you feel like you're snacking on kelp. Their new seaweed nut mixes are a super healthy snack, filled with fiber, healthy fats and lots of flavor. (The Bangkok Bar Mix is our favorite!) We also love the Maple Sea Bakin' Seaweed snacks.
Learn more + buy it: seaofchangetrading.com
4. SeaSnax Chomperz
We're big fans of SeaSnax, especially their Grab & Go Toasty Onion and Wasabi seaweed sheets. Their new line of Chomperz seaweed chips lets you satisfy your chip cravings in a much healthier way!
Learn more + buy it: seasnax.com