Winter is just around the corner, which means shorter days, Netflix binges and…baking. Lots and lots of baking. We've rounded up 15 of our favorite tools, ingredients and cookbooks to make your baked goods even better, including some must-haves for gluten-free and vegan baking. Note that we received free review samples of products marked with an asterisk.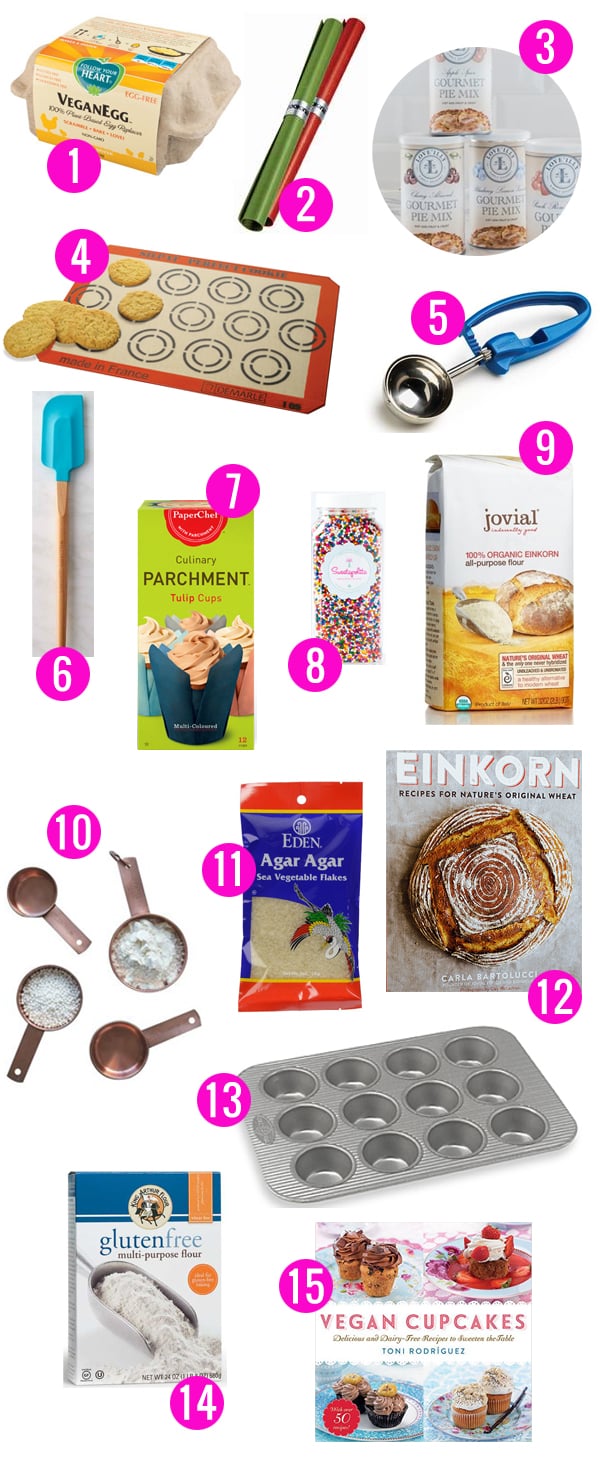 1. Vegan Egg*
Vegan baking is a breeze with this brand new gluten-free, soy-free powdered egg substitute from Follow Your Heart (the makers of Vegenaise, a vegan classic!). It can also be used for scrambles and omelets, complete with the lovely yellow color. It's available via limited online and physical retailers now, but will be offered on amazon.com soon. —Dana
Learn more and find out where to buy it: followyourheart.com
2. Cookina Cuisine Reusable Cooking Sheet*
COOKINA
 Cuisine is a reusable alternative to aluminum foil, parchment paper and wax paper that fits larger pans. Not only do you not need to spray or grease your baking pans, there's no more scrubbing baked-on cookie scraps afterwards. It's available for a limited time in red and green holiday colors.
—Dana
Learn more and find out where to buy it on
cookina.co
3. Love'illy Fruit Filling Starter Mix*
Store-bought pie filling has always kind of weirded me out, but making the filling from scratch can be a drag, especially if you're also making the crust. Love'illy's pre-measured, gluten-free fruit filling mixes make the filling a non-issue; simply mix it with fresh fruit, then pour it in your crust and bake. There's no measuring involved, and your pie will be perfectly gooey and sweet every time. Not to mention there's less mess to clean up when you're done. We love the Apple Spice! —Dana
Learn more and buy it: loveilly.com
4. Silpat Perfect Cookie Baking Mat*
Easily bake the perfect-sized cookie—and easily get it off the pan—with Silpat's super handy silicone cookie mat (with cookie-placement guides) that fit a 13″x18″ sheet pan. —Dana
Learn more: silpat.com
Buy it on bluefly.com
We're giving away a Silpat Perfect Cookie Baking Mat and a Silpat Sushi Mat—giveaway ends December 4, 2015.
5. Cookie Scoops
I absolutely depend on my cookie scoops during the holiday season for all my baking needs. From cookies to muffins, they make scooping dough a breeze (not to mention also help ensure all my baked goods come out the same size!). —Ashley
6. Williams-Sonoma Silicone Spatula
A good spatula is a must-have when it comes to baking. It helps you combine the wet ingredients with the dry and prevents over-stirring which can result in a tough or gummy texture. This one from Williams Sonoma is high quality and comes in multiple different colors to match the theme of your kitchen! —Sarah
7. PaperChef Tulip Cups*
In addition to their parchment paper and parchment bags, PaperChef's Tulip Cups are super useful in the kitchen, especially when making cupcakes or muffins. They're nonstick (so there's no greasing required) and adorable to boot! Perfect for serving up holiday cupcakes, popovers or other treats. —Dana 
Learn more: paperchef.com
Buy it on amazon.com
8. Sweetapolita sprinkles
Not only can you purchase individual colors, but she also some really fun and whimsical combinations. Her Holiday Dreams variety pack would be perfect for Christmas baking projects, and she even has dedicated gluten-free and vegan sprinkles. —Liz
9. Jovial Organic Einkorn All-Purpose Flour*
Einkorn is taking the baking world by storm—it's a non-hybridized wheat that can be tolerated in some people who have gluten sensitivities (although it does still contain wheat, so it's not safe for Celiacs). It makes a delightful loaf of homemade bread, and can be used pretty much like regular flour. —Dana
Learn more and buy it: jovialfoods.com
10. Copper Measuring Cups
I'm a firm believer that you never have too many measuring cups! I love these because they're coated with copper which is not only super attractive but also naturally anti-bacterial and anti-fungal. —Sarah
11. Agar Agar Flakes
Agar flakes are a great alternative to gelatin for vegetarian and vegan baking. They're made from seaweed but you would never know because they're completely flavorless. I like to use it as a thickener for icings in place of powdered sugar. —Sarah
12. Einkorn Cookbook*
Jovial Foods and Bionaturae founder Carla Bartolucci wrote this Einkorn flour-centric cookbook, Einkorn: Recipes for Nature's Original Wheat, that lets those with gluten intolerances get back in the kitchen to experiment with homemade baked goods—everything from basic sourdough to pizza, pasta and pastries.
Learn more: cookbook.jovialfoods.com
Buy it on amazon.com
13. USA Pan Nonstick 12-Cup Muffin Pan
Muffins are something I like to bake all year long and this is my go-to pan for making them. It's made with a non-stick silicone coating that works like a dream and is also environmentally friendly, made without PTFEs or PFOAs. —Sarah
 14. King Arthur Gluten-Free Multipurpose Flour
No need to buy a bunch of obscure flours—this GF mix (made from white and brown rice flours) subs in 1:1 in most recipes, and doesn't have that weird gritty aftertaste some gluten-free baking mixes do. Perfect in pie crust! —Dana
Learn more and buy it: kingarthurflour.com
15. Vegan Cupcakes Cookbook*
Why should non-vegans have all the crazy-cupcake fun? Toni Rodriguez is the owner of a vegan bakery in Barcelons, and his Vegan Cupcakes: Delicious and Dairy-Free Recipes to Sweeten the Table features more than 50 fancy recipes for your next party—or when you just feel a cupcake binge coming on. The Candied Gingerbread (complete with homemade cream "cheese" frosting) are especially amazing. —Dana
Learn more and buy it on amazon.com