I've never found a kitchen gadget that I couldn't justify adding to my collection. An olive stuffer? Yes, I need that! Corn de-silker? Of course, what? You expect me to remove the silk with my hands like some kind of animal?! And since I cook with a lot of fruits and vegetables, I obviously need a tool for every situation that might arise. Here are 12 fruit & veggie tools that you didn't know you needed — but now that you've seen them, you totally do.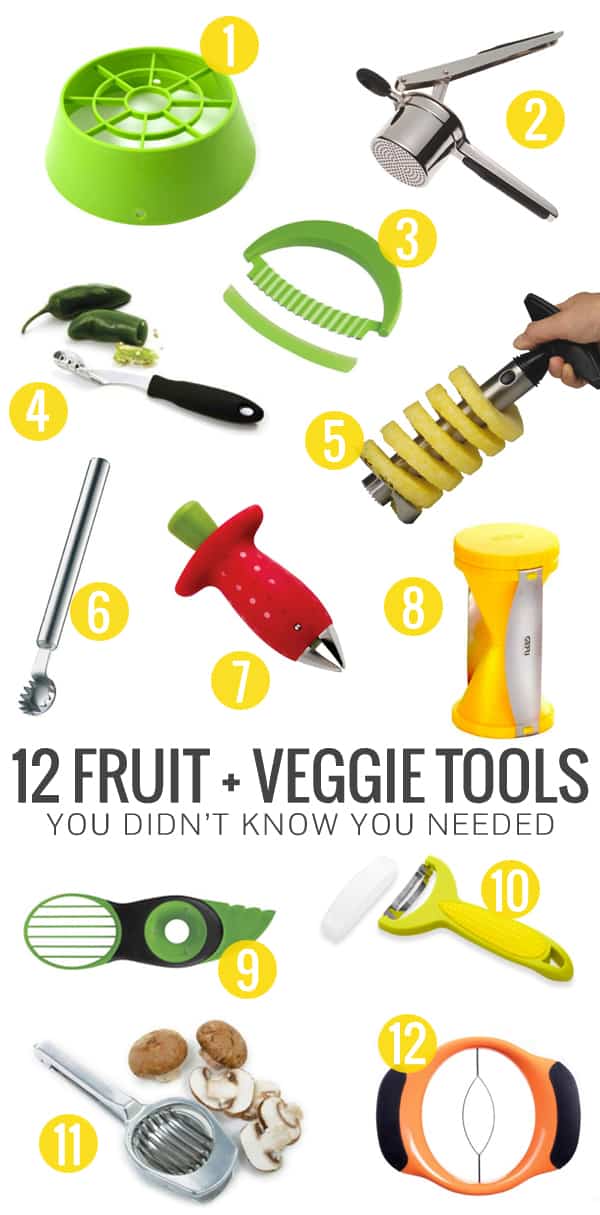 The links below are all affiliate links, meaning that if you purchase one of these fruit & veggie tools, Oh My Veggies gets a small portion of the purchase price.
1. Seed Out 60 Second Pomegranate Deseeder
// This changes everything! Cut your pomegranate in half, put one half at a time on this plastic pomegranate de-seeder contraption, and give it a good whack or two. I love this thing.
2. OXO Good Grips Potato Ricer
// Potato mashers are for amateurs — ricers are where it's at. No lumps!
3. Kuhn Rikon Krinkle Knife
// We received a sample of this tool from Kuhn Rikon and loved how easy it was to make crinkle cut veggies with it — no mandoline slicer needed! Your crudite platters will never be the same.
4. Norpro EZ Jalapeño Corer
// This tool removes the centers of jalapeño peppers so you can stuff them full of delicious fillings.
5. All Ware Stainless Steel Pineapple Easy Slicer and De-Corer
// I avoid whole pineapple because I don't like cutting it, but this pineapple slicer makes it easy. And fun!
6. Kuchenprofi Stainless Steel Tomato Corer
// You know what I hate? When I'm eating something and there's a hard, pale tomato core in it. Core your tomatoes, people!
7. Chef'n Stem Gem Strawberry Huller
// And hull your strawberries too.
8. GEFU Spirelli Spiral Slicer
// We all know and love the big spiralizer by Paderno, but our contributor Julia swears by the more compact GEFU Spirelli.
9. OXO Good Grips 3-in-1 Avocado Slicer
// No more mealy looking avocado slices!
10. Kuhn Rikon Corn Zipper
// It's a good thing I got this because I just know that some day, I'd end up slicing off a thumb if I continued to de-kernel my corn with a chef's knife.
11. Norpro Mushroom Slicer
// And bonus! It slices hard-boiled eggs too.
12. OXO Good Grips Mango Splitter
// For perfectly pitted mangoes.