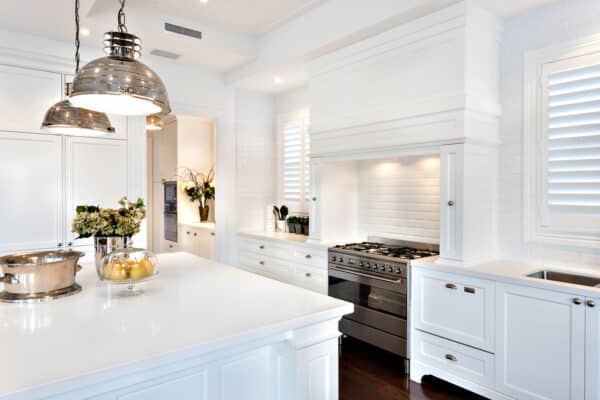 In an era with every type of cooking device you could want, from Margarita makers to pie pressers to a mini donut maker that produces baked goods that look close to Cheerios, it's easy to load your kitchen up with useless junk. If you can't find the cookware you need behind the avalanche of one-use kitchen items, maybe it's time to hop on the kitchen minimalism movement.
Kitchen minimalism is what it sounds like: paring back your kitchen space so you only have on hand what you'll actually use. For instance, if you have a pie press but never make pies, then the item has no place in the minimalist kitchen. Did you end up with five separate Thermoses, but you never drink hot beverages outside the house? Then those have got to go. Did someone buy you the dreadfully useless banana slicer as a joke? Either frame it and put it on the wall as a further joke, or dump it. You get the idea.
If you're in need of some serious cleaning of your kitchen space, below are some general guidelines to master the art of kitchen minimalism.
Get rid of one-use items
The easiest rule to follow is to ditch all those trendy one-use items that seem like must-haves in the store. You figure, "If only I had a machine to pit my cherries for me, then I'd eat so many more cherries." But then you eat no cherries because they're highly seasonal anyway.
Rule of thumb: if you can only use the item for one thing, you probably don't need it. Most of these specialty items can be swapped out for basic frying pans (toasted sandwich presses), basic pans (rice cookers) or your own two hands and an oven (bread makers). Then there are the slicers that are made to slice one thing. Use a knife.
When was the last time you used it?
A good rule when you're trying to declutter any space is that if you haven't used it in the last 12-18 months, get rid of it. This rule is usually applied to clothing, but it works in the kitchen, too. If you haven't made a panini using that sandwich press in the last year-and-a-half, it's really time to part ways with the machine. Definitely get rid of an item if you forgot you had it in the first place.
The good news of this rule is that it helps you keep the specialty items you do use. If you really do use your rice cooker several times a week, then it has a place in your kitchen.
Know what to actually have on hand for cooking
If you are used to using several one-use items but want to de-clutter, don't sweat. You can easily get those one-use item benefits out of the more multi-use kitchen items. Look into the following:
Instead of slicers, use knives, or possibly a four-sided box grater
A vegetable peeler if you peel veggies often
A basic set of pots and pans: A large pot, smaller pot and skillet
Baking pans for cakes, bread and casseroles, if you make them often
Cutting board
Baking sheet for cookies, pizza or veggies
Mixing bowl and spoons
With these kitchen minimalism items, you'll be able to make pretty much everything, while retaining your kitchen space and sanity.