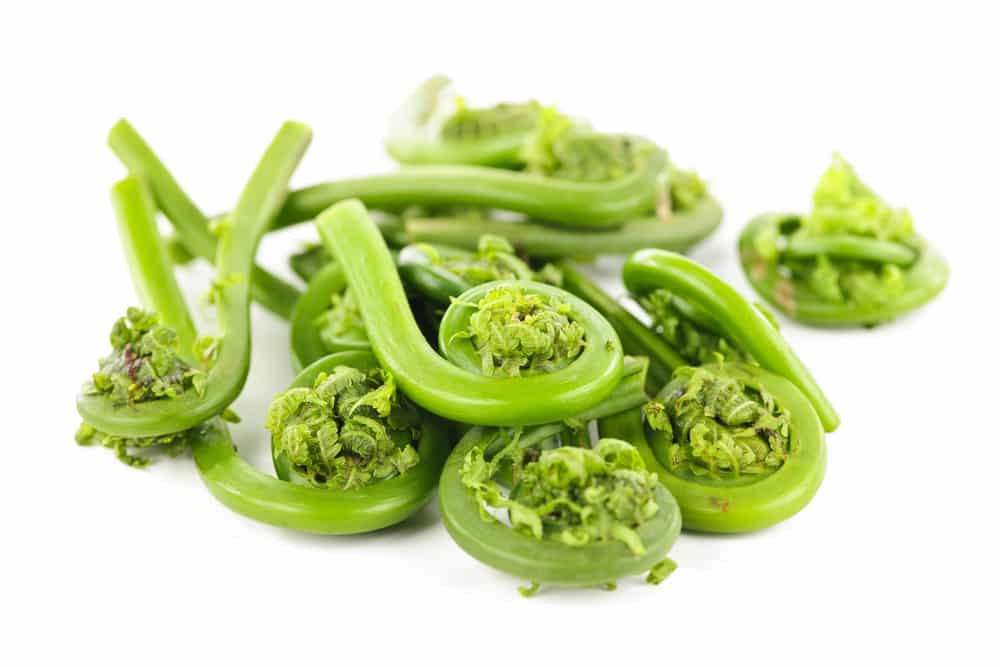 Farmer's Market season is just barely underway and to me that means it's time to keep my eyes, ears, and mouth open and ready to pounce on some of my favorite spring veggies. Local asparagus, ruby red rhubarb stalks, the first garlic bulbs of the season...they're all so refreshing to see after a winter of eating only in shades of beige and orange. Fiddlehead ferns are one of the more elusive farmer's market finds, but once they make their appearance I make sure to buy them on the spot because I know that their season is short and if I don't seize the moment, it might not come around again until next year. These squiggly green gems might not be a part of your everyday cooking repertoire, but here's a little primer on how and why you should consume them while you have the chance!
What are they?
Fiddlehead ferns are what they sound (and look) like - the curled fronds of a young fern that are harvested before they've had a chance to mature and unfurl. The most common variety you'll find for sale are ostrich ferns, but if you go foraging for them yourself, you may find other varieties. Beware, because not all of them are edible and some species may be mildly toxic!
What do they taste like?
Fiddlehead ferns have a crisp texture that is similar to that of string beans, with a grassy woodsy flavor that is akin to asparagus.
How do you store them?
Only buy fiddleheads that are small, firm, and tightly curled, as these are the freshest. Fiddleheads have a very short shelf life (on the order of days), so use them as soon as possible after purchasing. If you have to store them for more than a few hours before using, then wrap them in plastic and keep them in the refrigerator.
How do you eat them?
Fiddlehead ferns absolutely MUST MUST MUST be cooked before eating them! There have been some (rare) instances of people getting sick after eating large amounts of raw fiddleheads, so it's best to avoid that risk at all costs.
Otherwise, you can prepare and eat fiddleheads in any way that you would asparagus. To really let them shine, steam them for a few minutes and then saute with butter and lemon or toss them with other spring favorites for a seasonal salad. They also go well in pasta or risotto, and have even been used across Asia in rich and spicy curries.
Fiddlehead Fern Recipes:
Here are some recipe ideas for how to use fiddlehead ferns in your cooking:
Fiddlehead and Tomato Salad with Pecorino from A Thought For Food
Fiddlehead Ferns and Leeks with Goat Cheese, Pasta, and Pine Nuts from Paprika Red
Fiddlehead and Gruyere Tart from Closet Cooking
Risotto with Fiddleheads, Favas, and Snow Peas from Crumb Blog
Oven-Roasted Fiddleheads with Capers and Lemon from Food52
Creamy Alfredo with Buttered Fiddlehead Ferns and Lemon Zest from A Little Rosemary and Time
Fiddlehead Fern and Potato Hash from Martha Stewart
Crispy Baked Fiddleheads with Spicy Lemon-Sumac Yogurt Dipping Sauce from The Gouda Life
Warm Fiddlehead Salad with Pistachios and Parmesan from The Earthly Delights Blog
Lemony Fiddlehead and Mushroom Linguine from Eat. Thrive. Glow.
Fiddlehead fern photo via Shutterstock